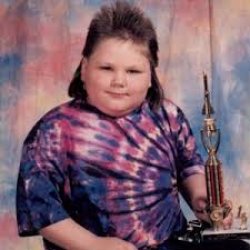 Jelligrim
---
Member since 29 November 2012 | Blog
Helmet Stickers: 441 | Leaderboard
Favorites
SPORTS MOMENT: 2002 National Championship game
COLLEGE FOOTBALL PLAYER: Troy Smith
COLLEGE BASKETBALL PLAYER: Aaron Craft
MLB TEAM: Cincinnati Reds
Recent Activity
Three clapper or five clapper??
I use the Paul Keels' voice in my head to read your comment! And "Branden Fuss-Cheatum"
Great story Remy! JT was truly a class act for getting the rings to the '42 champs.
Nice work! It's nice to see some Buckeye growth in the Queen City.
I enjoy watching Buckeye football games by myself (I don't need a second ref in the room, I do fine on my own)
I took a mirror off someone's Buick in the North Dorms parking lot back in 1999 (still feel awful about that, sorry)
I don't like when people pronounce Ohio "Ohi-a" (Woody Hayes included) or "Cincinnata", that is what 1st grade phonics is for.
Because of my distaste for Mike Brown I have not watched a complete NFL game since 1998, the year the Bengals were dead to me.
Someone cutting onions in my house. Praying for the little man!
I would like all of them in a 3-4 defense with RDS and Hawk on the outside.
If one has to choose between butter and crab legs to Kiester Bunny, which would they choose?
Seems to be smooth as Kenny G. Will be a great Buckeye whether he is a starter or not. Good luck young man!
Here is my recommendation:
General Company: Cutty Sark
Good Company: Dewar's White
Best Friends: Dewar's 12 yr/Glenlevit 12yr
Buckeye's win National Championship: Dewar's 18 Founders Reserve / Highland Park 18 yr
Would love to see him play a year of football! What a gifted student athlete!
OOOOOOOOO YEEAAAAAAAAAAAAAAAHHHHHHHHHH!!!!!!!!!!
Beat me to it! Well done!
Are they wearing the alternates from the bowl game last year with the helmets that pop off?
Just listened to The Rolling Stones "Little T & A". Mick and Keith killed with that one both poetically and instrumentally.
Meeting with many Purdue grads for work this week. Too much to wear face paint to my meetings or stick with the class ring??
Hope Craft and Scott worked this offseason with Mike Conley. They could dominate if they had a runner like his!
I always felt that Saine was under utilized in the Walrus' offense. He had the ability to turn a screen into a big gain. Even when he was healthy he didn't get alot of touches.
Makes me hungry for McDonald's
Jen Bielema = Can't Understand Normal Thought!
From my spring break days in the late 90's here is the order of attractive college women:
1.Georgia
2. LSU
3. Auburn
4. TOSU
5. Ohio U
The rest of the SEC and other B1G schools had little to offer.