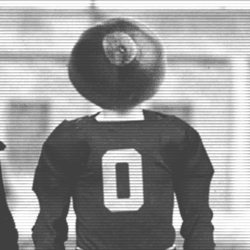 Jeeves
---
Member since 22 July 2013 | Blog
Helmet Stickers: 1,166 | Leaderboard
Recent Activity
4 well dressed people, none obese, and the gentleman not wearing shorts, how we have devolved.
Miami was 39-1 dating back towards the end of the 99 season coming into the NCG. That was a string of Bud Wilkinson's Oklahoma kind of dominance that OSU put an end to and for those old enough to remember that Miami team had a far more sense of invincibility than satan's teams of the last three years at bama.
Unless you supported the sky blues for years while watching the red side of Manchester get all the glory you should not support Shitty.
I wanted to upvote this so much but you disrespected the Arsenal, "by far the greatest team the world has ever seen!"
But having Gollum, Mick Jagger and the Only Gay in the Village as Arsenal fans balances that out.
Arsenal dropped off considerably? Champions League football 18 straight years and they just won the FA Cup. Sure there was a gap of trophyless years but they were building a massive new stadium with money from their own income and not some sugar daddy (Man City, Chelsea,ManU...). However I have to say to the op watch as many games as you can and give it time, if you are a front running glory hunting poser you'll opt for Manshittie or Chelski, a follow the crowd just want to be one of the boys, Manure, drink your first beer at 10AM then 'Pool,but if you are a man of discernment, integrity, wisdom and grace whom people look to hopefully in times of darkness then the choice is obviously the Arsenal Football Club and f### all the rest!
Yes, if there is nothing to differentiate the two the Browns may as well go with Manziel for the year and see what he has. This team will be drafting top 5 again next year so if Johnny doesn't look promising try again (sigh). For the record I wanted Watkins, Hyde and Garoppolo with the first 3 picks and am no fan of the JM pick.
As every year passes I see more and more that the death of American Football may be a good thing. I know as a fan I used to enjoy it more when I was ignorant of the toll the violent collisions take on young men's minds and overall well being. And to make matters worse the fields keep getting faster, the equipment lighter and the players larger with more explosive power.
Upvote for a fellow Pole!
Wouldn't that be Florida State? And who is to say who will be the best in three years?
I agree. The closest you would get to a guarantee that your future opponent will be elite is to schedule Ohio State. Ohio State doesn't have that luxury.
Ugh, clicked on facebook article, it took me to idiotic smarmy hipster hell.
Play it safe and call them Americans. I know novel idea these days.
But the LSU offenses almost always seem more egregious than other programs.
So have people learned the lesson of always having a supply of drinking water in their homes in case of this sort of emergency?
And as much as I despise those cocky sobs they could afford it if anyone could. I doubt ultimately the academics would allow it.
http://www.glerl.noaa.gov/pubs/fulltext/2013/20130009.pdf
This is good stuff thank you for posting. And if anyone is curious to see the sorts of goings on that have taken place during and after Drake's tenure at UC Irvine simply do a search for UC Irvine underwear run. Now I see it as harmless college fun but couldn't a Title IX compliance officer see it as a sexualized culture? And if so why didn't Drake do his job and put an end to it? It seems to me that allowing these events Drake put UC Irvine at risk for litigation stemming from any sexual assaults that occured during or following these runs. These runs by the way have the full blessing of UC Irvine administration as staff and officers are in attendance. If Ohio State was serious about Title IX compliance why did they hire an administrator that didn't put a stop to this obvious sexualized culture?
B1G school absolutely. The recent success of the sec was built on the largess of mid westerners trained in Big Ten schools (Meyer, Miles, Saban). Let them develop their own coaches.