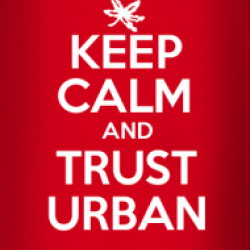 jdagrava.1
---
Member since 06 August 2013 | Blog
Helmet Stickers: 563 | Leaderboard
Favorites
SPORTS MOMENT: November 16th, 2006 - Hanging on to my student ticket when everyone around me was making hundreds of dollars by selling theirs. Attending the Game of the Century, #1 OSU versus #2 TSUN. Watching Troy Smith seal up the Heisman Trophy and the Buckeyes stamp their ticket to the National Title Game. Storming the field after a 42-39 victory and celebrating in the Shoe until the last few fans trickled out.
COLLEGE FOOTBALL PLAYER: Troy Smith
COLLEGE BASKETBALL PLAYER: Aaron Craft
NFL TEAM: Pittsburgh Steelers
NHL TEAM: Pittsburgh Penguins
NBA TEAM: Cleveland Cavaliers
MLB TEAM: Cleveland Indians
SOCCER TEAM: USMNT
Recent Activity
Yessir! And check out EZE! Is there anything this kid can't do?
"it takes a little something special to be a great player....."
how many people about to lose their shot at a billion $ right now?
this is really happening....
Yes.... because they could have had a dozen more. Ohio State ranks 225th in the country with an average of just under 34 rebounds per game.....
In case you missed that - - - - Two hundred twenty fifth.....
Ohio State is the WORST rebounding team I have ever seen in college basketball. Offense and defense. Ever.
I'm right there with you man. During my four years at Ohio State I can't remember seeing a recognizable athlete (football, basketball) show up to class wearing something that wasn't given to them for free from the athletic department. Crisp, new, scarlet and grey NIKE gear. You don't see the full-ride Business major getting that, do you? What about the personal assistant that shows up to their classes ahead of time and texts/calls them to make sure that they didn't sleep in and weren't thinking about skipping? Or the fact that they get to schedule their classes before ANYONE ELSE to ensure that they have the easiest professors and the best hours, allowing for practice time? Or the fact that they somehow attain a study sheet before every exam... ever!? I don't see the full-ride Pre-Med kid getting that kind of treatment...
Not only are these kids getting a free education but they are getting an incredible number of royalties on top of their tuition. Let's say that the NCAA said this: "Okay children, we will pay you $X per semester, but say goodbye to all those other little luxuries you've taken for granted." Do you really think these same kids will be showing up to class every day? Or going and buying nice duds to wear to class? Or ensuring that their schedule is submitted on time so that their class doesn't overlap practice? (LIKE EVERY OTHER STUDENT IN THE ENTIRE UNIVERSITY HAS TO DO ON THEIR OWN!!!!!!) No - they're going to give all that money back and beg to be pampered like they used to be.
Paying student-athletes is an absolutely atrocious idea. If you want some of the logical reasons, read the post above. If you want a quick summation - I will leave you with this. Take a look at the terrible decisions that professional athletes make with the million of dollars they earn post-graduation. (Pacman Jones, Big Ben, Mike Vick, Plaxico Burress, or just check out this list of 31 NFL arrests in less than five months in 2013) Now consider giving a lump sum of money to someone who is 18-22 years old. Still sound like a good idea?
I'm with you there, but riddle me this:
Why in the WORLD would Haslam allow two guys that he's about to terminate take place in the hiring process of a new head coach?!?!?!?
The timing makes no sense to me - first fire the front office guys, THEN go find a coach. Now you have a GM that had zero input on the head coach. Not to mention all of the positive remarks that Pettine made about how "enthusiastic" the front office is about bringing a good team back to Cleveland... Well go ahead and throw that shit out cause they are toast, bud!
The Cleveland Browns, ladies and gentlemen.
Well..... best of luck at MSU kid - look forward to seeing the Silverman rendering of Eze Elliott putting cleats in your face! Go Bucks!
Do the right thing, Malik!!!! tOSU!!!!!!!
Very nice write-up as usual Curt, and thanks for the props!
Nice write-up Curt! You cover wrestling like Broseidon God of the Brocean covers a pharmacy technician class. :)
Hell yes - If Braxton and Hyde gouge their D like a freight train, the passing game will just need to be there for play action and change of pace. No turnovers and this game is ours.
don't you mean "fresh meat"?
Eternal up-votes for this post LOL!
Yeah, this definitely sounds like a guy with a ton of heart...
Wow - these made my day. I love M*ch!g@n Week!!!!!!
This is a chance to prove to the doubters that Ohio State can handle an explosive offense. Shutting down Indiana much like the Badgers did would be comparable to slowing a Baylor offense. Hopefully such a display would stick in the minds of voters...
If they even pay attention anymore, that is...
Look man, it's as simple as this.
There are 365 days in a year, 52 weekends (roughly).
The Buckeyes will play at most 14 football games in a year, each game taking approximately 3.5 hours to watch on television.
Regardless of what other variable exist, asking your wife to allow you to watach Buckeye football really isn't asking for much. Here's some stats to tell your wife exactly what you are asking for when it comes to Buckeye football:
14 games/365 days = 3.8% of the year (96.2% for the wife)
14 games/52 Saturdays = 27% of the Saturdays (73% for the wife)
3.5 hours per game x 14 games / 16 hours awake x 365 days = 0.84% of the waking hours of the year (99.16% for the wife)
3.5 hours per game x 14 games / 16 hours awake x 52 Saturdays = 5.9% of the waking hours on Saturdays (94.1% for the wife)