Jdadams01
---
Member since 13 October 2010 | Blog
Helmet Stickers: 2,460 | Leaderboard
Favorites
SPORTS MOMENT: Glendale, baby.
COLLEGE FOOTBALL PLAYER: Theodore Ginn Jr.
COLLEGE BASKETBALL PLAYER: Always loved watching Conley.
NFL TEAM: The most loserly of the loveable, the Browns.
MLB TEAM: Cincinnati Reds
Recent Activity
But if he was so concerned about his players' safety, he'd find a different way.
OL recruiting at the end of the Tress era was atrocious.
It would give Big Ten schools a recruiting boost in the south, too. I'll take the geographic stretch.
It would be hilarious if they did, because he doesn't have it any more.
and IU is a few wins away from starting to peel croots away from UM, OSU, and ND.
No, they're not.
Oklahoma is the biggest challenge, IIRC
Jameis better find these people some tickets.
Except his name is Barrett
This is the first time I've seen this and it is awesome
When I was at the Wisconsin game last year, a Badger fan in front of us heard it and said that the only other student section he's heard do that is Penn State. Just food for thought.
Soccer has a higher youth injury rate than football:
http://www.momsteam.com/return-play/injury-rate-in-youth-soccer-higher-than-other-contact-sports-study-finds
It hasn't been unpleasant, but it's been sort of uncomfortable. Like watching a once great boxer who is now well past his prime get beat down by a younger, faster no-name opponent.
Recruiting is about relationships. Warriner is an awesome coach, but not exactly Mr. People Person
This is still my favorite recruiting mail of all time (although it went to a Wolverine):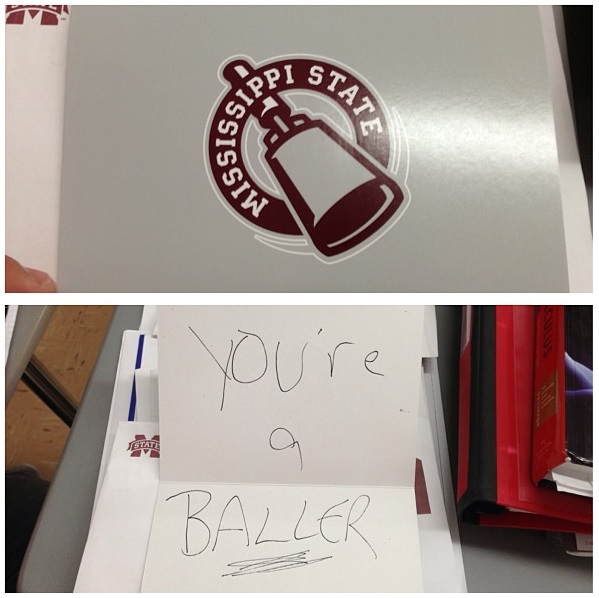 A lot of win in this thread
If I woke up tomorrow with my head sewn to the carpet, I wouldn't be more surprised than I am now.
This is one of my all-time favorite movie lines
I can agree on the totals, but the averages are telling. They both have under 10 carries/catches so the totals don't matter as much as averages to me.
I'm walking in the Out of Darkness Suicide Prevention Walk in Chicago. I highly recommend for any within driving distance. Top 4 cause of death for ages 10-54:
http://www.cdc.gov/injury/wisqars/pdf/10lcid_all_deaths_by_age_group_2010-a.Pdf
Dontre is averaging 9.2 years per punt return (10 returns) and that's with him generally having to break a tackle as soon as he catches the ball. Blocking hasn't been optimum. I think Jalin has had what, 2 returns? I know we are generally excited over every new player and immediately discount the previous ones, but I feel like people on the site are turning on Dontre a little quick because he doesn't average a 50 yard TD every other touch. Stat comparison:
Dontre - 8 rushes for 38 yards (4.75 avg), 5 receptions for 108 yards (21.6 avg)
Jalin - 3 rushes for 7 yards (2.33 avg), 4 receptions for 29 yards (7.25 avg)
Jalin is very talented and will hopefully be a great player for OSU, but he isn't to Dontre's level yet in production. You also have to factor in that team's focus more on Dontre when he's on the field.
I love how many RBs we have while Michigan has none
Talk about a nut punch...my wife came out wearing her #8 jersey this morning.
He was the top RB in the country...why wouldn't Coop have recruited him?