Jdadams01
---
Member since 13 October 2010 | Blog
Helmet Stickers: 2,391 | Leaderboard
Favorites
SPORTS MOMENT: Glendale, baby.
COLLEGE FOOTBALL PLAYER: Theodore Ginn Jr.
COLLEGE BASKETBALL PLAYER: Always loved watching Conley.
NFL TEAM: The most loserly of the loveable, the Browns.
MLB TEAM: Cincinnati Reds
Recent Activity
Recruiting is about relationships. Warriner is an awesome coach, but not exactly Mr. People Person
This is still my favorite recruiting mail of all time (although it went to a Wolverine):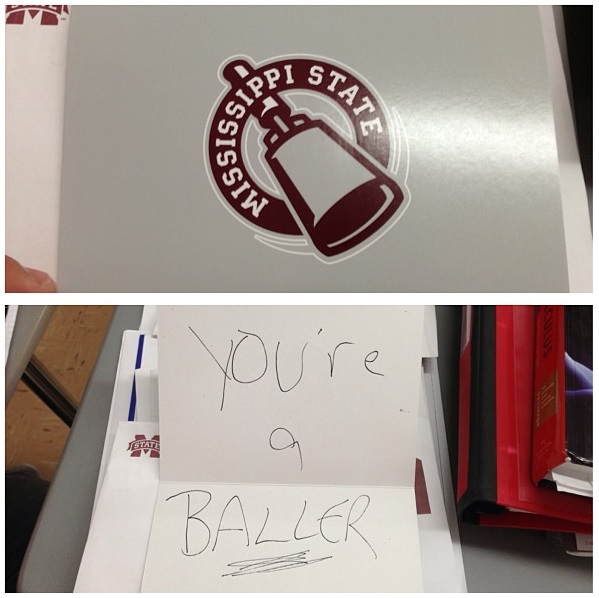 A lot of win in this thread
If I woke up tomorrow with my head sewn to the carpet, I wouldn't be more surprised than I am now.
This is one of my all-time favorite movie lines
I can agree on the totals, but the averages are telling. They both have under 10 carries/catches so the totals don't matter as much as averages to me.
I'm walking in the Out of Darkness Suicide Prevention Walk in Chicago. I highly recommend for any within driving distance. Top 4 cause of death for ages 10-54:
http://www.cdc.gov/injury/wisqars/pdf/10lcid_all_deaths_by_age_group_2010-a.Pdf
Dontre is averaging 9.2 years per punt return (10 returns) and that's with him generally having to break a tackle as soon as he catches the ball. Blocking hasn't been optimum. I think Jalin has had what, 2 returns? I know we are generally excited over every new player and immediately discount the previous ones, but I feel like people on the site are turning on Dontre a little quick because he doesn't average a 50 yard TD every other touch. Stat comparison:
Dontre - 8 rushes for 38 yards (4.75 avg), 5 receptions for 108 yards (21.6 avg)
Jalin - 3 rushes for 7 yards (2.33 avg), 4 receptions for 29 yards (7.25 avg)
Jalin is very talented and will hopefully be a great player for OSU, but he isn't to Dontre's level yet in production. You also have to factor in that team's focus more on Dontre when he's on the field.
I love how many RBs we have while Michigan has none
Talk about a nut punch...my wife came out wearing her #8 jersey this morning.
He was the top RB in the country...why wouldn't Coop have recruited him?
Didn't think to look at the other forum topics?
After OSU fought for him the first time around, too
If true, get some help fella
I'm extremely bothered that this was downvoted
Heacock was a great coach, but let's not act like our defense under him was a world beater. Lost a lot of big games where elite teams were able to score on it when we needed a big stop. The Oregon game was awesome, but many of the other top teams we played figured it out. LSU and Florida shredded it. It was great for dominating the Big Ten, but not so much for top 5 teams.
It's amazing how much Braxton's running ability has covered up our ineptitude in the passing game the last two years. We can't overstate it enough.
Wasn't comparing the gameplans other than their intent. But yes, we are in agreement as to VT's complete lack of respect for our passing game. They chose to have a freshman QB beat them... easy choice.
Not just a Meyer team, but any team that relies on the run. Defenses will generally try to make the other team one-dimensional so they can dictate the play calls. When the passing game can't make them pay for it, for whatever reason, you get Saturday night.
The reason it worked for Michigan against Florida is that they were in a transition year and Tebow, as good a year as he had in his first year as starter, could not not make them pay enough to win. The next year, he was more seasoned, had better support, and every team tried to repeat that Michigan gameplan. End result was a National Title.
You do realize that OSU has been using that scheme on 3rd and longs for at least 7-8 years, right? I hate it.
This. The combo of a new OL and a freshman QB who became the starter two weeks before the season is a lot to ask of any team. Let JT grow up first. I wasn't thrilled with the play calling in the game Saturday, but people need to let this year's team grow up a little before they lose their minds. This year's team is very different than last year's.
We got good pressure in the first half. The difference is that VT adjusted better than OSU did and started rollouts, etc. to move the pocket. Would have loved to have seen a rollout from the Buckeyes.