Jdadams01
---
Member since 13 October 2010 | Blog
Helmet Stickers: 2,155 | Leaderboard
Favorites
SPORTS MOMENT: Glendale, baby.
COLLEGE FOOTBALL PLAYER: Theodore Ginn Jr.
COLLEGE BASKETBALL PLAYER: Always loved watching Conley.
NFL TEAM: The most loserly of the loveable, the Browns.
MLB TEAM: Cincinnati Reds
Recent Activity
Agreed that there will be pains, but much like the team, the band will be fine in time. The administration knows how important this new hire will be and I expect them to pick a winner. The fanbase and band members will not stop striving for band excellence because of this.
Two things:
1. The absolute right decision was made here, IMO.
2. TBDBITL is bigger than it's director and will be fine.
Not sure if serious in your second paragraph...
The Buffalo Wild Wings in Arvada is a great choice. The owner is Buckeye friendly and opens the restaurant early on days with 12:00 EST kickoffs. A good group always shows and the staff is friendly to the Buckeye fans getting loud. Having an OSU specific section is always nice, too. They have an email distribution for the location that includes discounts sent by the owner and events outside of games. They also do basketball games. My wife and I highly recommend.
If nothing else, he has handled the spotlight of playing in New York for pinstripes as well as anyone ever.
I can go to a couple games with the family or I can buy a ridiculously nice TV with surround sound and watch all of the games in comfort... Hmmm which choice?
I blame them for my lack of focus today
No thanks...
http://www.sec.gov/news/press/2011/2011-268.htm
It is just like any other barter system in the history of the world. University offer A (scholarship) for B (play) from athlete. Athlete accepts and signs a contract. Both parties fulfill said agreement.
I'd have no problem with it. After all, I care only about OSU, not the Big Ten.
Good luck and health, Chris.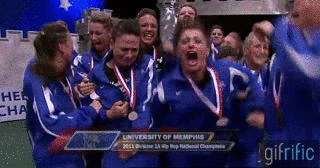 In 2006 The Game, I made my Mom go upstairs because when she left the room the Bucks played better
Regarding PSU- Franklin knows OSU is his competition so he will be looking for a big splash in that game. I expect him to treat it like their bowl game. He will have them amped and I guarantee he will hold back plays/formations just for this game. Our boys better not assume they can walk over them just by showing up. Not saying I expect a PSU win, but if our boys nap it could bite them.
You are correct, sir. But UC never had a shot at the National Championship Game. It wouldn't have mattered if they were the only undefeated.
"Because being out partying in Austin/Vegas leads to a great next day of workouts, drills, and playbook/film study", said no top quarterback ever.
The reason people mock this is because the top pro QB's work year-round. They have to. And they take that offseason work very seriously. This means Johnny is already well behind and doesn't get it. He isn't in college anymore.
Voted and it's about even now
This is awesome. This is how you win, corporate America.