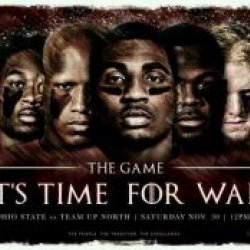 Jbucks
---
Member since 17 December 2013 | Blog
Helmet Stickers: 95 | Leaderboard
God, Family, Sports. im 22 so no "story" as of yet
Favorites
COLLEGE FOOTBALL PLAYER: Carlos Hyde
COLLEGE BASKETBALL PLAYER: Aaron Craft
NFL TEAM: Cleveland Browns
NHL TEAM: Anaheim Mighty Ducks
NBA TEAM: Cleveland Cavaliers
MLB TEAM: Cleveland Indians
Recent Activity
double post
I wanna say Booker will outplay McMillan stat wise, but I cant seem to get over the fact Kwon is here working & Booker isnt, Jaylyn Holmes could very well back up Noah Spence this year but Tyquan Lewis, Jamal Marcus already there I could c him redshirting & taking over as starter next year (1st all B1G Team) when Spence leaves for NFL after this year.
Maybe Dixon outworked Dontre Wilson in the Winter Workouts? I remember Wilson had to earn it, maybe there was a number challenge between Dixon & Wilson, that lead to Dixon winning it from Wilson?
Did Kwon take alot of snaps? and did he make more plays than Grant? also its hard to hear Johnson isnt working, he was a guy I had high hopes for... smh c'mon young fella
truley sad, I was able to meet Chris & 1 of his brothers. great Family, God Bless & I aint got money vut ill be sure to keep em in my prayers... #BuckeyeNation its time to prove why were the best fan base in nation we take care of our own... Get on it
How fast is Greene?.... TOO MANY WEAPONS BUT ONLY 1 BULLET, I want Mike Thomas on the field this year I want Dontre Wilson on the field, I want Dixon on the field, I want Samuel on the field, I want Smith too do more than run straight when on the field, I want Spencer to double his relevence on the field!! If this kid Greene is only back of the endzone talent I want him on the field...I love Meyer as a coach... do not envy his situation... never have I heard of a guy losing his marbles over trying to spread the ball around on offense... it could very well happen this year
theres no better way to get even!!!! going into East Lansing, Cold weather, Night Game infront of the whole nation!!! everyone benefits from this game MSU gets the recruiting help they need by national recognition, OSU if wins get a signature win (assuming msu plays great d again next year) & the B1G gets exposure of possibly having a good team consistantly not named OSU... Its gotta happen!
only 3 things missing... 2 birds to the whore, the brawl, & Marcus Halls crushing block that made everyone cringe
pretty sure AW came in at 290lbs, pretty sure he has gotten bigger stronger faster with our weight program, I could see him getting to a healthy but deadly 305 if thats what the coaches wanted
David Boom Perkins left the program didnt he?
yes Tress missed on the top Ohio LB which was extremely rare, but not soley his fault, he did land the #1 recruit & LB is Grant, Shazier the same year as well. if Grant pans out the way we thought he would, we'd be having a different conversation about how do you replace both RDS & CG. Im already in love (no homo) Raekwon Mcmillan, his build, his Ability, Him coming in early & working out getting ready for his career, but is he going to pan out? will he be able to defend the pass? will he be the leader, the loud QB of the defense, will he be able to call out/make adjustments? if he is already watching tape the answer is yes hes gonna make it. But the guy I see having the most Potential is Booker, who I think hurt himself a bit by not coming in early & working out, but only time will tell if this LB haul is the 1 that will bring back our beloved Bullets
I remember Spence & Washington talking about how if 1 got a sack the other would work twice as hard to 1 up the other, then the injury happened & Bosa became a monster, & I remember thinking Bosa is our guy BUT Adolphus was still the guy I thought had the most NFL promise due to his size and his rare quickness to go with it. Then I saw AW get the back burner a bit after he came off injury. Until FINALLY AW was lined up on the inside next to Bennett and Bosa, then I remember thinking to myself HOLY CRAP THIS QB IS GOING TO DIE! yeah... safe to say Bosa, AW, Bennett, Spence will be the starters after 2 games this year and we will lead the Nation in Sacks, TFL, FF, and opposing QB injuries.... UFM's new morning routine statement "ahhh the sweet smell of Fear in the morning"
it would be best for Buckeyes if TG committs earlier, we're missing the 1 shining recruit that not only appeals to other recruits, but goes out and recruits for his team, that guy was supposed to be EGW but hes doing the right thing & keeping a low profile after off the field problems, TG would be the best guy to lead the charge in this class! unless he is already doing so & already knows where he wants to go, I.e talking to Kirk bout OSU.
hey Birm any word.on the other recruit that was set to visit with Kirk?
Speed Kills! UFM might need to use a few unique formation packs to ultilize all of this speed, like the diamond package, xBrax lined up with EzE, Curtis Samuel, Dontre Wilson with Dixon on the the outside the Defense could be confused as to whick bolt of lightning to try & catch
with all the burner type recievers we have now includibg this past years WR haul I could see Kirk as the only burner this year... we got in good position with him now its time to move on to bigger WR's like George Campbell... anyone know if were considered by Campbell at all?
leys welcome this guy into the age of technology, where u dont need a stopwatch to time phone calls... depending on your phone the time could magically appear on the cell phone screen (oooh's and ahhhhh's are need for these magical phones) 2ndly Tebow becoming a Huge Buckeye fan... might have to fo with his Coach being a Buckeye coach, or he generally likes us!! and lastly... Admin & staff dont like how UFM left? should the guy appologize for his health? this guy is nothing but a quack with a grudge... oh yeah not to mention this "Violation" also ended up on ESPN's front page
#1 RB Damien Harris... For me? yeeah
#1 SDE Terry Beckner JR.... yeah of course he should
#1 WDE Jashon Cornell.... Now thats a DL class for the Ages
its Brady Hoke trying out new tactics lmao
LETS GO CHERRY PICKING lets see
#1 DT QB Torrence Gibson.... Yes Please
#1 DT/Overall Player Trent Thompson....Yes Thank You
#1 CB Kevin Toliver.... AWWW You Shouldnt have
#4 DT Tim Settle... I Accept that
#5 OLB Sh'Mar Kilby Lane.... Umm yeah
#1 OLB Justin Hillard... Yes Yes Ill take him too!
#4 OLB/MLB Rick Deberry...Well of Course
#4 CB Minkah Fitzpatrick... Come on we got room
anybody you would like to add to this list of Dreams? hopefully some DE's?
its an okay catch, i like hime going up and getting it... but he alligator armed it which in a competitive game would have easily been broken up... which leads me to my question, who is the corner covering him and why did he allow himself to get stuck behind the reciever and just stick his arm up? what kinda coverage is that?
Could you imagine this kid and Gibson together talk about scary, no sir, this kid is the Ferrari Gibson will be your corvette here
some how I found the picture it during the game.on my phone... it is still & always has been my phones background... GOTTA LOVE IT, im suprised no one pointed out during the game or right after that Brax came runnin to the brawl grabbed big dude by the helmet & threw him like it was nothing... as 4 the fingers, every Buckeye has always wanted to.do the same thing
just seen top WR Christian Kirk set up a visit with us on the 27th, another small speedster (5*) that just seems to get TDs w/atleast 50% of the touches he gets. SPEED KILLS but wow we need a big guy to throw too... when is Urban gonna coral the "Michael Jenkins role"? we can atleast input our TE's more often if we cant get the bigger WR's
u got draft, graduation... im sure some guys like Spence go to draft, Brax, Bennett, both Grants, Smith, Spencer (im pretty sure dont hold this against me) will be going to draft/ graduating so thrres 7 guys