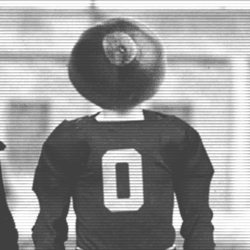 Jbuckham94
---
Member since 30 November 2011 | Blog
Helmet Stickers: 50 | Leaderboard
Favorites
SPORTS MOMENT: Ron Lewis making a three-pointer off a Xavier missed free throw to send the game into overtime.
COLLEGE FOOTBALL PLAYER: Chris Wells
COLLEGE BASKETBALL PLAYER: Mike Conley Jr
NFL TEAM: Browns
NHL TEAM: None
NBA TEAM: Cavaliers
MLB TEAM: Indians
SOCCER TEAM: None
Recent Activity
^ As selfish as it sounds
As a student, I completely agree. It always seems everybody is half asleep for the first quarter of the noon games. The night game against Nebraska was out of control and I would expect the same for the two that are scheduled.
So much for waiting until after NSD. Oh well, I'm more than happy with the Christmas gift.
If you only consider Week 1 stats, I don't know how you can't say Bell. I think we all know he won't be able to repeat his performance, but if he put up the same stats every week he would definitely be in New York.
I have class at 4:10 as well. It was brutal.
This. Must be in the heat of the moment too. No feigned emotion.
Shazier's middle name is Dean i believe. I think one of the staff abbreviated his name to RDS, and someone jokingly called him Ryan Damn Shazier. It's just stuck since then.
Winning the MNC next year?
I wonder what the three schools are. Hopefully OSU is one, but what are the other two? ND? I know Clifton is high on MSU.
Yeah, if we can get 5-8 years out of him it will be great. My initial comment was meant to be in jest. Not sure how well I portrayed that. Oh well :)
I'm not saying this wasn't a great article, but I think the most important thing we can take from this is that Urban Meyer will coach OSU for 20 years. Write it down folks.
right with ya. huskys and malamutes are the best
It may just be me, but I like a kid who is showing off to the coaches in order to get an early offer. Shows he wants it.
Hahaha, I certainly wouldn't be opposed to that.
They may be older, but Metallica is still kicking and it would be awesome if they came to the shoe.
I see what you guys did there.
Wow, that's a pretty quick turnaround from these camps. How many kids are expected to come?
Speaking of Friday Night Lights, when will that take place?
Wow, 2014 really is loaded.
How many years would he be able to play for us? If he can only play two or three years, Urban must believe he can come in and start right away.
Welcome back Kyle. Can't wait to hear your writing style as a newer visitor.
The answer to that last questions speaks volumes about this kid's character and football knowledge. Can't wait to see him play for us.
For some reason black just seems to make the team look more intimidating. I would like to see the team bring it out maybe once a year for a night game or something. I seem to remember a Roger Federer quote in which he said he would wear black shirts just for that reason.
I believe the game ball definitely should have gone to Lenzelle. He starts the game 0-4 and not to mention the stitches, and ends up 1 point behind Sully with 18, and made quite a few really clutch shots. There is no way regular season Lenzelle even attempts another shot after starting 0-4. Huge props to him and his obvious confidence. This team needs that outside shooter.