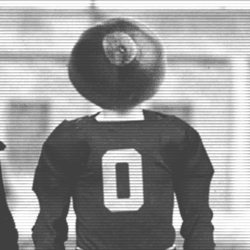 jbirmmd
---
Member since 17 September 2011 | Blog
Helmet Stickers: 171 | Leaderboard
Favorites
SPORTS MOMENT: 2002 Buckeye victory over Miami
COLLEGE FOOTBALL PLAYER: Joey Bosa
COLLEGE BASKETBALL PLAYER: Aaron Craft
NFL TEAM: Bengals
NHL TEAM: Blue Jackets
NBA TEAM: Bulls
MLB TEAM: Reds
Recent Activity
That perspective (Manziel and others) helps a lot, doesn't it.
No one here really can know this, but I am also not one to pull out the "race card" on a frequent basis, but I do feel that the difference in treatment (by the media at least) had a lot to due with skin pigment.
I, for one, will never understand how Manziel got off so easy particularly when one recalls how much OSU was raked over the coals just a few years earlier.
Glad to know I had some small part to play in having those provided for our team. Thanks 11W for the "Gold Pants Social" last fall!
Can't agree more with this post. There was clearly a chemistry problem with this team. It was evident by their inability to close out a game and the absolute failure to work together in crunch time.
I think it is fairly obvious he has been looking for his exit from day one. He, like Thomas before him, probably won't improve his stock much by another year.
He is very replaceable, IMO, and OSU is clearly turning a new page. Might as well start clean. Could be rough year next season though.
Perhaps not quite to Diebler's level, but I was hoping for something similar as well. He was one of the few players we have/had that actually showed some offensive acumen. As well as the aforementioned passion.
If this team has any prayer of making noise in the post-season, Loving and ADV need to play more minutes and be productive in those minutes. They appear to be our only hope of finding some offense this year. None of our upper class players can reliably fill it up. Even Q, who is a decent scorer has been very unreliable when needed most, especially at the line, and prone to turnovers.
My thoughts exactly. It is tough to see high quality kids (both athletically and personally) leave. This is a particular double whammy because it will likely mean his brother won't come.

Was really looking forward to these brothers leave an indelible imprint on OSU sports.
Prayers to the family.

Michigan is undefeated in conference and NW is in 4th place, not exactly chopped liver.
Every team in the big ten is decent, no gimmees.
Despite this teams numerous faults, which have been well documented on this site, just think how close this team still is to a very special season. One missed layup against MSU, blowing big leads at home against Iowa and Penn St, and an inexplicable turn around loss to Nebraska. This team could easily be right there for the conference championship. Success and failure are often a razor's edge apart.
LOL. Good, not food. But maybe my typo actually covers his skill set better!!
Ross just clearly isn't cut out to be that "go to" guy. He has some food skills but is weak on the dribble drive, inconsistent with shooting and generally has a rough time making a shot for himself. I don't think he has an NBA career in his future.
This! I think most of the kids are giving solid effort, they are just being put in a no win situation right now. The line up that keeps losing these late games (Q, Smith, Craft, Scott, and Amir) is filled with guys that can't reliably score and gives serious match up problems on defense particularly against good athletes. We score more reliably with ADV and Loving on the court.
Under. No reason to think we are better than anyone right now.
I would echo what many others have said above. Love this site, my only source for OSU news and commonly the only website I visit during the day. You all do great work and keep it accessible. It says something that even during the brief time my brother was off writing elsewhere that I pretty much only visited here still. Thanks again to all the 11W staff!!
Very good analysis. I think your prognostication has a big time chance to be proved right, but we need a couple of other things to fall into place as well.
1) The LB unit has got to start becoming play makers. We can't have a vacuum in the middle of the defense like we've had the past three years.
2) The expected rise of EzE and at least one play-maker on the outside.
Amir is critical, as is regaining some shooting touch from Smith and Thompson. I don't think they need to be lighting it up, but if we could rely on them for 10-12 per night, and continue to play D the way we do, I think we could get it turned around. The problem is there is little in the flow of this season so far to inspire confidence that they can consistently do that.
If our bench doesn't start performing better we will probably have a new losing streak soon.
"only impact a fan can have on a prospect's recruitment is a negative one."
Something that all fans who follow recruits should take to heart.
Belief has a ton to do with sports. It is obvious to even rudimentary observation, that this team has lost ALL confidence and belief in themselves. That is why I think a major line up shift is in order.
That OT game was all of about 7-8 min of good play, and was also an eternity ago for this team.

We have gone in completely different directions.
Matta has brought this program from absolute nothingness to elite status. Sure, we haven't taken that ultimate next step, and I have had some quibbles as well but it is very much hyperbole to call him out like that.
I hate getting into this kind of speculation as well, but it does seem as if the chemistry has gone to hell recently.
You are very optimistic. Unless something clicks that hasn't been, I don't know how this team goes .500.
I don't see any wins against: MSU, Mich, Minn or Purdue.
NIT