JBDizzle
Florida (via Columbus)
Member since 12 August 2014 | Blog
Helmet Stickers: 603 | Leaderboard
Voting Record: 167 / 1
Lived in Columbus until family moved to Florida when I was 13. Ohio has always been my home and so has the buckeye culture.
Favorites
COLLEGE FOOTBALL PLAYER: Kenny G
COLLEGE BASKETBALL PLAYER: Aaaron Craft
NFL TEAM: Bengals
NHL TEAM: Blue Jackets
NBA TEAM: Orlando Magic
Recent Activity
This dress is like a cancer to the internet.
1. Breaking Bad 1. Prison Break 2. GoT 3. 24 4. Walking Dead 5. SoA I plan on watching the wire and better call Saul.
I'm happy for you man. Thank God!
I honestly don't think there is one clear cut choice. All of them are really good, and with that being said you can't go wrong with whoever is chosen...
What a great problem to have... GO BUCKS!!
This times a million. I can't wait to see how far he goes.
It's crazy to say this but Cardale just might be my favorite quarterback. I would love for him to start.
People are freaking out about Weber and I'm just over here like: http://i.imgur.com/ePAcJAuh.jpg
So is Braxton leaving or nah?
I think this will give him a much better chance at making it to the next level. Im all for it!
Per twitter he is waiting on his dad who is late.
Watching the stream now. He is no where to be found: http://highschoolsports.mlive.com/news/article/6127794257466994713/watch-live-feed-of-mike-weber-here-along-with-other-detroit-psl-football-stars-at-10-am/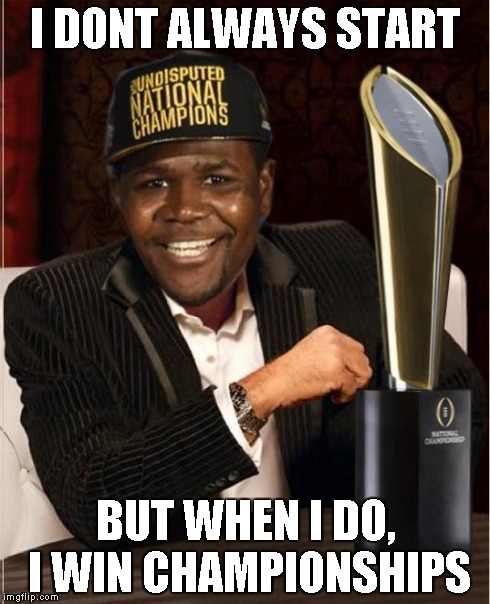 I just watched this and almost started to tear up. So glad he chose us!
https://www.youtube.com/watch?v=KuUP-uyXBMw
No but there are some really good fan made ones:
and
https://www.youtube.com/watch?v=b2sHG1HdO1k
Man! Sometimes I wish I was a Cavs fan. If I could go back in time I would switch... All my teams are in Ohio except NBA. Go Magic!
p.s. I lived the first half of my life in Columbus and the second half in Orlando.... and I didn't get into basketball until later in my life.
File loaded to flash drive. On my way to office depot.