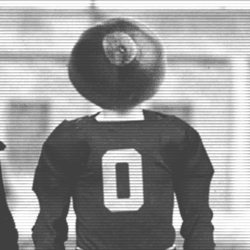 JasonR
Columbus, OH
Member since 13 January 2012 | Blog
Helmet Stickers: 351 | Leaderboard
Favorites
SPORTS MOMENT: OSU over Miami in NC game.
COLLEGE FOOTBALL PLAYER: Brad Roby
COLLEGE BASKETBALL PLAYER: Aaron Craft
NFL TEAM: Bengals
NHL TEAM: Blue Jackets
MLB TEAM: Cubs
Recent Activity
Maybe a dumb question but since Lindsay has already graduated, would he take up a scholarship?
Perfect response from Urban. I'm not a Herbie hater by any means but I'd say coach just put him in his place.
You couldn't fool me on the foolingest day of your life even if you had an electrified fooling machine!
Most of the info I've seen list him as DE/TE. Birm do you know what position he is being recruited for at OSU? I'm assuming DE but if he is as athletic as you say then he would certainly fit the mold of an Urban Meyer TE too.
Ha, one of those was against my HS alma mater. We were pretty good some of those years but couldn't ever get the better of Craft and L-B.
Was just going to ask the same thing. I didn't think we had anything to worry about there. Meech is all Buckeye!
My daughter was in NCH and got discharged while Urban and the players were there. On our way out we could hear the kids cheering. Pretty awesome that they do that.
I hope Fickell and Withers have been watching the Wisky-Indiana game a lot this week. Wisky certainly found the right formula to stop that offense, and with our talent on D there is no reason why tOSU couldn't shut them down, or at least hold them well below their average.
Boom was a special teams beast for the Bengals in the short time they had him. Good thing they cut him for Burkhead, who hasn't even been active for a single game this year. Glad to see him doing his thing in Indy though.
I would agree, but there could be some big-time openings (USC for one, maybe Texas, Florida?) this offseason and I would have to think he would at least be a candidate for a some of them. Don't think he would say no to Texas if they called.
Does anybody think Warinner would be a legit option to take over as sole OC if Herman leaves? And since he's already co-OC, would that be enough of a promotion to keep him around another couple years? He definitely seems like the kind of coach you hold on to as long as possible.
IMO after Rod Smith is gone, Dunn becomes our power back. I'd expect to see a power back/speed back platoon of Dunn and Elliot after the 2014 season. I still think Ball is the odd man out/mop up duty back. Urban obviously is liking having that big, bruising RB and Dunn will fit that mold.
I went to a game a few years ago at ND too. Beautiful campus, but the atmosphere was just not very "college football" to me. Instead of tailgating they had student organizations selling food. There was no enthusiasm at all, but the team was also terrible, which is probably the reason for the lack of energy there.
ND got beat by Syracuse and the student section pelted the team with snowballs. If I hadn't gone to the game with my ND alum friend, I probably would have laughed out loud.
I'm glad I experienced ND once though.
You could argue that Tom Osbourne has a B1G connection too. I'm a little curious as to why they chose Archie Manning and Condoleezza Rice though.
Hopefully there will be a 10 win team in that division. It's pretty even, they could end up beating each other and have three teams tied for first at 9-3. If there is a 10 win team though, my money is on scUM.
Good article, and I don't mean any disrespect by this, but why do we need a constant stream of articles and forum posts about Mark May? Seriously, everyone knows he's an asshat. He wants the attention (and to piss off the Buckeye faithful) and we are giving him exactly what he wants. Can't we all just pretend he doesn't exist or something?
I mean, look what happened when people stopped watching that Jersey Shore garbage...don't hear much about those clowns these days. Let's give Fat Urkel the Jersey Shore treatment.
Seems pretty fair to me. My only gripe would be saying the interior DL are unspectacular. I think "#63" has been pretty spectacular. And Devin Smith or Philly (take your pick) are definitely home run threats at WR.
I was thinking the same thing. I think medical redshirt is only available if the player was in less than 30% of the games. So Bryant would not be eligible, unfortunately.
Vrabel: "JAMAL!! DO I HAVE SOMETHING IN MY TEETH??!!!?!?!"
I'd rather not visit mgoblog, so I'm asking the board...do they have a similar feature with 11W staff?
To honor actor Mark Harmon's father, who must have played for them or something.
Add me to the butt-hurt list...I'm still on the first Game of Thrones book! Thanks for the spoiler!
Just kidding (sort of)...great info on EzE. After the rumors of him rethinking his commitment due to the staff pursuing Wilson, then hearing about Wilson being so awesome in practice, I was worried that maybe Elliot would be buried on the depth chart. But it sounds like he is working hard for PT too. Man, I can't wait to see those two guys on the field together in this Offense.