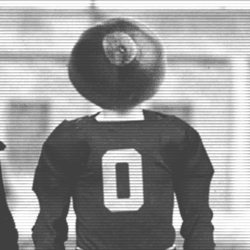 JasonR
Columbus, OH
Member since 13 January 2012 | Blog
Helmet Stickers: 426 | Leaderboard
Favorites
SPORTS MOMENT: OSU over Miami in NC game.
COLLEGE FOOTBALL PLAYER: Brad Roby
COLLEGE BASKETBALL PLAYER: Aaron Craft
NFL TEAM: Bengals
NHL TEAM: Blue Jackets
MLB TEAM: Cubs
Recent Activity
I would assume so, I've always taken lots of pics on my phone.
How does Tacoriendo compare to Los Gauchos or Junior's? Those are the best tacos in Columbus for my money, but I will venture out east to try El Tacoriendo for sure.
I was wondering the same thing. Had no idea you could do that but it sounds cool!
I wondered how long it would take for this to become an Apple vs. Anti-Apple thread.
I like Apple TV. The Netflix app is great and there are lots of other good apps on it. You can buy/rent movies and TV shows too. My only complaint is that you can't add apps (without jailbreaking), but it pretty much has everything I want anyway. Haven't ever used a Roku, but know people that have them and they have nothing but good things to say about them.
Agree with Eph97, I would probably wait if you're set on Apple TV. Or, maybe now you could score an older one for cheaper!
Chromecast is probably a good option as well, if you use your devices to stream a lot.
Too bad he can't wait two more days and compete at FNL.
Only $100? An SEC bagman would have given him at least $500.
He is on the official roster:
http://www.ohiostatebuckeyes.com/sports/m-footbl/mtt/osu-m-footbl-mtt.html
Sucks losing two of the top Ohio kids in two days, but all you can do is say good luck, congrats and move on. Wish Jerome and LJ the best. I'm sure OSU's class will be stellar regardless.
I was going to say the same thing. Don't think I can even pick a song, the whole album is just killer.
Used to go to Cassano's in Lima all the time. Still the best pizza I've ever had.
I've only been to Philly a few times, but I've tried quite a few of the cheesesteak places and so far Jim's is far and away my favorite. Geno's and Pat's were both nowhere close.
Nice to see more BVC kids getting attention from big time programs!
How is this even a contest?
I'm not a big fan of the wrestling in MMA, but I do like to see talented Jiu Jitsu fighters grapple. It may not be appreciated by everyone, but transitioning and putting yourself in position to attempt a submission is an artform in itself.
But I agree, UFC seems to be going downhill. I always check the results but stopped buying the PPVs. I like that the best fighters fight each other, but the judging has been a big part of why I am losing interest. Great example is Frankie Edgar... he has several losses on his record that he shouldn't. Hendricks also beat GSP, I don't care what anybody says. Fighters are winning fights but getting losses on bad decisions. Who wants to watch that?
It's pretty fun, I've been there every year so far. It is a camp, it is free and open to the public, and it is at the 'Shoe. You'll get to see commits, along with a lot of highly rated recruits compete. There are usually many current players that attend as well. And they play cool pump-up videos on the big scoreboard screen.
For example, last year EGW and Damon Webb put on a show for everyone going against each other. EGW had the crowd pretty fired up. Another highlight was Braxton Berrios, whose performance earned him an offer.
Definitely go if you can!
Just an FYI, some of us look at this site at work.
Gray box reappears...site crashes. Can't be a coincidence.
Ohio State - where I would commit in a second if I had an offer.
Arizona State - used to live in Tempe and they kind of became my unofficial second fav college team. Plus I have family there. Also, bad-ass uniforms.
Northwestern - because of the prospect of living in Chicago. And good academics I guess.
One FL school, probably UCF or Florida - would be close to my dad if I went down there.
Penn St. - For some reason I applied and was accepted there, so I guess I'd check it out. Hopefully I would be able to resist Franklin's snake oil!
Definitely go, it's an experience that everyone in Columbus should have at least once.
My best friend got married on the day of The Game, foolishly guaranteeing that he will miss it most years due to his anniversary. He also caused me to miss like, half of the game that day. WTH?? Luckily there was a sports bar across the street from the church.
I usually take my kids on Saturday morning. Around 11AM on the offramp stage there is a kids band called The Shazzbots that plays. My oldest daughter loves it!
I will probably go tonight as well...Lo-Pan is playing at 10.
Aside from getting the win of course, I'm just hoping our D-Line escapes injury-free. Those cut blocks are scary.
We'll have lots of recruiting competition from scUM. Hoke would hate to let a sandwich get away.