jamesrbrown322
Franklin, TN (via Portsmouth, OH)
Member since 15 June 2013 | Blog
Helmet Stickers: 6,337 | Leaderboard
Favorites
SPORTS MOMENT: Attending the 1995 Ohio State-Notre Dame game. Close Second: Attending 2002 Ohio State-Michigan.

Played plenty of sports in High School, with very few truly great moments, unless getting into an all-out brawl with a private Catholic school during our soccer game counts.
COLLEGE FOOTBALL PLAYER: Eddie George and Mike Doss (tie)
COLLEGE BASKETBALL PLAYER: David Lighty or Jim Jackson
NFL TEAM: Bengals and Browns (Grew up in neutral territory)
NHL TEAM: Bruins and Predators
NBA TEAM: Celtics
MLB TEAM: Reds and Indians
SOCCER TEAM: Arsenal, MLS - Crew
Recent Activity
Finally!
Although I'm surprise that it's Smith and not Spencer that's riding pine...
Fair enough.
I guess my point was that he inherited a roster that was better suited to execute Rich Rod's offense. He also went 11-2 in really, really bag B1G, and faced a team that had no business being in a BCS game. But, you are right, he did so with players whom he did not bring to Ann Arbor.
"And don't forget, if you buy two Cokes, you get two free tickets to witness the butt-whooping that Indiana will put on us!"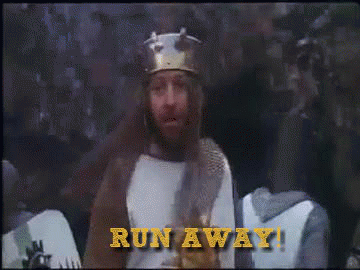 Jon Gruden, duh! He was signed, sealed and delivered to Tennessee, but you know, it just didn't work out.
I heard that he even wore a blue tie one time...
He's smiling because he has no idea what's going on...
But, seriously, Hoke did inherit a train wreck, and IMO, was ill-prepared to repair it. A few years down the road, with more experience he may have been able to right the ship. However, as on field performance goes, he was always going to be on the hottest seat come the end of this season.
I think that the serious lack of attention to the situation, and long term affects on a kid who clearly was in pain even before he took the shot that resulted in the concussion. seals the deal. Putting a kid, who is not going to admit he couldn't go back into the game, who show symptoms of a concussion makes it a no-brainer. The fact that it happened on national TV, and even the broadcasters were hypercritical of the decision, means that he should not be permitted to finish the season, nor should any of the coaches who talked to Morris on the sideline, and still allowed him to re-enter the game. If UM is aware of the atmosphere swirling around concussions, and that ultimately its coaches are responsible for the doing the best that they can to ensure the safety of college aged students playing a game, they should let Hoke go immediately and name an interim. As much as we love to revel in UM's failures, this is honestly not a laughing matter, as there were so many other solutions than sending Morris back into the game, and refusing to use one of these options, they put the young man's future, not just as a football player, at risk.
I have to admit that Barrett has been a revelation. I look forward to seeing how he develops after playing better defenses, as well as some true road games. The future indeed is bright, and this team is going to make a lot of noise the rest of this season and the coming seasons. I am already looking forward to 2015.
I'll be honest and say that if he helps OSU get closer to a national championship, and there is room without cutting someone who truly wants to be here, then take him.
Nope. Meyer is a pedal to the medal type guy. They'll run it up if they can.
I certainly hope that's true, and it would be great for the committee to employ reason. However, when it comes to logic, OSU will not get the benefit of the doubt in many situations. That's why I'd just prefer to see Va Tech right the ship and win at least 7 or 8 games.
I love that exchange. Really is a very underrated script.
Only thing that helps OSU even get an outside chance is for Nebraska to run the table until being destroyed by a 1-loss OSU team who has beaten everyone else on their schedule by at least 2 TDs, while Va. Tech rights the ship and wins the ACC over FSU in the championship game, all while only one SEC team finishes with fewer than 2 losses (with Mizzou hopefully winning the East, and maybe even the whole conference), and Oregon stays undefeated, while Oklahoma runs over the Big 12, and no one else in that conference looks particularly good.
Then OSU could sneak in as the fourth team. However, realistically, the loss to Va Tech ended the playoff talk. Let's focus on enjoying the remainder of the season and posting #FireFickell 20x per week on the way to a B1G title. God knows it's been too long since we've won one of those!
Sorry, but beating them is always fun for any of us who were fans in 1993, '95, and especially '96. I love it every single year, and it still matters more to me than any other regular season game, if for no other reason than the fact that I saw so many good OSU teams come into the UM game needing a win to take the B1G, or even compete for a national, championship.
I'm disappointed that with the inconsistency along the OLine, we haven't given Meechy a chance. I hope he ends up staying after redshirting this year after expecting to play. So many of these kids who are elite expect to play right away and can make rash decisions if they do not. Hopefully we'll hear from him early and often on the fields next year.
Edited - thanks for the heads up.
Mmmmm...did you say something about cooked goose?
On some level, the upheaval in Ann Arbor is disappointing to the extent that it hurts OSU's strength of schedule each year, and the profile of the B1G. However, for those of us who suffered through the John Cooper era, it is great to beat them year in and year out. If Morris was concussed or not, he should not have gone back in the game (kinda like Braxton in the Orange Bowl, cough cough). In today's day and age, it certainly looked close enough to a concussion, in a four score game, there's no way the kid should ever have gone back in the game. Take a TO, have the backup QB use someone else's helmet just to hand off the ball, take a knee, run a wildcat formation with a WR or RB. There are many options, but keeping the kid in there should not have been one of them. Maybe Hoke's right, and he's managing so much that he didn't notice. However, I find it hard to believe that any head coach is ignorant of his starting QB hobbling around on a bad leg and seeming a bit woozy.
The fallout could be very serious in this matter. Either way, I think Hoke was always going to get blown out by ND, MSU, and OSU this season, and short of winning all of his other games, he was on the way out. My guess is that UM will throw everything that they can at Harbaugh and Miles. We'll just see what happens.
If he wants to play as a true freshman, it won't be as a full-time QB anywhere that he is considering honestly. If he wants to redshirt, that could be different. I think he'd be willing to run out of the wildcat, line up where they want, and develop as a QB, a la Hines Ward at UGA (who developed into a WR instead), while competing for national titles.
Indeed...
Wait, there are Bearcat football fans?!?!?
I think he's a good QB, and reminds me a lot of Jimmy Claussen. We'll see if his NFL future works out better...
Wow, I missed this game. If this is true, and especially with the way things are trending in Ann Arbor, he should be fired.
I sure hope Damien Harris saw all the different ways that OSU can utilize a RB.
Subtracting a first round talent (Spence) has really hurt them, IMO.
I will continue to say that this team will continue to improve (hopefully, mostly on D) through the end of the year, and destroy someone in a bowl game. Then, they will be a scary team, ranked in the top 5-7, coming into 2015. 2015-2017 is going to be really, really fun IMO.