jamesrbrown322
Franklin, TN (via Portsmouth, OH)
Member since 15 June 2013 | Blog
Helmet Stickers: 4,444 | Leaderboard
Favorites
SPORTS MOMENT: Attending the 1995 Ohio State-Notre Dame game. Close Second: Attending 2002 Ohio State-Michigan.

Played plenty of sports in High School, with very few truly great moments, unless getting into an all-out brawl with a private Catholic school during our soccer game counts.
COLLEGE FOOTBALL PLAYER: Eddie George and Mike Doss (tie)
COLLEGE BASKETBALL PLAYER: David Lighty or Jim Jackson
NFL TEAM: Bengals and Browns (Grew up in neutral territory)
NHL TEAM: Bruins and Predators
NBA TEAM: Celtics
MLB TEAM: Reds and Indians
SOCCER TEAM: Arsenal, MLS - Crew
Recent Activity
I think I might play Iowa at 5:1...
Alabama being a favorite is not a shock. However, the fact that they have the same odds as FSU is crazy to me.
They stole Sobes too!?!? That's just inexcusable!
Indeed, but it says "a Spartan," thus it would be between the n and s. Either way, it's pretty damn funny that you'd spend this much money and not pay a little bit more attention.
I keep forgetting about Booker sadly. That kid is gonna be a beast!
When you watch his film, I think he's a Clay Matthews Jr. clone. I am hoping OSU utilizes him much the same way that they did Bobby Carpenter.
Thats just ridiculous. I cant believe that anyones so stupid that they dont notice when theyre not using apostrophes. Thats just inexcusable and something that shouldnt happen anywhere.
SEC fan looks at this and says, "Hey, that ain't right. It should be their. not theyre!"
There were also people who said the same thing about Justin Zwick over Troy Smith...
Let's wait and see how everything plays out first. No one is saying that Gibson's committing or permanently a QB, or that Burrow would be that offended if it happens, or that Gibson automatically beats our Burrow. All we know is that this kid is an elite prospect and overall athlete that would improve any team that adds him, and increase their chances of winning a national title.
Okay, at least someone ate one
I agree (especially if EA goes to the lengths of naming all of the players). If they'd throw in a copy of Madden, the kids would be 100% on board!
Yeah, I don't get this one. It seems like over the last 6 months, every kid from the South who is high on OSU, cools as soon as he visits southern campuses.
Forget SEC bag men, I blame the SEC sack girls!
I hate that Burrell, and especially Harris, will not be there, but hope they have fun and learn a lot while coaches get a good look at some kids that they are considering for a future Buckeye offer. Good luck to all!
Success breeds contempt. That's why it's so hard to hate the Cubs, Vanderbilt (usually), and Northwestern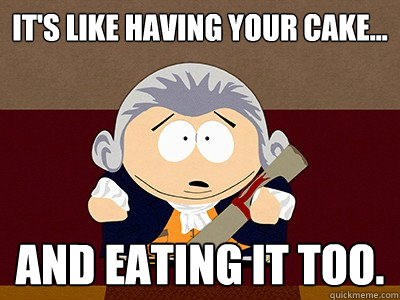 I watch him play, and he bears a striking resemblance to another #47 in Scarlet and Gray...
"I think we're gonna get Damien Harris here at UK Skeeter! Slap hands! Slap Hands!"
I love everybody! Especially my ambassador of quan!
Gotta give Clay Travis credit for one thing - Calling it "outkicking your coverage" is pretty hilarious...and Tennessee is the capital of it!
Why? Because they were twins?
In that case...upvotes for everyone!
I think that they're mortgaging way too much on the Love acquisition, and could slow play it a little more. I'm gonna go ahead and speculate that LeBron wants Love badly, and that the pursuit of Love was even part of what Cleveland may have promised to entice LeBron a little more to come home.
If it happens, it would be pretty amazing to have two of the ten best players in the league in a market like Cleveland, as opposed to LA, NY, Miami, and the likes.
Yes, the Crying Spaniard puts them over the top!
I have to respectfully disagree. LeBron, Irving (thanks for the correction) and Wiggins still make the Cavs the favorite IMO. No one knows what the Bulls will get out of Rose. McDermott and Mirotic are not proven yet, and you never know if it might start to click to Anthony Bennett (optimistic, I know).
Plus, I CANNOT STAND Joakim Noah. I think that guy yells about absolutely everything that happens in life.
The only way that they should deal Wiggins is if they do not have to include draft picks. There would still be a chance that Love plays one year with Cleveland and then walks.
IMO, there is no way I include Wiggins in the deal. He has insane upside, and I just don't like the idea of giving him up for Kevin Love, unless they get a pick out of it. I love the idea of Wiggins and Irving as the future, and LeBron as the present, raising their play and teaching them what it takes, especially on the defensive end, to win a title. Is Love really good defensively? I am not positive, but I am not sure that he's that great on that end of the floor, so one may have to weigh that, as LeBron doesn't need an offensive force in the post, nearly as much as he needs more of a "rim protector" in order to save some energy on that end.
However, if the Love deal happens, and the Cavs don't have to mortgage the future to do it, they immediately become overwhelming Eastern Conference favorites.
Honestly, I think that they could beat everyone on their schedule except Mich St. and maybe Va. Tech without Miller. It might be closer than we'd like, but they'd win. He is absolutely vital to their success, make no mistake, but they also have a lot of talent at a lot of spots, and IMO, they are that much more talented than the rest of the B1G.