jamesrbrown322
Franklin, TN (via Portsmouth, OH)
Member since 15 June 2013 | Blog
Helmet Stickers: 18,433 | Leaderboard
Voting Record: 6765 / 144
Favorites
SPORTS MOMENT: 1995 Ohio State-Notre Dame game. Close Second: 2002 Ohio State-Michigan. In The Shoe for both!

Played plenty of sports in High School, with very few truly great moments, unless getting into an all-out brawl with a private Catholic school during our soccer game counts.
COLLEGE FOOTBALL PLAYER: Michael Bennett, Eddie George, and Mike Doss
COLLEGE BASKETBALL PLAYER: David Lighty
NFL TEAM: Bengals and Browns
NHL TEAM: Bruins and Predators
NBA TEAM: Celtics
MLB TEAM: Reds and Indians
SOCCER TEAM: Arsenal, MLS - Crew
Recent Activity
What's the point in turning the page since Thad can't coach anyway.
Wait, you mean Thad won B1G Coach of the Year for improving from 25-10 to 24-11? That sounds about right.
The nice thing about Nashville is that, although you get your fair share of "S-E-C! S-E-C!" chants from the fanbases who never win anything (Tennessee, Kentucky, Georgia, South Carolina, etc.), there is a confluence of fans of all different schools here. In fact, my optometrist just happens to be a Buckeye. So, while there are always going to be haters and those banging the SEC gong repeatedly, it's not as bad as it could be. The one part that still pisses me off though is the "If Team X was in the SEC, instead of the weak ass [insert conference here], they'd be an 8-4 team, at best!" It gets pretty old, but I say to them what my dad's opinion is - If the SEC is so damn hard, then leave it and join the ACC or B1G. Since those conferences are so easy, just leave the SEC for them.
Also, perhaps we should cut SEC fans some slack. After all, they did lose a MONSTER Bowl Game about 150 years ago...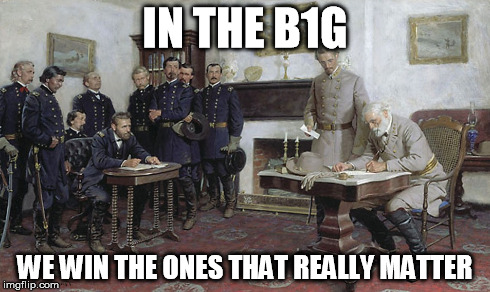 I don't disagree. I also don't disagree with the opinion that outside of OSU and MSU, the B1G has been pretty poor overall for several years. Cowherd is just going to say things to incite anger. It's what he does. Nothing he says surprises me, so I wasn't shocked to hear this.
The AFC East sucked too, but it sure didn't prevent the Patriots from winning the Super Bowl.
Whatever. I'm so done with NCAA rules. The NCAA should exist for the sole purpose of keeping the playing field as level as possible. Other than that, I couldn't care less. I used to be a relatively big supporter of the NCAA on some fronts, but now I'm just done.
They ended up with Amadeo because, correct me if I'm wrong, but I believe that everyone was returning, save for waiting on Sully to decide (granted we all knew he was gone after 2). That was a bit disappointing, I'll grant you. Now, along with Loving in 2013, they also landed Kam.That's two top 70 recruits. That's nothing to sneeze at, given the team needs.
Let's be real here - the recruiting has not been the issue. The truth is, call it whatever you want, the fact that the #8 overall class in 2011 never really fulfilled its promise, especially as Juniors and Seniors, when you would expect them to become leaders and stars. 4 top 50 recruits (out of 5 total), should have translated to a lot more success by their third and fourth years in the program, one would think.
Happened in 2006-07, and even at Duke and Kentucky in most recent memory. So, I'm not ruling out anything. The B1G is wide open next year, so who knows?
From everything I've seen and read, Josh Perry is absolutely everything that you want in a captain. That kid is definitely an ambassador for the program and the school. I agree that he, Decker, and Brax are locks. I'd guess that either Washington, Vannett, or Bosa is the other.
Esa didn't make any sense to me.
That one surprised me too. IMO, OSU was just a little late to the party after missing out on some other kids that they thought they mind land. I'm pretty sure that Huggy Bear put on the full court press (no WVU based pun intended) to do everything to keep from making an official to Columbus. With all due respect to Ahmad, I like Mitchell's game a little bit better. I hope he does well though, as an Ohio kid.
If this MSU team can make it, why not next year's Bucks? If Loving can get his head on straight, with Tate and KBD's continued development, adding Mitchell's athleticism, Harris and Kam running the point, and Grandstaff's and Lyle's shooting and scoring ability (not to mention the fact that we don't know what we have in Bell and Thompson yet), it's not out of the question. It's all about the draw. Had the Bucks instead landed as the 8 in Nova's region, it wouldn't have shocked me at all to see them in the Elite 8.
Don't ever forget that winning the NCAA Tournament, or at least making a deep run, is a lot more about who is the hottest team and gets the best draw than it is about who is the best team all year. With the right draw next year, I expect the 2015-16 Bucks to at least be in the Sweet 16, and if the talent develops as expected, the Elite 8 and beyond.
I'll be real honest here and say that if I am going to be disappointed with Thad on anything, it's not recruiting. Would it be great to win with Ohio players? Sure. But, for some reason, when it comes to basketball, I don't care nearly as much about the in state talent as I do football. Basketball recruiting and football recruiting are very different animals. I wouldn't be surprised if you saw similar, not exact, trends at UNC, Kansas, Michigan State, Florida, and other elite programs. To win, you need to recruit well on a national level, and bring in the best players that fit your system, culture, and needs in any given class. So, if Ohio produces 3 top 50 players in one year, and they're all capable of really only playing the 3 or 4 in college, but OSU has only two available schollies, with no needs at the 3 or 4, they may only take one of those prospects, or even none. This is especially true if a superior player that position who is from out of state wants to play for the Buckeyes.

OSU beating Bama so bad that Nick Saban retreats back into hell.
As I shared in the Eichenberg CB thread,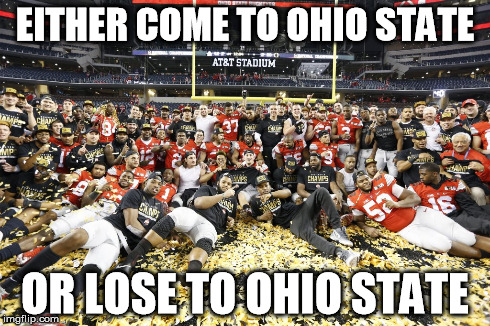 As I've shared before -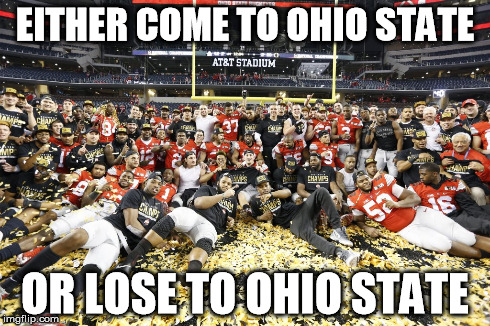 I agree that both Kyrie and LeBron are awesome, but can you imagine still having their picks, LeBron, Kyrie, and Wiggins? That's a team that wins the East at least 4 of the next 5 years.
It would be a huge mistake if the Cavs let him walk at the end of the season given all of the draft picks they surrendered
If they fail to win the title and Love walks, that might be the most Cleveland thing ever. I'd hate to see them having mortgaged the future for him, and then get almost nothing out of it.
Oh, I think yours was pretty accurate too. I just wanted to make sure that were talking about the same person.
The Knicks are the type of big-market team that appeals to Love.
The Knicks think they're relevant.
The Knicks are the type of big-market team that appeals to NO ONE (especially as long as Melo is there). Do the Knicks even have any $$$ under the cap to pull this off? This is just silly.
Or Car - "I don't want anyone else to shoot" - Melo?
I was always taught that if you're not uncomfortable, you're not challenging yourself. If you're not challenging yourself, you're not growing. If you're not growing, you're falling behind. If you fall far enough, you simply get left behind.
I love the idea of getting these guys out of their comfort zone and making them grow. There also two good things to help battle complacency for this version of the Bucks - 1. They'll hear all year long regarding TCU, and how they deserved a shot; 2. Despite winning a National Championship, they did not go undefeated. There is still room to improve over last year by becoming the first 15-0 team in history, and breaking the school record for consecutive victories, as well as finally garnering some individual awards and accolades.
Did they also promise that you would make $20,000 a month as long as you had 10 runners beneath you?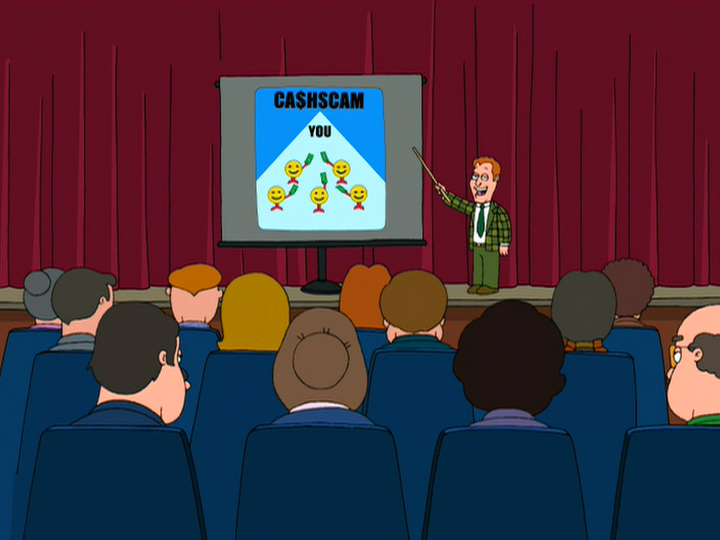 Sadly, I must admit that I am at least a little bit interested in trying their products, but have no interest in becoming involved with any type of distribution, including even buying from a distributor, but it's expensive as hell.
Grizz haven't been the same since the Jeff Green trade. They do too much to accommodate him on both ends of the floor.
LeBron's only got 16, 9, and 7. What's wrong with him? Jordan and Kobe would have 75 by now!
I saw the same two teams play (albeit only a handful of these players were involved) a little over 7 years ago. Sat 11 rows from the floor at FedEx Forum. Greatest birthday present ever! Conley and LeBron in person = awesome.