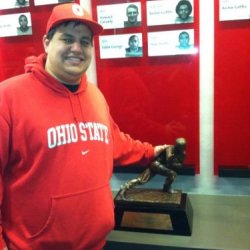 James Mee
Member since 09 April 2014 | Blog
Helmet Stickers: 121 | Leaderboard
Favorites
NFL TEAM: Washington Redskins
NHL TEAM: Colorado Avalanche
NBA TEAM: Washington Wizards
Recent Activity
I jumped off my couch and scared the crap out of my girlfriend.
I doubt that Winston will win it. I don't think that they want to give it to someone twice.
Best of luck, Frank! On the plus side, this opens up a scholarship.
Rather surprising really. All the talk on him was that he wasn't going to play this year. Maybe this changes that. Either way. Congrats to him!
I'm not sure it is. He was a very talented punt returner and its hard to simulate punt returns in practice (you shouldn't be trying to kill your own player). He just liked to gamble. However, I will say, that Coombs should have made it clear that he should be very defensive on it, given the situation.
I feel bad the Philly is going to be remembered in part by that muff. He played so well for us and that play just went poorly. He always did that, where he tried to make something out of nothing on a punt return. I get the idea, but you have to know the situation.
Assuming Dontre is still back there, yes. This is the reason that Rod Smith and Jordan Hall switched up last year.
Being on the opposite side of the pundits is fine with me. Less pressure and more satisfaction when you win.
Well written. I'm ready for football to finally be here. Stop teasing me Urban, just let me have it! I need the wins!
I'm also not sure how much practice reps would help him at this point. He needs game reps. JT and Cardale could always use the practice reps though.
Also, they need to come down with the ball. I felt like there were a lot of key drops. Looking at you Evan Spencer and Devin Smith. Seriously, if Evan can pull down that Third Down pass in the Big Ten Championship game...SMH.
Point taken, though I think Hernandez is the exception rather than the rule. He also was not asked to block that much, or at least that's my recollection. I didn't watch much of the Patriots or Florida.
It's easy for all of to say that have an opinion on this, but I'm going to go with the coaches. Urban and Co. haven't been the type to just tell everyone it's going to be great when it won't. I think losing Shazier will suck, but I tend to believe the coaches when they feel the rest of the unit slacked off because Shazier would make up for them. I also am excited to see what the freshmen will be able to do.
This tested my "Don't tweet at recruits rule." But I'll just comment here instead.
He can still commit to OSU. We can forgive this oversight.
I think what he meant to say is, "It'll be nice to be seeing Justin Hilliard and Raekwon before they lay my ass out and send us home crying." That seems more accurate. But hey, he and Malzone can dream before they start getting smacked around.
Two things:
1. I didn't know they lost the trademark to Maize. That just makes me soooo happy.
2. I know that recruits like the cool jerseys and stuff, but someone should tell them that they like the jerseys to not look so.....terrible.
They do that on their own. They almost to Akron. Also, they have a new found rivalry with the Ohio Bobcats. I really feel this is more on their level. Maybe a move to the MAC, where they could really be competitive is in the works. Never know what Dave Brandon will do.
This is the best explanation that I can come up with. Or maybe just a bunch of happy OSU alums.
6'1" is not really big enough for a TE. Also, TEs need to be able to block and I don't know what his skills are in blocking. And I prefer the idea of him as a WR. Then again, the offense seems a little positionless
Physically, as a passer I think he was pretty good. He needs to be better at making decisions and breaking down the defense. He could be more accurate but he completed over 60% of his passes. I wish he got to practice, but nothing can be done about injuries.
My guess is limiting him in practice is a much lower bar than say a game. I thought he did have surgery earlier though. But I'm not privy to the intimate details of Braxton's medical history, but I trust the staff knows what they're doing.
My guess, until the Playoffs/Bowl Games, the best offense the defense will see will be the first teamers.
I'm not too concerned about it. I think they just want to be cautious and make sure he's good to go.
Sad to hear this news. It's always rough to see a player's career come to an end based on injuries. Good luck to him in his future pursuits.