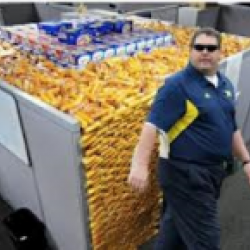 Jabba the Hoke
---
Member since 15 July 2013 | Blog
Helmet Stickers: 632 | Leaderboard
Recent Activity
Is this some sort of manifesto?
When every team you lose to is arbitrarily ranked very high in the preseason polls you don't fall as far. I'm guessing that voters can't watch every game so they base much of their decision on espn highlights and headlines.(let's be honest, they're the only major sports outlet). It almost becomes a self fulfilling prophecy.
I hate to say it, but a tougher B1G schedule could be the difference between ending up as the fourth team in the playoff or the first team out.
My biggest concern would be that thpaying players would create even less parity in college football than exists today. Small schools wouldn't have a prayer. The entire MAC conference might as well cease to exist in football.
Triple homicide? I will never criticize any of your work, out of fear for my life.
I knew all the spawn points on most levels, but in the bunker with proxy mines I could make it nearly impossible to move even if you got past the spawn. However in the off chance that someone killed me, a few suicides would happen.
Only the people who really sucked could be oddjob, but if they ever won that was off. We always played 1 shot kills so golden gun was pointless. But one shot kill with power weapons, made it crucial to get the RPC 90.
Would you have had a runoff if it were the other way? Seems fishy that there was already an article about Owens in the works. I don't really care, both are fine champions. I'm just playing Devil's Advocate.
We all know who really won. No wrong choice in this but it definitely seems fixed.
Can't go wrong with either choice, I was just pointing out the obvious flaw in your "taking their talent" argument. If North Carolina is the "birthplace of flight" then Ann Arbor is responsible for Jesse Owens setting world records. You have to see the flaw in logic there.
The fix is in.
Taking their talents to Kitty Hawk is like saying Owens took his talents to Ann Arbor or Berlin
I'd write another about the Wright Bros just in case.
I always get its and it's backward.
UD fans have no room to complain about Ohio State not scheduling them. UD does the same thing to Wright State. I honestly don't hear it much from UD, but UC has a serious inferiority complex.
One of my favorites, I've read it a few times over the years. I've read a few other Eckert books, but The Frontiersmen is my favorite. I've even got a signed copy.
Or you're too stupid to ask someone else.
Flying Pizza is overrated imho.
Couldn't agree more.
I hope he figures out the route running sooner rather than later. He would be so dangerous in the slot.
Uh.... I didn't exhale?
Scattered topped covered is the correct way to order your hashbrowns.
I'm just thankful I didn't have facebook when I was 18, I would have said a lot of fucked up stuff. I still do, but I have a better filter now.
But I believe he does live in a van down by the river, if not I'm certain that some day he will.
Was that Matt Foley or Brady Hoke? I'm so confused.