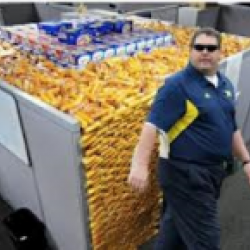 Jabba the Hoke
---
Member since 15 July 2013 | Blog
Helmet Stickers: 727 | Leaderboard
Recent Activity
I don't care what you people think. I'm with Cardale, that would be clutch.
Unless you're going to the game. Then it is your civic duty to start early, drink all day, and be loud and obnoxious at the game.
That's why I can't wait until I'm like 80. I'll say and do whatever I want.
Does it matter?
Depends on the pizza, clearly I would eat a hot and ready with a fork.
Bigger schools may come calling, but I believe he could accomplish his goals at MSU. He had them very close last year.
https://www.youtube.com/watch?v=HAo5GgaJmsA&feature=youtube_gdata_player
I voted script, but almost went with other for this very reason. Nobody in the country does a better halftime show than TBDBITL.
Braxton should be taking the Gardner approach and be bonding with teammates through video games and movies. Extra work?!? Pfffft
Nope, you are not allowed any extra benefits.
Me write very good, I send in resume.
I've run into him too, awesome guy. But yeah, don't be a fanboy.
When did Alabama travel north other than Penn State a few years back? You can't say Kentucky either. Isn't the whole reason they bailed on MSU because MSU refused to play a "neutral" site game?
So very true, but Cincinnati chili =/= chili.
I wish I could upvote this, Skyline is terrible.
Cocaine might actually allow them to do a better job than they currently do, I'm thinking meth or heroin.
Is it just me or does that abandoned mall look like a good spot for paintball or military training?
It seems that the racist coaches coached for a certain team in the north, not the south. http://mgoblog.com/mgoboard/excellent-article-president-ford-willis-ward-and-yosts-racism
I'd invite Cam Johnston to a graduation party.
If he stayed 10 days it would be no different than say a $500 loan. https://alabama.rivals.com/content.asp?CID=1557109
Bellisari made damn near every special teams tackle his freshman year, he would have probably been a damn fine safety.
I know, Fitzgerald's eyes aren't even on top of his head.
I actually think it would have been better for the Brown's to draft Manziel at #4. Then they would be tied to him for at least two seasons, as it stands he can be tossed aside with nothing lost.
I just don't get trading up one spot with the Vikings, I don't think they were picking him anyway
Not saying it will happen, but winning will cure that. Hahahaha