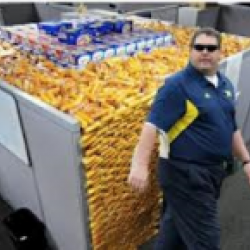 Jabba the Hoke
---
Member since 15 July 2013 | Blog
Helmet Stickers: 599 | Leaderboard
Recent Activity
Flying Pizza is overrated imho.
Couldn't agree more.
I hope he figures out the route running sooner rather than later. He would be so dangerous in the slot.
Uh.... I didn't exhale?
Scattered topped covered is the correct way to order your hashbrowns.
I'm just thankful I didn't have facebook when I was 18, I would have said a lot of fucked up stuff. I still do, but I have a better filter now.
But I believe he does live in a van down by the river, if not I'm certain that some day he will.
Was that Matt Foley or Brady Hoke? I'm so confused.
I think the question is "what did he know, and when?" For example, did he know on say the 20th and play the kid on the 22nd? Did he make up some story about an injury to cover for him? Man if only these questions could be answered, but it seems that the one source that is actually asking questions has been blocked from pressers. There is ABSOLUTELY ZERO reason to think there was any kind of effort to hide this in an effort to protect the image of the football team.
I don't think there is any question as to whether he has the talent. I think the reason he didn't see the field was that he hadn't fully learned the position yet. I wasn't at practice every day to know that, just my thought.
Indiana doesn't have home field advantage in Bloomington.
"Who.the.F.cares. about Michael Sam and coming out that he is gay." I agree, this is going to turn in to a huge deal when it shouldn't be. It shouldn't have to be a big deal, even though it will be. I hope we get to the point where the only thing that matters is if you can play.
I could definitely see a career in journalism for this young man. Very well written.
Its easy to pick Meyer because we live in the now, but Cooper had some amazing classes. The one big knock on Cooper was that he always let one Ohio guy slip through to another school which came backto haunt him. Charles Woodson, Curtis Enid, hell even Ryan Brewer came back to bite him in the ass.
I was thinking the same thing. Added bonus, I fat fingered a dv for you, but was able to change it.
I say Taylor, just because I think he will benefit most from the position coaching.
Too much interference very often backfires when dealing with teens.
Jared Lorenzen, Pillsbury Throwboy took the nickname a bit too far. https://vine.co/v/MaaQAJE2m69
How'd he end up there?
Its very hard not to pick Jack. But if we're just talking about being iconic, I'll throw LeBron's name out there.
FIRE FICKELL!!! sorry no sarcasm font on my phone
Defense should be better. I wouldn't mind seeing the offense slow the pace just a little. There were times when they'd hand it to Hyde 3 times in a row for 5-10 hard earned yards a pop, then he would be gassed. Keeping the no huddle and just taking a few more seconds between snaps would still accomplish the goal of keeping certain defensive packages/ players on the field, but give our guys a bit of a breather. Also a bit more clock control, couldn't hurt the defense.
But who's counting?
The TP comparison is there, but Gibson's touch at this point seems better to me. Though, its unlikely he is as tough to tackle as Pryor. I always laughed pretty hard whe TP would stiff-arm a d-lineman to his back.
I can only upvote this once?