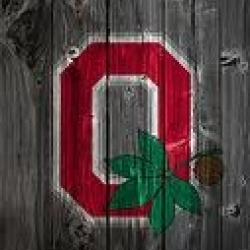 ISURVIVEDCOOPER
---
Member since 25 November 2013 | Blog
Favorites
SPORTS MOMENT: Witnessing Eddie George in 1995 rushing all over a Simeon Rice-led Illinois defense to the tune of 314 yards, 3 TDs, and even catching one... Orlando Pace didn't look too shabby either... it was a wet cold evening, and all the ponchos were out, but will never forget his milestone. He was a man among boys.
COLLEGE FOOTBALL PLAYER: Formerly Eddie George. Braxton Miller as of 7/23/15
COLLEGE BASKETBALL PLAYER: Len Bias
NFL TEAM: Cleveland Browns
NHL TEAM: NY Rangers
NBA TEAM: NY Knicks
MLB TEAM: Detroit Tigers
SOCCER TEAM: Barcelona
Recent Activity
I love getting edumacated by Kyle. Very nice KJ
Simply awesome! Great win!
9Route more like...
Hint, he has something to do with football
Great piece Kev - made me ache for the day I get to share a game in the Shoe with my little ones
He got banned by YouTube
DJ being censored for recycled jokes... Not sure how I feel about that... Was it harmful to humanity or the Borg? Anyone have his joke to share for those of us with inquiring minds?
I get the sense that there is nothing to do in Norman, OK so these athletes are resorting to 'find-your-own-fun-of-choice'
RIP Mr Rooney. You were always a likeable leader of a historic franchise. May your legacy only grow stronger
Now, that's real!
DJ, you are more metrosexual than I thought but ain't nuttin' wrong with that. Whitney has clearly been a good influence for you with all that lotioning. Twitter is sadly a ship showing lots of leaks - lots of people left/leaving the company these days... I agree that we should all shutdown fb - the amount of privacy you give up is beyond voyeuristic...
Results aside, which style of offense would you guys and gals prefer? The tressel era pro-style ball offense or the spread attack we have had? Again results aside.
My deepest condolences to Corey's family and the 11W family who knew him. Can't imagine how much his son will miss him and is saddened by this. I hope grows up knowing he is not without his father's gift of love and inspiration to draw from when he remembers his dad.
The GERS it is with LA
Eh boys, now I am missing some plate lunch, some spam musubi, some saimin and some poke... I miss my islands.
Did you mean committed to Tom Herman and Texas or that he committed to Major Applewhite and Houston
We just moved the family to the Bay Area from NYC, and the local radios were lambasting Jed York (for good reason). The locals are furious that he let Harbaugh go (Stanford track record being part of his popularity, etc etc). One sports radio segment played a series of clips from interviewers when he was making the announcements on GM/HC changes and the journalist asked him, "[paraphrasing] what qualifies you to own the 49ers and why should we believe you make good choices"
Chris, was this the official vent of the 11W staff? Tis good to get it out of your system. Spreading the criticism like butter over hot bread and a steaming knife. Love it!
And you broke my heart! You broke my heart!
I am not entirely clear on the business model, but they went IPO, and it was big news in NYC. And in a matter of a year, they started popping up everywhere. Even the original doesnt really seem the same anymore (Madison Square Park). Quality has suffered due to the barrage of demand.
Precisely... Stud will probably do a better job coaching up the tight ends than the OL. Unfortunately iat OSU under Urbz, it is also the position group you go to retire (eg, Tim Hinton)
I'm with you. Too many fans live in the 'what have you done for me lately' world, and they forget all the great moments JT has given us. To pile on after such a game and try to make him the scapegoat shows ignorance. I rewatched the game twice now... he actually did not have that bad of a game, and would have had a better one if he had even 1 second more to scan/throw than he was given all night long. It was painfully obvious that they started to get demoralized by not executing plays that they know how to run, and it was sad to see some players take off plays when we needed them most (eg Corey Smith). The OL looked overmatched, and that says it all, because it starts and ends in the trenches with Urban's system (and most others for that matter). Of course playcalling and schematic issues didn't help.
Our defense was simply gassed and the plan was based on trust that the offense would score a few points. Unfortunately, it wasn't our night.
The game has changed. Clemson has evolved by showing the strength of going with a passing identity in spread whereas Urban is stuck on using power spread with run first as his philosophy. He has to evolve... He has been spewing 50/50 run pass since he arrived. He needs to wake up and see that the game has moved to run/pass of more like 70/30. Get a OC who can develop the QB and have a passing scheme to open up the run game.
I would only agree if it was pre-franchise shake shack. Otherwise, in-and-out all day everyday
I heard he is good