ISURVIVEDCOOPER
---
Member since 25 November 2013 | Blog
Helmet Stickers: 3,051 | Leaderboard
Voting Record: 1666 / 13
Favorites
SPORTS MOMENT: Witnessing Eddie George in 1995 rushing all over a Simeon Rice-led Illinois defense to the tune of 314 yards, 3 TDs, and even catching one... Orlando Pace didn't look too shabby either... it was a wet cold evening, and all the ponchos were out, but will never forget his milestone. He was a man among boys.
COLLEGE FOOTBALL PLAYER: Eddie George
COLLEGE BASKETBALL PLAYER: Len Bias
NFL TEAM: Cleveland Browns
NHL TEAM: NY Rangers
NBA TEAM: NY Knicks
MLB TEAM: Detroit Tigers
SOCCER TEAM: Barcelona
Recent Activity
When I saw this, I knew we were going to win.
I think Brax used the TEs more than both JT and Cardale, but not sure if that has to do with the reads and QB choice or by design, since the staff were good at adjusting plans to the strengths of all QBs... that said, even Brax didn't use the TEs all that much, and one could argue that our first TD in the title game was to a TE. ;p
I believe the downvotes are from those who made fun of the Tennessee fans who said the same thing. We think we are different as fans, but guess not.
The sky was falling after this one... I had won tickets through the alum lottery and gave them to my sister in Cleveland, since I couldn't make it (in NY), and she was texting me how deflating it was, but boy was I glad I didn't spend money for a plane and hotel for that night... I believe this game also marked the beginning of the chant to get rid of the alt unis. I believe PSU was the last time we wore those unlucky threads.
Was thinking the same thing. It's hard to judge his speed, but his highlights definitely show him outrunning in long breakaways... either that's good patience, or like some big backs we've had, he needs a second to hit that next gear.
And it looks to me that JB already had his head down, so he would not have known if MM released the ball or if he tucked it for a sack, so he just had to continue...
Good no call IMO. We ain't in the NFL.
And LJS likes to rotate, so you need at least 6 studs at DT
Speaking of DL recruits... I believe we were rotating guys in/out rather consistently on the DL during the natty against the quacks. I have a feeling that is the model we were trying to go with all season, but the 2nd team guys weren't quite grading out in practice or something... I would imagine that the starting 4 will get a lot more breaks this coming year than this past season in 2015, which means more opportunities in the long run for new recruits~. LJS got them ready by the end of the year... Let's hope he can keep up the momentum and keep the young bucks hungry!
Don't fret, we got a crystal ball from the coaches poll trophy.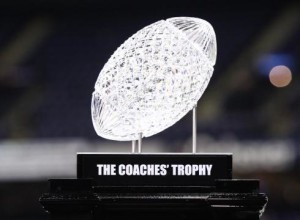 And better yet:
Birm, next to Cardale's troll king status, you're starting to build some equity as the Troll Prince... brilliant.
Just remember kids, things happen deep in the woods.
Unis-plexia is a known condition of the Oregon program. It has also been called Hansel/Gretel syndrome. It can only end badly... once the sugar rush ends, those unis get forever pegged as the ones you lose national titles in.
We play man-ball in a spread... we win. We win to be undisputed... Wanna join?
Me three... sorry, couldn't help myself. =)
LOL - I read this with Katherine Hepburn's aged voice in my head.
Brilliant use of Miami on so many levels Mr. Ramzy:
1. Miami is still our beatch
2. As Urban said, football is cyclical, but ours is just shorter...We have made it to the pinnacle again to get our 2nd natty while 'watching' Miami never truly recover after losing to us in '02
3. They said we were 'lucky' to win in '02 and that it is better to be lucky than good... well we checked the latter box so all the pundits can just #dealwithit
Very nice JB, loved the defensive hits especially... great to be reminded how awesome they played on the field.
I noticed that - he loves to wear stuff with our athletic logo on it. He's a marketer/salesman through and through, and I doubt a recruit is going to commit to him because of his fashion sense. LOL - oh well... stay with the girl that you brought to the dance, eh?
I think it's fair to say that many automatically thought, 'we're getting another national title with Urban'. My emotional hedge was that as much as I hoped for one, I wasn't going to get down on Urban if he didn't win one, since we're 'not the SEC', but we can't say enough about how he was able to flip the script on stopping himself, and our players from believing a lie about the B1G and themselves. He knows how to get monkeys off backs, and he sure as heck found a great year to do it. Living in the afterglow is rather nice to think about and the future couldn't be brighter - need my shades~!
Speaking of recruits, I happened to peruse the UH Cougars to see what kind of roster ol' Tom was building in Houston, and they have a freshman named, get this... Devin Smith. I had a good chuckle out of that one...
I have to admit that I was a bit caught by surprise when he said:
"I think I just was obviously chomping at the bit to get back in it, but to sit there and say I thought that we could somehow get back to the national title, it's everybody's dream and goal, but it's very complicated and everything has to align perfectly for this to happen," he said the day before the national title game.

"So no, it never really crossed my mind."
I took this to suggest that he took his dream job in his home state with a very hedged outlook, which may be why he didn't mention national titles so much. Shame on me for expecting anything less... but credit to him that it remained a 'dream and goal'... it's a humbled outlook, and one that paid dividends and validated that his plan is truly 'infallible'. Love that he bring kids in with character to make it work.
We are spoiled with legends at our school... So proud to be a Buckeye!
Nothing like seeing them put out fires with their own cesspool... 312 days of seeing them get their hopes ridiculously hight only to be handed a nice prick of our needle to pop their ever self-agrandizing ego-driven dumpster-fire of a skunkweasel program.
Ohio State spokesman confirms Braxton Miller is enrolled at OSU this spring semester. FYI FWIW

— Tim May (@TIM_MAYsports) January 20, 2015
I have no doubt that in a year, he'll have a pretty close to world-class offense (at least in terms of effort). It won't be too dissimilar to what Sumlin and Briles were able to do at ATM and Baylor in terms of quick turnarounds. The real question will be whether his staff can shake off the perception of no-defense (Big12) reputation that Texas has... Need a good one to gain national attraction, and a great one to get some bowl wins.
That said, I'm excited for him... He could be the heir apparent if and when Urban retires. I wonder if he has a clause in his contract much like Urban did about opting out for tOSU, too. That is if he doesn't go to the pros... will be interesting to track his progress through the years. On the topic of successors to Urban, Dan Mullen comes to mind - loved his natural energy and disposition during the Film Room - you could see his excitedness for Urban's offense.
All-in-all, I love the future that Urban has built for us and that will hopefully be maintained for the years to come afterward...