IslandBumBuckeye
---
Somewhere in the nether regions of the 419 (via Harbor Hills, OH)
Member since 05 July 2014 | Blog
Favorites
COLLEGE FOOTBALL PLAYER: Toss-up between Eddie & Spiels
COLLEGE BASKETBALL PLAYER: Adam Morrison, simply for the epic 'stache. Oh, you're being serious? Clark Kellogg
NFL TEAM: Long-suffering Brownies fan
NHL TEAM: Not sure I could even tell you what a blue line is
NBA TEAM: Cavs
MLB TEAM: Would rather watch paint dry
SOCCER TEAM: Seriously?
Recent Activity
Wouldn't be the first time sources erroneously confirmed a coaching change for The Hat
Nicky would like a word with you...

Sizable buyout. Why bother with the dumpster fire in Champaign when you can go the Charlie Weis route...
'specially when PSU's program lists this dude at 200 lbs...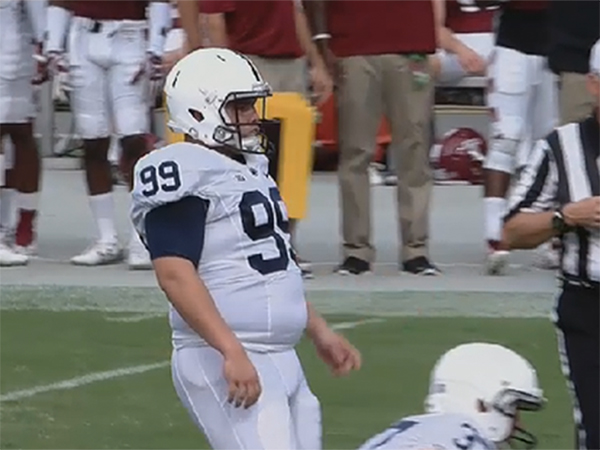 Header photo -- kicker stretching in front of Coach Coombs.
Perfect.
​He wants to wear Jeff Heuerman's old number??
Why did you have to point that out??? I was blissfully unaware -- now I'm gonna need one of those full-body cleanse things.
I think the elephant in the room vis a vis the Houston position is the home game attendance. Big payday or no, he won't be fulfilled if the fanbase doesn't give a rats ass for the (excellent) product he fields.
If the "friends of the program" grow restless enough, money won't be an issue.
Bosa isn't having the statistical season he had a year ago — he has just four sacks
While this is true, a sack is kinda like a hole-in-one -- they don't come around all that often, and a player's worth shouldn't be measured on that metric alone.
Looking at Stuffs / Hits / Hurries (which are numbers that someone is apparently keeping track of, which I guess makes them statistics) -- those numbers are just gaudy as fuck.
That used to be my spot in the stacks back in the day. Was the only place I go with the boxes of Cap'n Crunch I liberated from the cafeteria without pissing erybody off. Was old and dingy back then, haven't seen it since the facelift.
How did LBJ get that unlicensed Tyvis jersey?
Was his name Woodcock, by any chance?
"I'm Marcus Mariota, and I approve this message."
How is that humanly possible???!!
Probably starting light. No more than 400 lbs, I'm guessing...
Is that you, McFly?
Seriously, though, completely agree. I can't even fathom how that thread got so many comments (didn't read but assume 98% hijack). I can hear Al Czervik saying, "Biggest waste of digital real estate ever."
We are about to play 3 top 10 teams in a row
Mmmm... Not ready to give *ichigan a free pass out of Happy Valley
I stumbled across Gameday just in time to Hear Douchemond Howard talking about how Joey was having a so-so year. How is this person employed? I'd get it if he were being paid to intentionally stir the pot, but he genuinely knows absolutely nothing.
OSU - 45
IU - 20
We've already played Indiana, and I think it was closer than this
#BamaBarber
Can't really say she's a ringing endorsement for the U's communication program. Fun to look at, but otherwise that interview was painful to watch.
So we got that goin for us. Which is nice.
No way was Kevin Feder ever shorter than a Triceratops...
On a side note, Kiffin's pullover looks like he just took it out of the box.