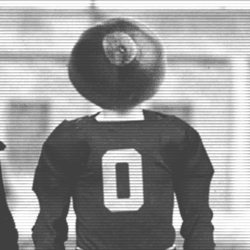 I_Run_The_Dave
---
Member since 20 October 2012 | Blog
Helmet Stickers: 1,955 | Leaderboard
Favorites
COLLEGE FOOTBALL PLAYER: El Guapo
COLLEGE BASKETBALL PLAYER: Aaron Craft
NFL TEAM: Any team with former Buckeyes
Recent Activity
Is that a fancy way of saying "guy who pumps the gas for minimum wage"?
Wow, what has Braxton done to offend all these people? Other than being one of the most humble and most talented QB's to play in College in recent history. It isn't like these people wouldn't take him on their team in a second if they could. SMH
Let's not forget the food pr0n either.
We asked for a lot of "Kenny + Brax" last year. Imagine Braxton in the slot with JT at QB. Oh the possibilities...
I think that Terrelle Pryor would have a solid shot at a championship if Wilson were to have a season ending injury.
If Johnny Football didn't want to be heckled by opposing teams, he shouldn't have behaved the way he did off the field the last two years. Now the pressure is obviously getting to him and he doesn't seem to be able to handle it.
If Chris Ash's defense is as advertised, and we had him last season, we could have won the national championship without Braxton or Hyde. The only difference this year is that we are reloading our offensive line, yet we have significantly more talent to work with at WR. I still expect OSU to win every game they play this year, just as I did last year, the year before, and even the year of Fickell. Am I a homer? Yes. Do I acknowledge that it probably won't happen, yes. But I think they can do it and I expect it to happen.
I think that JT Barrett is better than AJ, actually. AJ was serviceable and did what he needed to do, think of him like Kenny Guiton distributing the football (I'd almost say Kenny was better than AJ). JT has the potential to be something special, so let's see how he does this year.
Anyhow, this is your first official JT Barrett For Heisman 2014 thread, you are welcome.
Fixed for you. 3rd RS Freshman in a row to win it, and the second in a row to win the National Championship. Although if that happens and Braxton Medically redshirts... who is your starter for 2015?
If Nuge is our kicker, I'll take the 82 yard attempt.
I would say that UT is the worst of the lot -- although their shoe does an excellent job of keeping the same look and feel as their white uniforms, they are both (the shoe and the uni) incredibly plain and aren't really attractive.
As for ours, the added "buckeye leaf flair" is a nice touch that isn't visible from the front. Would ours be perfect with a block O instead of the "new" OSU logo? Yes. Yes, they would.
I am pleasantly surprised to discover that I am not the only one!!
Seriously, when you are done using a dish or cup, it takes 3-5 seconds to rinse it off. After that, put it in the sink, put it in the dishwasher, put it on the counter, I don't care. Just don't leave all that crap on it to sit for a week before we bother to actually do the dishes.
This is seriously my wife and I's number 1 fight, and the funny thing is she's the one that fails to rinse, but then when she finds me scraping dishes off on Saturday morning (instead of making the coffee and/or breakfast, which I usually love to do for her), now I'm in trouble because she feels guilty about it (and she wants her coffee - I make a mean homemade mocha latte - so the fight is usually about the coffee).
And the only advertisements would be for Red Bull!
I'm sure that means they have big screen tv's in there that only show the SEC network...
I am left handed, and my wedding anniversary is August 13th, and I had no idea. My wife pointed it out to me last night when I took her out to dinner and we had a good laugh about it.
Ohio State should get an accommodation from the NCAA, for self reporting so many minor violations.
Just make sure that if OSU can't attend, that they don't let their little brother check into the room instead. Oh, you meant commendation?
I upvote him regularly because more often than not, he writes out well thought out, well articulated arguments that make sense to me and that I usually agree with.
I don't feel bad about it because I can still point to the scoreboard at the end of every November.
Also: I have a poster with a lot of non-revenue athlete's signatures, including members of the women's pistol and riflery teams. If I had known that you could get a scholarship for those sports earlier in life (as in, after I got out of the Army), I might not have 30k in student loan debt still (I could consistently hit the 300m target with my M4/M16 from supported firing positions, so I like my chances in any marksmanship competition).
I feel like the stadium should be able to transform into a crime fighting robot based on the pictures. And the amount of money they are spending. And because... it's Atlanta, they probably need the help. The Detroit Lions will probably build a similar stadium that fights bankruptcy as well as crime.
I always thought Mirror Lake stunk anyway, so I don't see the problem.
To be fair, Navy = The US Naval Academy. Which, generally speaking, is a school of cadets who haven't yet served an actual day of duty yet. That isn't to say that they won't have illustrious careers of kicking the s*&% out of evildoers in the future. They just haven't yet, at that point.
If only Michigan's OL were as good as their DL. Right now, they are only as good as the clarity of this tweet.
I have said this before, but 2-3 years ago, I would have picked Rod Smith over Carlos Hyde any day. The only issue was the fumbling problem he had in his first year or so, and he's never really been given the opportunity since then.
He has big game potential. We'll see in the first few games of the season what he's made of as we'll want to keep EzE on light duty. If Smith shows what he can do, we will absolutely ride him like we rode Hyde last year.