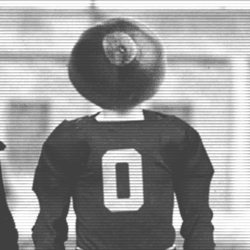 InTressITrust
---
Member since 17 December 2012 | Blog
Helmet Stickers: 603 | Leaderboard
Favorites
SPORTS MOMENT: 2011 Wisconsin - OSU Game
COLLEGE FOOTBALL PLAYER: Troy Smith
COLLEGE BASKETBALL PLAYER: Mark "The Shark" Titus
NFL TEAM: Carolina Panthers
MLB TEAM: Chicago Cubs
Recent Activity
I am saying 10
I hate saying this and should probably wash my mouth out with soap but go badgers
With all the good local places to go go, you have to make a stop at a very common chain restaurant?
Now that is something that shocks me. I feel like some losses feel like 30 with how bad our offense gets.
Mark "The Shark" Titus. He gave us such an inside look of what it was like being on the team and is one player I still follow closely even after his TOSU career was over.
I didn't realize Apple still had his black stripe. Is there a story to this? Is there anyone else still with a black stripe?
Thank god teachers made us carry them
Coming from IGotAWoody makes this even funnier
2011-2012 Season I believe but could be off by a year or two.
Well it could be worse. I could be Canadian
I am going to say the DL. I do not think anyone of them are going to have numbers that pop out compared to each other but as a unit they are going to do things that are legend what for it because the next word is dairy, legendary. One will have a great game, so the next week he is doubled and someone else controls the game.
Have fun voting. Also thanks for the update from the other thread.
LORBACH GOT A PERFECT GAME!!!!!!!!!!!!!!!!!! Such an honor for this young man. I am very envious of him right now.
I agree with the ejection. No need to come in and blind side someone like that. That being said we need him next game and I really hope they don't suspend him more.
That title is only home games. Unless TTUN tanks we will never take it.
EDIT: Missed read your post. I still think we would lose due to the stadium size difference.
Picture yourself being stuck in that shit hole up north and that is what using IE is like.
I am curious what the logic is behind this. Could you not just make a bunch of blog/forum topics of nothingness just to gather helmet stickers?
Do not forget Jamel Dean already in the fold.
The ceiling is Final Four but chances are low. If they are able to improve offensively and play like they want to win it all I could see it easily happening with the right tournament draw. If we have to face an elite big man I see an early knock out.
Next week. I mean currently 3 services do not have us ranked. We are already pretty close to the danger zone.
Yeah I believe the OP forgot to put false in between 35 and starts
What about Tim Seattle?
Yes