InTressITrust
---
CMH -> CLT - > ORD -> GSO -> CMH -> ATX -> ATL (via Columbus, OH)
Member since 17 December 2012 | Blog
Columbus Born; Southern Raised
OSU Grad '13
Favorites
SPORTS MOMENT: 2011 Wisconsin - OSU Game || 2015 Sugar Bowl
COLLEGE FOOTBALL PLAYER: Troy Smith
COLLEGE BASKETBALL PLAYER: Mark "The Shark" Titus
NFL TEAM: Carolina Panthers
MLB TEAM: Chicago Cubs
Recent Activity
Yeah this is 247's personal rankings
I feel like you don't get to see full potential from some guys when they are sharing time at a position and splitting series
I feel like this is true for most positions with the Dline being an exception. If you can rotate a fresh line every so often without a drop in skill then come the 4th quarter while the other team's oline is tired our starters are completely fresh just wrecking havoc.
Once the draft went to three days I stopped watching but if this happened I would definitely start again.
Pretty awesome commitment video. Nothing stupid like zombies chasing you or playing dodgeball just I work hard and I'm going to this school.
Since he didn't play last year can he play immediately? Good luck to him. I'll probably try and watch some of his games to see what he has in him.
Yeah I put Smith original at QB then changed and forgot the description.
Past decade I'm assuming Troy Smith and company is excluded
QB - Pryor: his 2006 season was magical
RB - Zeke: his rookie season says it all
WR1 - D. Smith: his ability to stretch the field is huge
WR2 - Thomas: back to Zeke his rookie year says it all. Last year is disappointing
WR3 - Samuel or Miller: both were under used
TE - Stoneburner: very under used except for that one game.
OT - Decker: had high grades from last year
OT - Jones: same as above
OG - Marcus Hall: just for the double barrel salute
OG - Elflein: Was the best center this year but was a great guard last year
C - Cordle: I met him one day and he was a really nice guy
DT - Hankins: A big space eater
DT - Washington: Big and athletic
DE - Bosa: one of the best all time
DE - Spence: Damn that line could have been legendary
LB - Lee: he was a play maker
LB - Laurinaitis: he is barely in the time frame but was solid
LB - Shazier: a monster for a weak defense (weak in OSU terms)
CB1 - Roby: same as above
CB2 - Apple/Conley/Lattimore: this one was tough
SAF - Vonn Bell: very good instincts
SAF - Hooker: what could have been with our safety lineup

HC - Tressel: I miss the guy
OC - Herman: the offense was outstanding
DC - Fickell: #FireFickell was popular for a while but he did a pretty fantastic job
ST - Combs: how can you not love the guy?
I think that should cover it all. Some of the line was tough as I forget some of the older guys.
Anyone saying that he is too small for the big ten at only 5-9 is laughable. Has anyone ever heard of Steve SmithAntonio Brown? Don't get me wrong I love big tall WR's but man I was really looking forward to Tyjon burning people in the slot...
Fixed it for ya
I'm pretty sure Sheffield is only looking to stay a year so shouldn't really effect Riep's playing time but who knows.
All football games are cancelled for the next three years and the NC is handed to us. No need to rush injuries when the whole world knows the outcome.
Wow didn't see this coming but good luck to him
The MVP was the QB commit from Clemson.
Mr. Young is making the case to be the MVP today.
The nephew looked so disappointed in the photos after. That is awesome.
With all these delay of games Tate is going to fit right in
Jamarco. People are talking about it in the thread below
http://www.elevenwarriors.com/forum/ohio-state-football/2017/01/78967/staying-or-leaving-who-makes-the-next-announcement
Some rumors with Baugh and Jones possible declaring too.
You are thinking Bauserman. Todd never played Nebraska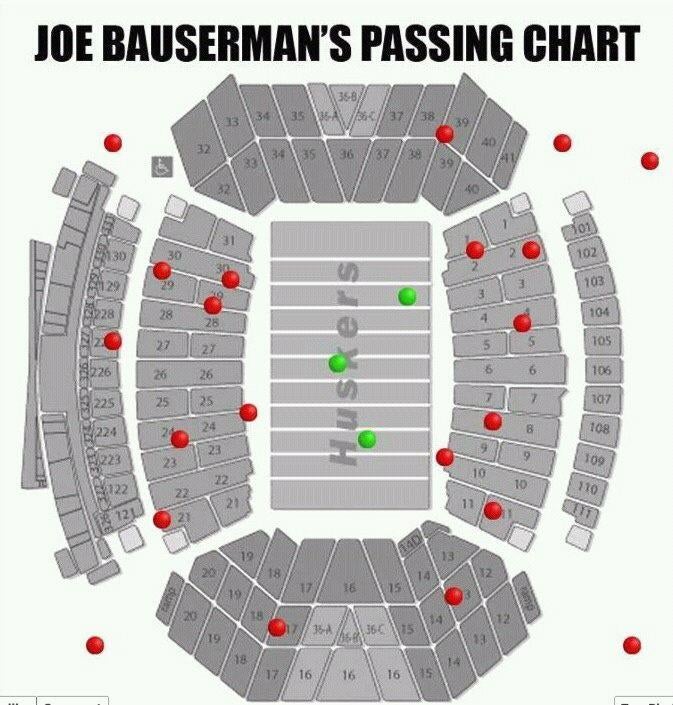 The conversation really to be had is what will happen for the 2018 QB situation. JT is gone and we will have 4 unproven players all highly recruited (except Burrow). That will be intense.
If you are looking for a drink in SA Esquire on the River Walk is the place to go. Cocktails are made with fresh ingredients and I highly recommend the Bitter Flip.
He missed yesterday and arrived for practice today.
The injuries to the true WR we have brought in doesn't help either. Some people are not capable of returning to form after major injuries (Dixon & Clark I guess these are smaller guys though). If Hill, Victor, and Mack do not step up the WR corp next year than we may need to make some moves. His current recruiting too should give him another year.
I mean the worst part about this stat is 11 games weren't played most of these years. Just looking at OSU looks like 1972 is when we start having 11 game seasons every year with 4 happening prior to that. None the less still an impressive stat.
I'm from NC and went to OSU and that distance isn't tough to overcome but I moved to Texas after school and that sucked having to fly home. So much more of a hassle and requires a lot more planning.