InTressITrust
---
TX (via Columbus, OH)
Member since 17 December 2012 | Blog
Helmet Stickers: 3,436 | Leaderboard
Voting Record: 2897 / 10
Columbus Born; Southern Raised
OSU Grad '13
Favorites
SPORTS MOMENT: 2011 Wisconsin - OSU Game
COLLEGE FOOTBALL PLAYER: Troy Smith
COLLEGE BASKETBALL PLAYER: Mark "The Shark" Titus
NFL TEAM: Carolina Panthers
MLB TEAM: Chicago Cubs
Recent Activity
Man I loved that sack on Hackenburg where he dives over the blocker.
I know nothing about this but would improve the wound of losing the top two tackles from the state
I wish. Went a few years ago when I was a broke college student but would love to go back again now that I have some money
247 has the same mind set as you:
http://247sports.com/Article/Way-too-early-2016-NFL-Mock-Draft-37061374
That being said I see Bosa, Elliot, Bell, and Decker going first round. Not sold on The King yet because well he may not start.
Not a huge pro guy but does Lee have the size to play LB or the speed to play safety in the NFL?
Definitely the Derby. Time to bust out the seersucker gentlemen.
I think Stoneburner should be on the TD reception list. Kent State or Akron from the 2011 year if I am not mistaken. Also I don't think any of those records will be broken. Some of them are really impressive. To break these we will need a really close game which I don't see happening EDIT Never mind. He only had 3 that game
Wouldn't really say his 3 pt shot is improving. I was at game two of the Western Finals in Austin and he air balled completely his 2 threes. The Austin fans were loving it when he shot. He did have 6 steals that game though so I would say he playing really well overall.
I mean router. The two in one cable companies give you is awful. Get a good wireless-N duel band will do wonders to ones network.
6 or 12 is plenty of speed for one or two people to stream. If you are having problems buy a new router instead of using the one the cable service gives you.
Like this?
Image not showing up of Jaime and Cersei
I think they are redefining red white and boom this weekend in Columbus.
In just basing it off recruiting profiles
Ferns is inside. Borland is outside. Should not be a problem. The LB from DC area could be on the outside looking in though.
To be fair it is a sound system for a completely open stadium. The acoustics are going to be bad.
This is my thought too. With a lot of the older guys resting I looking at one of the younger guys to step up and he is going to play the correct position to do that.
A long time ago (on old site so it is gone) a member posted about this with all 6 power conferences having a sister conference. The Big Ten had the MAC and did the shuffling for a few years. I think it would be very sweet to see something like this get set up across the NCAA.
That is my favorite statement she makes for entertainment. Why the hell does it matter if you are in the news? If you were royalty of some kind I could see mentioning it but who gives a flying rats ass about people on the news. Flying rat's ass? That'd be cool to see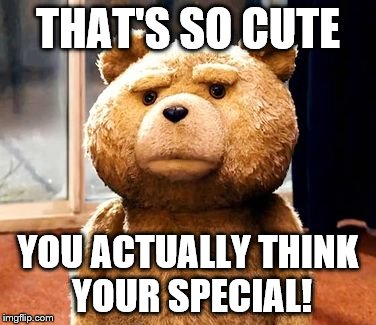 Damn those jersey's are cheap. $50!!!
Some things can never be unseen. Why did you do this to me?
I love O-Hing the runners during marathons/half marathons.
Side note: I am running a half marathon in Savannah this year. I really want my family to make a sign saying "We marched from Ohio now burn through this race" but so far no one is brave enough.
So you are saying he is coming back for a couple more years?!??!?!?!
And any mention of Bauserman requires this image so