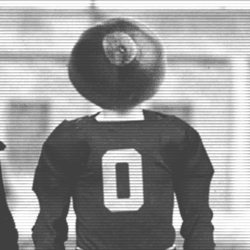 immort9888
---
Member since 25 January 2012 | Blog
Helmet Stickers: 273 | Leaderboard
Recent Activity
Why not Fred Pagac as the DC?
I have always hated Sparty. They have now stole two chances to play for football National Championships, 1998 and 2013. Additionally, Nick Saban coached them. I hate them. I have always hated them. I actually almost smiled when I heard the news that Plaxico Burress shot himself. I've never thought guns were funny at all, but that is how much I hate Sparty and Plaxico. When John L. Smith went psycho on television at halftime of the 2005 game, I couldn't have been happier.
With that said, I hate TTUN more.
He'll go pro and OU will be breaking in a new QB.
Was Bama blown out? Two TD loss and down two TDs almost all game? OSU was allegedly blown out by LSU by two TDs in the 2009 Champ game. So, yes. Alabama got blown the F out!!!!
I would love to see Dontre in Philly's role and Jalin Marshall push Spencer. It would be a nasty passing attack to have Devin Smith stretching a defense over the top with Dontre and Jalin stretching it horizontally.
OSU should be ranked #2. They started the season at #2 and did nothing but WIN and still drop in the polls. Why did Clemson, FSU, and Oregon jump OSU? They shouldn't have been jumped. The only reason they dropped is because of the perceived weakness of the B1G and the rest of the country thinking OSU should never play in the champ game again due to the debacle in Glendale. This comes directly from media bias.
Style points are absolutely still necessary, even though Coach Meyer says they are not. If OSU struggles down the stretch, Bama and/or FSU lose, and Baylor averages 50 points, the public outcry for Baylor to play in the champ game is going to be sickening. Coach Meyer stated it perfectly, "you have to play great, though, or you'll no longer be in the same breath with those other teams." In other words, you better win by 40 or 50 against the cellar dwelling teams of the B1G. FACT.
Three things will decide the success of the season and they go in the following order: (1) Braxton's improvement as a passer; (2) the defense has to be able to stop the run (less than 100 yards per game); and, (3) the offensive line needs to play as well as they did last year. If those three things happen, it will be fun to watch this team in games 13 and 14.
"Then remind yourself that Urban Meyer wants, at minimum, 4.5 seconds of hang time to go along with what is hopefully a 45 yard kick."
Then remind yourself that the 45 yard kick is really a 55 yard kick since your punting the ball approximately 10 yards behind the line of scrimmage. Then remind yourself that things such as wind (especially tricky), cold, and rain are a regular part of punting at OSU, especially during the B1G season. Then remember you have to get the punt off in 1.2 to 1.3 seconds after catching the ball (scUM punters take notice) with huge, fast, and ugly dudes coming straight at you.
Good luck Cameron! No pressure!!
Great stuff, Ross.
In that first video, Fragel chop blocks the living $*&# out of that defensive tackle while he was still engaged with Marcus Hall. In fact, Fragel takes out Hall as well. We are lucky that wasn't a flag.
If true, gone from OSU will be the least of their worries.
Looks like it. And, there doesn't appear to be any other website reporting this news.
Doc,
Two words to help talk you off the ledge: Ed Warriner.
Explanation needed? Not really, but here you go. On November 24, 2012, Ohio State ran the ball 52 times for 207 yards against the great Mattison and TTUN.
He actually reminds me of Santonio Holmes the most. Great route running, great hands, and a knack for making the catch. He just has IT, just like Santonio. Also, I don't think I saw the first defender take this kid down once unless it was a sideline catch.
I'm really excited to see what Mr. Clark can do at OSU. I think he will be the most consistent receiver from this class.
Alabama is good because they run the ball with a well coached and talented offensive line. AJ McCarron isn't an all world QB. He just has good WRs, a strong running game, and all the time in the world to throw. Alabama obviously plays good defense as well.
OSU isn't far behind honestly. The development of the offensive line was HUGE this year. Warriner worked small miracles. When was the last time OSU had such a strong running game? Not sure, but when you can run the ball consistently, the game is much easier. If Braxton ever learns to read a defense with any consistency, watch out!
Defensively, I'm not worried about teams beating us with the spread. Unless we play a Texas A&M who has NFL talent on the offensive and defensive lines, a spread team won't beat OSU anytime soon. Almost all spread teams, minus A&M and tOSU, have weaker line play and this is the reason they run the spread. I feel fairly confident playing against power run teams, but eventually OSU will be tested by a Bama/LSU type running game. Whether the front seven can hold up against an SEC power running game will be the difference between winning a major bowl game or not.
The Central Division would be ridiculous in basketball.
Good point, although I think Thomas is a pretty good rebounder. Williams definitely is a worry in many aspects outside of blocking/altering shots.
Speaking of fast pace, what are the chances Matta goes small, fast and quick? I think this lineup would be deadly for a 5 - 10 minutes per game:
Craft
Smith, Jr.
Thompson
Ross
Thomas
Again, quick kids with decent hands that measure 5'9" to 5'11" are easier to come by compared to 4* and 5* offensive line, TE, DE, DL, and CB recruits. Not saying WVU doesn't have good athletes on offense, just good athletes that MOST schools could get. The problem is getting the kids that have the size, strength and speed that Bama has, especially on defense.
The airraid is wildly successful because of the numerous players in the 5'9" to 5'11" range that can be molded into good to great college receivers and the constant development of QBs (2* or 5*).
This is TCU's schedule during the Rose Bowl run. Extremely weak. The great defense played well against one quality opponent after having a month to recoup. I don't think they would have held up week to week in the SEC or the B1G. Depth would still be a concern though the first 11-13 players were awesome.
9/4/2010 Oregon State W 30-21
9/11/2010 Tennessee Tech W 62-7
9/18/2010 Baylor W 45-10 (before Briles)
9/24/2010 @ Southern Methodist W 41-24
10/2/2010 @ Colorado State W 27-0
10/9/2010 Wyoming W 45-0
10/16/2010 Brigham Young W 31-3
10/23/2010 Air Force W 38-7
10/30/2010 @ Nevada-Las Vegas W 48-6
11/6/2010 @ Utah W 47-7
11/13/2010 San Diego State W 40-35
11/27/2010 @ New Mexico W 66-17
1/1/2011 Wisconsin W 21-19
The problem is that WVU or Baylor will probably never get the quantity and quality of athletes that Bama currently has on the roster. The awesome offense is an answer to the lack of talent and depth. A stud defense requires athletes and lots of them.
I think the reason most teams don't practice like WVU and Baylor is because they want to be able to run the ball. You can't really have a power running game AND develop an airraid passing game with only 20 hours a week to practice. There just isn't enough time.
Another downfall or problem is that your defense RARELY sees a power running game in practice. When the offense only practices the airraid, the defense only practices against this type of system (it apparently didn't help WVU's and Baylor's defense though).
In my opinion, OSU shouldn't run the airraid. Being able to run the ball effectively is easier and less risky when you have the better athletes. We have the athletes to be able to run it down your throat (200 + yards against MSU is a great example of that). Also, we have the athletes on defense to defend the spread, power running game, or whatever offense you could throw out there. They might not be defending well, but we have the athletes. 5'11" quick receivers are all over the place. 4* and 5* offensive linemen and TEs only come around so often at the airraid schools.
Remember, the airraid is like going ALL-IN on the passing game. There is very little room for anything else.
Agreed. More plays on defense = more yards and points given up. Oregon has the same problem even though they run it from the spread.
Bama's defense. No question. Better athletes.
WVU and Baylor would have a tough time against Alabama's defense and it isn't about game planning. Pressure and super athletic secondary players would make it nearly impossible to be one dimensional against Alabama and score 30+ points. In fact, I would guess it would be around 17-24. WVU would get shredded by the power run game of Alabama because they do not see it, EVER, and because Alabama has better athletes.