IGotAWoody
---
Columbus (via Columbus)
Member since 24 October 2013 | Blog
Helmet Stickers: 5,638 | Leaderboard
Voting Record: 37390 / 3644
After leaving the grueling life of a rodeo clown, I ventured back to the land of Ohio, where I re-planted my flag, grew a thriving business, and then joined a fast growing local publishing firm. I have a healthy respect for bulls.
Favorites
SPORTS MOMENT: 2003 Fiesta Bowl, of course
COLLEGE FOOTBALL PLAYER: EZE / JMarsh / Braxton / Carlos Hyde / Randy Gradishar / Mike Doss
COLLEGE BASKETBALL PLAYER: Mike Conley / Aaron Craft / Slam Thompson / Jimmy Jackson / Herb Williams
NFL TEAM: Broncos
NHL TEAM: Bluejackets
NBA TEAM: Cavs
MLB TEAM: Reds
SOCCER TEAM: Crew
Recent Activity
Operative word: WERE. They no longer exist.
Yeah, and I think Lyle could play 1-3 and Giddens, Bell and Thompson could all play as 4 or 5s. Can't wait to see it in action!!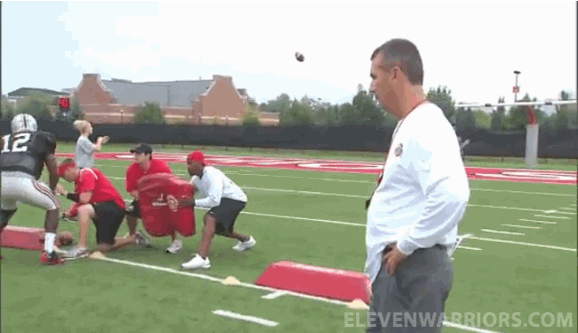 Upvote for optimism AND reality! Badgers and Sparty both lose enough to very likely take steps back (neither will look like final four teams, especially to start the season). Buckeyes, Indiana, and Maryland both look to be teams that will be on the upswing.
You deserve to be viciously bitch-slapped by Terrence Dials, Greg Oden, Dallas Lauderdale, BJ Mullins and Kosta Koufos. It would be glorious, all in a row, all patiently waiting for their turn to give you the feedback you so desperately deserve.
This kid better get his PT, or I'm going to have some serious butt hurt w/Matta
Going to?! As opposed to the world of Matta butt hurt you typically display?!!
We haven't had the talent to play multiple bigs on the court together in the past few years. This year will be the first since the 2011-12 season, but I think all 3 of the "centers" will be able to contribute solidly. I expect to see Thompson and Giddens on the court together for stretches this year. We'll know come B1G time whether that will be a fruitful combo.
Most badass movie villain of all-time, imho
And Craft used up all his eligibility. Conley has 3 years left!!
In that lineup, Loving could be your rebounding 2 guard, too. I think the thing that's most exciting is that there are a number of guys that will be able to play multiple positions in multiple combinations.
Bad Lip Reading says "I woke to fucking Bill someone"

Where in the hell are you finding game day tickets for $20? Even for the Kent State's of the world, I've never seen or heard of anyone buying a ticket from a scalper for $20. Maybe at halftime, but not prior to the game.
4 or 5 pm start in January IS a night game!
So, if all 14 SEC coaches accept the invitation to be a keynote speaker, doesn't that kind of dilute the pool?
Mike Stoops: "I'm going to be the keynote speaker at this scUM football camp!"
Nick Saban: "Me too!"
Les Miles: "Wait, so am I!"
...
Make sure that Phil and Pat Mahiney get signed up, too.
I won't believe that unless THE comes on and tells us to take it the bank.
To be great, you have to have an abundance of confidence. But, there's a fine line between being confident in your abilities, and being a cocky asshat. Turner has always walked that fine line, and spends too much time being on the wrong side of that line. That being said, 19-8-8 is a hell of a game. I hope he sticks with the Celtics and truly figures out how to play winning bball. I don't like the Celtics, but I like what they're putting together there.
Making those puns is like looking at fish in a barrel. In fact, making those puns is like being somewhere near a barrel.
I Shrug the Line
Cool Shrug Luke
Shrug on a Hot Tin Roof
Bare Shrug in the Park
Rosemary's Baby's Shrug
Shrug Store Cowboy
Honey I Shrugged the Kids
Godzilla vs. the Shrug Monster
This was my first exposure to Nirvana, their first release as a band. One of the greatest debuts in rock history.