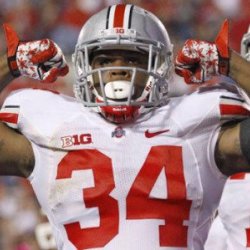 HYDEYOKIDS
---
Member since 30 September 2013 | Blog
Helmet Stickers: 255 | Leaderboard
Favorites
COLLEGE FOOTBALL PLAYER: Carlos Hyde
COLLEGE BASKETBALL PLAYER: Aaron Craft
Recent Activity
I am scared for Brax. What does this mean for his future?
I will never understand why Oregon is always in the top 5 preseason. It seems they are always the sexy pick because of their offense and their speed. Then midway through the season they get beat by a more rugged tough physical team. Seems to happen every year.
Point taken. She was more angry about how the media had taken her nickname which she was fine with and others knew she was fine with and used it in their portrayal of the band without her opinion. More of how many reports use information gathered about members or people without the thoughts of those in question. I just found the report interesting, not on the bring Waters back team.
Well I'm wearing them...and I just did.
I tried editing it though it still works inconsistently. You can also find the article by googling former band member named in tbdbitl speaks. Just an interesting describing a female band member and her feelings on the bands practices as well as her nickname.
Weird it didn't work for me the first time. The second and subsequent times it opened fine.
Now we must ask if the GPA was because he changed his attitude, or if it is a reflection of the system of academics surrounding athletes?
Funny trend. Though Urbz may be able to go beyond what Tressel was able to accomplish. Michael Drake if he can do what he is reputed to be able to do may take the university to new heights beyond what Gee could. Just need to wait and see who they get in place of Waters but going by trend it should be someone quite capable.
Just unfortunate on all accounts. I understand why it happened, but I can't help but wonder what the band feels and what shape they will be in this year.
I think it's because they played Stanford football.
If I recall didn't FSU win the Title playing in a conference even weaker than the B1G?
I will admit I personally find a lot of what our fan base does rather crude and unimaginative. Rip his *ucking head off chant, Muck Fichigan it's kind of like could we not think of something more clever than just throwing around obscenities. We also tend to treat the opposing team's fans and bands like crap. NEVER boo the marching band that's just low class. It's fine to say one or two things maybe at the start, but don't harass an opposing fan the entire game (my friend's mom who went to PSU never said a word and was screamed at the entire game). I've got to say at Ann Arbor they cheered for our band and I was treated pretty nicely by the fans while in full OSU gear.
Why would we start him? Amir and Trey will still be at the 5 both seniors with Lee at the 4 possibly 5 when we go small. He showed promise as a freshman but almost all coaches and scouts agreed he is a little ways away before he can play in the B1G. I'm not clear on the specifics but I thought he was not eligible to play for us next year.
I'm a little confused. Is Coombs still coaching the cornerbacks? I thought he was all special teams now.
Gotta hand it to Thad. After missing on some big name big men managed to pull some guys late to set us up for next season and beyond. Hopefully Thompson and Bell will be a force to be reckoned with in a few years time.
True but there is still a chance we could hit on Myles Turner which would turn next years class into possibly the best class Thad has fielded.
He has lost some confidence in this big bad conference play. I think he is forcing it too much. Just needs to do what he was doing initially. Relax and let the game come to him.
Players look very tentative when shooting. No one has confidence in their shot.
He could but they won't play him. Matta said the mono set him far back in terms of practice and development that it isn't worth him using a year of eligibility. They are almost certainly going to redshirt him.
I agree the problem is we don't have anyone on the bench that can shoot better. Maybe ADV but Scott offers way more in the way of defense and ball handling. We try to survive with our defense because that is the only option.
I can understand that. The reason I was so surprised by the criticism and panicking is that everybody knew coming in to this season was that this was going to be the "down year" if there is such a thing for a Matta team. Lack of depth and talent in places like the front court and general scoring on offense were always going to be problems. This wasn't a surprise like the lack of competence in the secondary. We knew way ahead of time what the ceiling and the limitations of this team were going to be. Yet despite that I still see a ton of potential, more than I thought this team had coming into the season. We have our problems to work out but can still be something special. I am surprised by all the negative feedback when at this point, this team has still exceeded my expectations coming into this season.