huber57
Columbus, Ohio (via Tunkhannock, PA)
Member since 23 November 2011 | Blog
Helmet Stickers: 2,383 | Leaderboard
Voting Record: 511 / 2
Favorites
COLLEGE FOOTBALL PLAYER: Chris Gamble
COLLEGE BASKETBALL PLAYER: Slam Thompson
NFL TEAM: Cincinnati Bungles
MLB TEAM: Cincinnati Reds
Recent Activity
Every time Ginn touched the football you felt like he could score.
All Winfield did was LAY THY SMACKETH DOWN UPON THEE!
To Hyper Type-As it is all about the winning. My guess is they celebrate like that when they beat their kids at Chutes and Ladders.
My favorite gameshow is Homonym! (from 30 Rock).
"Your shows stink, Jack."
Lots of scatalogical references ...
"Those Ass coaches"
"ESPN predicting a deuce"
The calls that Brad Nessler makes in the Smith/Robiskie play is eeriely familiar to this little gem. The are darn-near identical.
At age 20? You betcha I would.
I didn't use them at Ohio State but I did use the Post 9/11 GI Bill at Indiana University (please, please don't hold that against me ... I was living in Indiana at the time and their business school is really good).
Anyway, The GI Bill should cover most (if not all) of your degree. I would set up time with the Veterans Affairs office (http://veterans.osu.edu/). I work with the ROTC department very closely and hear nothing but great things about the VA office. OSU has strong support for veterans and they should be able to explain all what the GI Bill will cover.
Best of luck!
Unless 3 teams are tied with one loss in the East, and then all Hell breaks loose.
Big Ten tiebreakers get complex.
PUT THE LOTION IN THE BASKET!
That looks a helluva lot like Fort Irwin. *shivers from memories of extremely hot days and bitter cold nights (all within the same day)*
Well done, ladies. 3-1 final.
MORGAN IS IN!!!!!!!!!!!!!!!!!!!!!!!!!!!!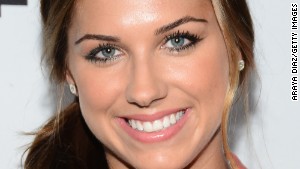 GOAL!!!!!!!!!!!!!!!!!!!!!!!!!!
MORGAN!!!
MORGAN!!!!!!!!! I wish the USA team would quit crying to the refs. This is the same stuff i get after my 11-year-old about when calls don't go his way in soccer. However, I do agree that these are some shady calls. Looks like the NBA is refereeing this game.
2ND HALF. LET'S DO THIS THING, LADIES!!!!
Dont disagree but as long as she is on the team she needs to be in goal.
Australia is attacking. US can't rest.
One of the best games ever was the Boise State OU BCS game.