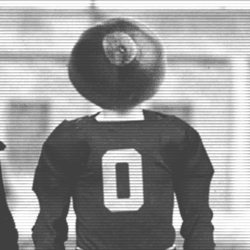 HouseHarleyBuilt
---
Streetsboro (via Hudson)
Member since 26 March 2014 | Blog
Helmet Stickers: 580 | Leaderboard
Lifelong Buckeye, raised by lifelong Buckeyes. In my mid-20s, from the Cleveland area.
Favorites
SPORTS MOMENT: Pretty hard to top tOSU vs Miami
COLLEGE FOOTBALL PLAYER: past: Chic Harley, current: Vonn Bell
COLLEGE BASKETBALL PLAYER: Aaron Craft
NFL TEAM: Pittsburgh Steelers
NHL TEAM: Pittsburgh Penguins
NBA TEAM: Cleveland Cavaliers
MLB TEAM: Cleveland Indians/ Pittsburgh Pirates
SOCCER TEAM: None
Recent Activity
4. Astonishing lack of Kenny Guiton
I am not a grammar buff or an English major, but I believe there is still a difference between a simile and a metaphor.
We are in rarified air here, where we get 7 more years of Danny Clark. And I have a feeling we will be talking about him long after he leaves.
The only problem I have with 8pm games is my impatience. Noon games are also an excuse to crack open a cold one much earlier in the day.
To each their own, my friend. Some see the glass half full, some see it half empty. But its like my grandpa always said, "While they're busy arguing about how full it is, go drink it."
I think he was laughing at going to a UM camp because usually the best players want to go to the best schools. Not like a "Hah. Michigan is recruiting girls now" type of thing. More like a "This girl is way too good for Michigan."
Your arguments were so solid. Law is definitely in your future. From one Buckeye to another, best of luck on your exam!
Yeah I'm a huge Pittsburgh fan, lived there thru most of my childhood, and have met Wiz Khalifa...I still can't stand that song.
He may not have killed anyone, but he employed a murderer (Ray Lewis)
Maybe we can get another 10 star day this fall with a Gibson/Harris two-fer. If Josh Sweat becomes a Buckeye, this website will explode.
Is BumbleBee your least favorite Transformer?
Mike Conley and Greg Oden would like a word with you.
I think Stephenson is upset that he isn't LeBron, so he takes it out on everyone else.
Him and Stephenson did not get along. I don't know if the chemistry was there.
That kid is 15/16??!?!
Bryant Browning is also a Steeler. Just adding to your argument, seeing as I'm a diehard Buckeye and Steeler fan.
You have to believe we're playing to win now, which means trading for Kevin Love. Its not about looking at it player for player, its looking at it by team. Varejao and Love are two of the best rebounders in the game. If you make the trade, our team becomes: PG - Irving, Dellevedova SG- Waiters, Mike Miller SF- LeBron, James Jones PF- Love, Thompson C- Varejao, Haywood Without trade: PG- Irving, Delle SG- Wiggins, Waiters, Miller SF- LBJ, Jones PF- Thompson, Bennett C- Varejao, Haywood Sorry, but I see more potential for success in the first lineup. We are chasing the Spurs. We need someone inside who can score and tire out Tim Duncan if we want to win. Kevin Love pulls defenders out of the paint, giving LBJ lanes to drive at will. If a second defender closes for help, you have an abundance of shooters who can kill you from deep. Wiggins could be an All Star. But Love already is one.
The question was about Christian Kirk, not Jashon Cornell. The point is moot. Christian Kirk is definitely considering SEC schools (Texas A&M)
Whereas I certainly agree with that, I'll bet solid money that when his kids are grown and Daddy is gone (God forbid), they will wish they had that jacket.
The one with Josh Sweat is awesome on many levels. Look closely, and it also shows the Indians beating the Yankees.
Dellavedova is an extremely similar player.
Its the SEC. The coaches will sit back and let the players vote on whether or not he should be punished...
Is LeBron still a stakeholder in Liverpool? Now that Suarez isn't on the team, and LeBron is back in Cleveland, I could see myself rooting for them. I got big into soccer this year, first time I ever gave it a chance.
I will be in South Africa donating my time and resources into veterinarian care for lions, cheetahs, leopards and other big cats (this is what I do for a living). If we could get him to fly out there, I could add a different dimension to the sparring lesson...doing it in a cage full of lions.
Or use it as toilet paper.