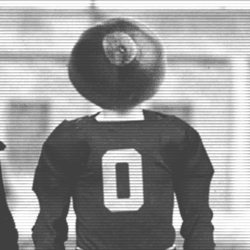 HouseHarleyBuilt
---
Streetsboro (via Hudson)
Member since 26 March 2014 | Blog
Helmet Stickers: 547 | Leaderboard
Lifelong Buckeye, raised by lifelong Buckeyes. In my mid-20s, from the Cleveland area.
Favorites
SPORTS MOMENT: Pretty hard to top tOSU vs Miami
COLLEGE FOOTBALL PLAYER: past: Chic Harley, current: Vonn Bell
COLLEGE BASKETBALL PLAYER: Aaron Craft
NFL TEAM: Pittsburgh Steelers
NHL TEAM: Pittsburgh Penguins
NBA TEAM: Cleveland Cavaliers
MLB TEAM: Cleveland Indians/ Pittsburgh Pirates
SOCCER TEAM: None
Recent Activity
Mike Conley and Greg Oden would like a word with you.
I think Stephenson is upset that he isn't LeBron, so he takes it out on everyone else.
Him and Stephenson did not get along. I don't know if the chemistry was there.
That kid is 15/16??!?!
Bryant Browning is also a Steeler. Just adding to your argument, seeing as I'm a diehard Buckeye and Steeler fan.
You have to believe we're playing to win now, which means trading for Kevin Love. Its not about looking at it player for player, its looking at it by team. Varejao and Love are two of the best rebounders in the game. If you make the trade, our team becomes: PG - Irving, Dellevedova SG- Waiters, Mike Miller SF- LeBron, James Jones PF- Love, Thompson C- Varejao, Haywood Without trade: PG- Irving, Delle SG- Wiggins, Waiters, Miller SF- LBJ, Jones PF- Thompson, Bennett C- Varejao, Haywood Sorry, but I see more potential for success in the first lineup. We are chasing the Spurs. We need someone inside who can score and tire out Tim Duncan if we want to win. Kevin Love pulls defenders out of the paint, giving LBJ lanes to drive at will. If a second defender closes for help, you have an abundance of shooters who can kill you from deep. Wiggins could be an All Star. But Love already is one.
The question was about Christian Kirk, not Jashon Cornell. The point is moot. Christian Kirk is definitely considering SEC schools (Texas A&M)
Whereas I certainly agree with that, I'll bet solid money that when his kids are grown and Daddy is gone (God forbid), they will wish they had that jacket.
The one with Josh Sweat is awesome on many levels. Look closely, and it also shows the Indians beating the Yankees.
Dellavedova is an extremely similar player.
Its the SEC. The coaches will sit back and let the players vote on whether or not he should be punished...
Is LeBron still a stakeholder in Liverpool? Now that Suarez isn't on the team, and LeBron is back in Cleveland, I could see myself rooting for them. I got big into soccer this year, first time I ever gave it a chance.
I will be in South Africa donating my time and resources into veterinarian care for lions, cheetahs, leopards and other big cats (this is what I do for a living). If we could get him to fly out there, I could add a different dimension to the sparring lesson...doing it in a cage full of lions.
Or use it as toilet paper.
I was born in Germany...
I have no way to accurately say this without sounding cruel, so my apologies if I offend anyone. If the man put two tusks in his mouth and did LITERALLY nothing else, he would win every Halloween contest he entered as a walrus (or Jim Bollman)
This made me chuckle.
I worked at a Chipotle to help get through college. Hand to God, I witnessed a living breathing human being eat 5 burritos in one sitting. He ordered 6, and took the last one home with him so I'm left to assume it was a road snack. It has haunted me for years, watching him tear apart the soft tortilla flesh like a starved lion tears into a fallen gazelle. There's nothing graceful about it, yet you just can't look away.
The LaVert kid from Michigan who some project to be a top 10 pick. Believe he's from Pickerington.
I know this is off topic, and I hope I don't get DV'ed into oblivion for my opinion here, but do we really have to avoid saying University of Michigan? I get it, and I know its a Woody-ism that has lasted for decades, but I'm over it. I hate Michigan as much as the next guy, dont get me wrong, but my pops always taught me that "the minute you don't respect your opponent is the minute you've lost". Plus, I think Brady Hoke is childish and immature for calling us "Ohio". I don't want to stoop to his level. Plus, Brady Hoke proves my dads life lesson to be true. He has a losing record to "Ohio". I'm sorry for ranting. I love the trash talk between the teams and never want it to end.
1. I have performed open-heart surgery on an elephant. (I'm a large mammal vet) 2. My dad and I got to play a round of golf with Jack Nicklaus when I was 14. He made minor adjustments to my swing, and dramatically improved my game. 3. I have a basic understanding of Spanish, but my 5 year old daughter is fluent in 4 languages and sign language. 4. I have been inside of Eli Manning's place in New York. I have used his bathroom. 5. My dad was a guitar tech for Neil Young for 3 years. My favorite part of Christmas growing up was getting his Christmas card he would send us.
A, and its not even close. I'm more likely to be coaching Michigan next season than Brady Hoke.
I picked KMart at random, truthfully, and that was only because the Miami Heat with Wade, Bosh, and LeBron were the WalMart of the NBA. And, I base that solely on the fact that they were a team that reached its peak and could not get any better because they didn't have the salary cap flexibility or draft picks necessary to improve. (Comparable to WalMart because WalMart could not expand their name any further. Who hasn't heard of WalMart? They're hands down the biggest retail store in America. But that doesn't necessarily make you wanna shop there. Sometimes KMart or Target has a better selection.) It wasn't the most accurate comparison, I know. There are plenty of holes in it. I merely meant it was a more accurate of a comparison than cheating wife. I should've put more thought into it but I thought I did pretty well for thinking of that on the fly. Sorry for the confusion (genuinely)
Thank you much. Lets hope Jerome Baker gets me a commitment for a belated gift. Hilliard, Cornell, and Giddens have already contributed to a good birthday. Baker and LeBron have the ability to make it epic.
Respect. I hated the way he left and felt betrayed. Especially the fact that he did it on my actual birthday (July 8th). I dislike Melo, but I put my hatred aside when you don my teams colors.