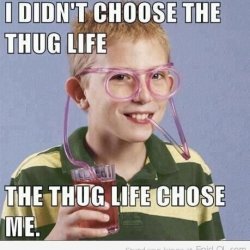 HotSauceCommittee
---
Member since 30 May 2012 | Blog
Recent Activity
Thanks for sharing. Pumped to see it this weekend.
Did you really ask why Marvel didn't make this PG13? Deadpool is the anti prototypical hero character. This movie is so far left of normal comic book characters. That is why he is adored. It's all about the violence, sarcasm, sex, language. That is what makes DP stand out and why Reynolds was cast as the title character. Deadpool is not wholesome, he is not cookie cutter. Doing anything but an R rating would be an injustice.
The Sunny crew has been killing it this season. CharDeeMacDennis, Ski School and the Burbs were all great.
I am super interested in Barrett. Not necessarily for Barrett's play but to see how the offensive game plan utilizes him moving forward. There seems to be an undertone of a changing and developing offense. Reading between the lines I think that means less called QB runs.
I laughed pretty hard at the TJ Miller Shock Top beer commercial with the talking beer tap.
Was it Flair himself that said "to be the man, you have to beat the man"? Seems to apply very much so to OSU - MI.
Bummer. The writing seemed to be on the wall before his college career even started. Chin up young man. Football isn't everything. Be proud of your accomplishments.
Valuable piece to this class. Congrats.
Fellow 11W, if you were sitting late 1st or early 2nd and needed a WR, who would you take - Brax or Thomas? I think I would take CantGuardMike because he is a typical WR and not a project. Braxton will sell more jersey but Thomas will have a longer career.
The Hurry Up. Often imitated never duplicated. Good read. Thanks for the detailed and informative post.
I actually think this is kinda cool. We would all be pretty psyched if Urban brought in Flair, the Hulkster, or Macho Man.
I don't see how Sullinger would help the Cavs.
Has to be Bert Macklin. Sorry, watching Parks and Rec reruns.
I had a shitty day at work. Budget junk. This put a smile on my face. I think I read every comment of your October thread. Congrats and good looking out to Niblick.
Any chance of an out of the blue commitment?
How so? We got a commitment from Burns, a kid we obviously wanted or we wouldn't have accepted his commitment. Trust in Urban. Plus we are still in on several recruits. We will finish in the Top 5 and will round out the class filling gaps. In my book, that is pretty dang awesome. Trust in Urban.
To me announcing at a bar probably means he is staying with UM. If it was at his school, church or Rec Center it could be a toss up.
The benefit from a seriously weak schedule next season as well. I mean, 2 steps weaker than our's was this season.
Looks fun. I give it a thumbs up.
Tim - Slightly off topic, but I took in the Westerville South hoops game last week. They were a fun team to watch against overmatched Canal Winchester. Lots of dunks, fast break layups and treys.
The reason I bring it up is Kaleb Wesson (an OSU verbal for 2017) played along with his brother. Kaleb is 6'9" but is not in good shape. I read that he was the #3 player in the state. That shocked me. I was not impressed. For his size he played with no physicality and seemed to have zero lift off the floor. All his points came off of rebounds where he was simply 6 inches taller than the guy guarding him and just muscled through him to score. They didn't even throw it into him in the post. He is also rated as a top 10 offensive tackle in Ohio. That was much more believable.
His older brother, Andre, graduates this year. Any clue where he is headed? 247 seems to show Akron/BGSU/George Mason.
If this kid committed and did his best then honor the committment. If the kid committed then slacked off some because of attitude and the idea of 'making it' then use it as a teachable issue. Get him on campus and work with him. If it doesn't work out he could free to transfer. On the opposite side of the coin, say a commit turns into a lazy slob and doesn't improve because he doesn't care. Let me state I am not saying that. I know nothing of this kid. Just playing devils advocate. Is there no out for coaching staffs? Scholarships are valuable tools for the staff and could be just as valued but other hardworking recruits. Again, just playing devils advocate not asking for a sleep over.
On second thought, maybe they view it as a positive way to contribute to OSU athletics.
Not a fan of Dontre and Clark doing this. Both have battled injuries that have significantly held them back.
Skimmed mgoblog. They are so delusional to think these tactics are a good idea. But hey, he will deliver a national championship in 2016 because climbing trees, stomping buckeyes and playing titty twister with 18 year boys is a recipe for instant success. Probably more important than getting laughed out your own stadium.
This is weird. I mean, how is it allowable. Lots of potential issues. Jimmy Harbaugh = Michael Jackson. Other issues - theft, adultery, and a myriad of minor violations.