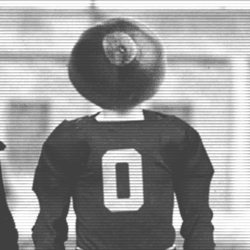 HotSauceCommittee
---
Member since 30 May 2012 | Blog
Helmet Stickers: 1,842 | Leaderboard
Recent Activity
Many comments on Buckeye boards are quite similar. I laugh at both.
An untalked about piece of the Gibson puzzle is his star power and ability to attract other recruits. If Gibson is in, that turns heads immediately. Only problem is he will wait until the end to commit more or less nullifying his own affect. It's like the Browns drafting Manziel or moving up a few yrs ago to get Brady Quinn. Created a much needed buzz.
Sweet. Welcome aboard big guy. Not to belittle his commitment with a Conrad post, but if CJ gets an offer the pressure is on to commit soon now that a solid TE is in the class. I had a feeling Moore would be a Buckeye a few months ago. On the flip, if CJ doesn't earn an offer its kinda adds insult to injury.
West is horrid. You can say these programs are improving, but it seems they say that about Northwestern each year. This division needs Nebraska to improve in a hurry. Wisconsin drew the best straw during conference realignment.
More power to Stoops and KU for the work they have done on the recruiting front. Thanks to them for giving many Ohio kids a landing spot to play Div I football so close to home.
Now lets get real. How many of these kids chose KU over OSU, MSU, UM or Penn State. Give me a break!
Urban, my man, get Gene Smith on the phone. We scheduled Cincy, now lets add Kentucky and TN to the list and begin working our way South. I get schools (and their fans) like Bama, LSU or FL giving OSU a hard time. But these other SEC need a harsh reality check.
I was going to up vote this too, but it is awesome that his 40 comment has exactly 40 up votes.
Sad thing is their TTUN is better than our TTUN.
What up four five? How you doin?
Good move for him and the Celts. He needs the ball in his hands to thrive.
He will wait. Worst thing he could do is verbal to UK then decommit.
First one was great, second was pretty okay (the highway scene was cool) and the third one was kinda garbage.
On my phone. No italics for sarcasm.
I saw the Jefferson family at Jimmy John's. They were really cool. I bought them there dinner, gave Van $100 and got his Twitter handle. Lock!
I am enjoying Leftovers.
If you are talking summer shows I have been (finished or started) watching Organge is the New Black (Netflix), True Blood (HBO), Hemlock Grove (Netflix), Graceland (USA) and just started Orphan Black. Orphan Black started great, then Time Warner switched seasons in the on demand so I was only able to watch the premiere.
Charlotte backcourt would be insane - Chris Paul, John Wall and Steph Curry.
You can for once feel the excitement surrounding the Cavs. This kid is crazy athletic.
Just because Hoke looks like Fred Flintstone doesn't mean the Big House is attracting 7 year old that want to see fireworks. Adults want to beat traffic, kids want to party. I would probably stick around if the players were on the field, the band was playing while the fireworks were lit off. If we lost, I would bounce.
It is rumored they sell pizza too. I will never see anything but a burger sitting in front of me. You can get slapped for such things.
Blatt has been a little lost in the shuffle. What a great way to start your NBA career with the epicenter of hoops coming home.
I dont think the OP post was an overreaction, at least not as bad as you made it out to be. The OP is right, we did just miss on two of Ohio's best talents in the last 18 hours. I didnt take his tone as the sky is falling, but merely expresses his let down and curiousity for who could possibly be up next.
I now what LBJ back in Cleveland if only to shut Colin Cowherd pie hole.
I love following recruiting. I am not obsessed, but do enjoy logging onto 11W multiple times a day for updates. Every once in a while I get sick of the insider updates and the he-said, she-said part of the business. I think the week with LeBron has applified my needed break from it.
They have a pretty tough schedule, especially with those booby tassels.
One of my favorite Buckeyes.
A caller to ESPN radio today asked this question and the back-ups filling in for Sodano and Stink blasted him for it. "Could LeBron be delaying his decision for Nike to ramp up a marketing campaign"? I thought that was a good question and a strong possibility. Then the caller stretched it a bit and brought up Johnny Football tie ins. A stretch but still that would be genius for Nike in a way. Think about it. It's hard to believe we haven't been slammed with Manziel promos and merchandise.
The hashtag #unfinishedbusiness was reported by Sheridan Hoops and shows up on dozens of google searches. Problem is, Miami also just left a title on the table so it could be interpreted other ways.