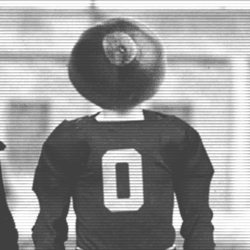 Horvath22
---
Member since 01 March 2014 | Blog
Helmet Stickers: 269 | Leaderboard
Recent Activity
Great and timely piece, Ramzy.
OSU undefeated Big Ten champion.
MSU one loss (to OSU).
Big Ten could have two teams in the playoff.
I remember listening to Jack Buck doing the Red Bird games. I thought, at the time, "This guy is good, really good."
Great job Nicholas. I really appreciate your work.
Great find on Y.A. Tittle, DJ. I'm old enough to remember him with the 49ers and Giants.
Watch out for Joel Hale under Warriner.
Bienvenidos, Patrick. Looking forward to your hoops coverage. Please, as a favor to this OF (translation: Old Fart) ,could you not use the pretentious phrase, "SCORE the basketball", that so many have adopted. After all, we are talking about basketball, and a player either can either score or he cannot score, and he is not scoring the football, baseball, soccer ball, etc. By the way, I think it should be "WHOM he's never met."
Great job Kyle. I appreciate your writing. It appears that you put a lot of time into your articles, aside from the actual writing. Really enjoyed your East Coast interviews.
I've always loved Columbus. Born and raised on the far eastside (in those days) near Alum Creek. East High grad and OSU alum. I've been gone for many years, but still get back in the fall for OSU football. Not to date myself, but when I was a kid the Lincoln Leveque tower was the AIU building. By the way, is there still an observation platform up top?
Great job, Johnny. You are just too much.
Nice job, Remy. I appreciate these articles. Tim Anderson was a defensive tackle, not a LB.
Great interview, Jeremy. Welcome to the heart of it all, Tyler.
Can't argue with those choices, Jeff.
Not to spoil the party, but when I was a freshman at OSU (admittedly, back-in-the-day) I paid $10 for what was called a Student Activities Card. It gained me admission to all home football games, all home basketball games, and any other campus event, including free movies at U-Hall. Ah my, how things have changed. I can't even begin to figure out what that card would be worth today.
Thanks for the contribution, JC.
Only one comment. "The Magic Man".
Several monthes ago one of the staff announced that 11W would not be doing the OSU special edition for Lindy's this year.
Patrick, do you know what % of OSU players make it to the NFL?
Great read, Mike. I appreciate your work.
Good question, RFE. My only answer would be that I think, hope that Urban Meyer knows what he is doing in hiring Chris Ash. But, he also hired Withers, and how did that work out?
Great job, Kyle. You are the master of Human Interest.
Ahhhh, Chris Gamble. One of my favorites. And don't forget his running down the PSU defensive back who had a 10 yard head start with a blocker, or his amazing interception at the end of the Purdue game.
Thanks for the review, Nicholas.
Thanks for the rundown, Kyle.