Homey1970
---
Member since 24 February 2013 | Blog
Recent Activity
Who's the fat guy with those NFL dudes?
As an undergrad, I remember flipping the bird to Dick-y V while watching J.J. in St John.
Seriously, I don't keep track but I consciously keep most of my casual/workout gear in various shades of gray and red with no blue or yellow. Always have my OSU hitch cover on my truck.
Visitors are not allowed to wear ttun gear/colors. I have carried that policy ever since a kid, when my dad made one of my friends leave our house b/c he had on a ttun shirt.
Daily!
Did somebody say Combs?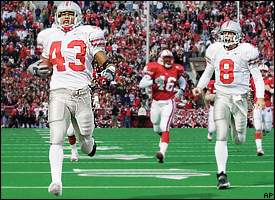 I remember that Thompson's high school highlights reminded me of Joey Bosa. Was really looking forward to seeing him in the 3-5 technique.
Hope the kids not on the roster come August have good career opportunities elsewhere.
Chalk it up to the fog of war.
When I was seven, a friend and I saved a neighbor's dog from the same frozen water death...got a quarter for it, to split between us. (Circa. 1978)
And my son has the model looks in my family.
#thegameoflife
Facts have never gotten between this writer and his story. He had Mewort and Mangold starting all the way through the end of the '16 season.
http://www.elevenwarriors.com/comment/reply/78813/2687603
Arrest warrants for presumable 18+ year olds should mandate name release. Putting off the inevitable, Sparty Police.
Damn right! Stevie runs an Uber route.
13 weenies to the combine? Clearly demonstrates why they were the best B1G team of '16.
I know it won't bring their daughter back but I hope, in a small gesture, her degree is conferred by OSU.
Proud to call Reagan a fellow Buckeye.
I'll be reppin the scarlet and gray as this year's nominee in the "world's most disappointing alumnus award" that will be held in conjunction with the SEC media days.
Can't imagine what it's like to be dating in this social media age. Like T. Smith, my kids are dealing with broadcasted life and love--although, none of them use social media much. And I thought my wife and I were hip since we met over the internet 20 years ago (before any dating site was up and running). Guess we really were just lucky.
They're the new, lighting quick Dodgers!
I spy a light switch plate.
Would this qualify as "bum juice?"
Don't disagree. My point was that it seems everybody is up in arms about the dangers of football but I never hear people condemn MMA, at least not on ESPiN.
What puzzles me is how people can all of a sudden claim that football is "dangerous." Meanwhile, the MMA fighter is taking a foot to the temple.
#realworldproblems
I tune in early, just to see who is taking a knee during the Anthem.
Whimp. I've been playing for over 20 years with a torn labrum. So far, I can still sit at my desk, use a keyboard, mouse and type.
You're essentially right. Since the Service academies don't grant athletic scholarships, they aren't restricted to a cap. This also helps the academies due to the attrition rates. Some won't attend. Some will quit the team but remain until graduation/commissioning. Others will seek a transfer or quit before becoming "locked" in (commencing the start of their junior year, they must serve some time in service as either a commissioned officer [if they graduate] or enlisted [if they fail to graduate]). Anthony Schlegel opted out/transferred before he was locked in.
Good catch. Probably Harley too (I heard that he built a house).