HolyBuckeye1093
Columbus, Oh (via Toledo, Oh)
Member since 08 September 2011 | Blog
Helmet Stickers: 1,613 | Leaderboard
Favorites
SPORTS MOMENT: "We've always had the best damn band in the land. Now we've got the best damn team in the land." 14-0!!
COLLEGE FOOTBALL PLAYER: Troy Smith
COLLEGE BASKETBALL PLAYER: Matt Terwilliger
NFL TEAM: Detroit Lions
NHL TEAM: Detroit Red Wings
NBA TEAM: Miami Heat
MLB TEAM: Detroit Tigers
Recent Activity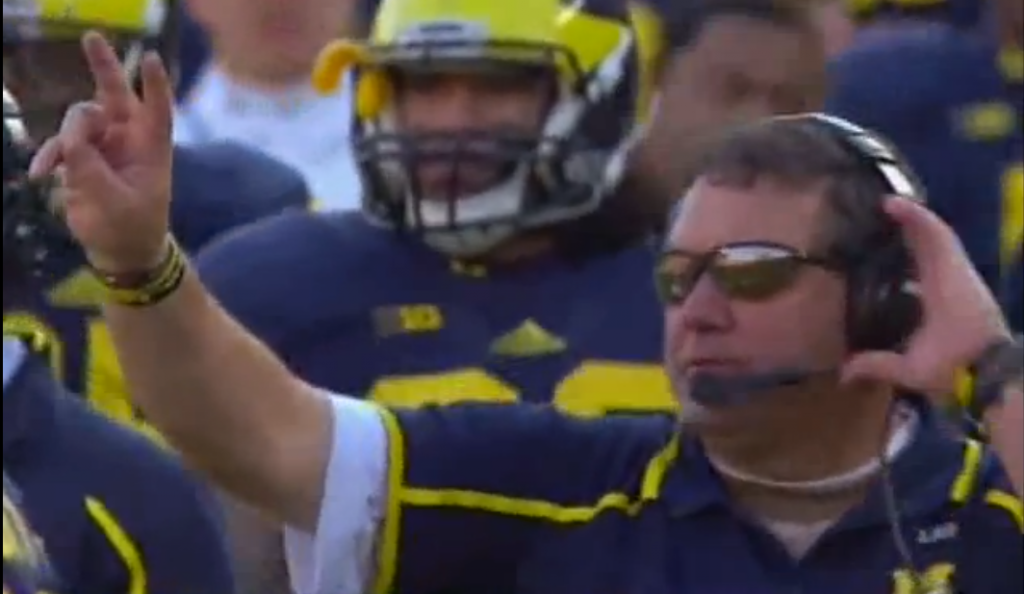 Make that two orders of cinnabons!
One additional option to Gardner's helmet coming off is that Hoke could have used a time out and Gardner wouldn't have needed to take that play off. So the fact that Hoke had multiple options and still put back in a concussed Shane Morris is disgusting. I don't want to hear his nonsense of he couldn't see from the sideline that Morris was hurt. Maybe that's why you should wear a headset to be able to talk to your coaching staff. Hoke leaving him in the game TO THROW A PASS after the hit he took was bad enough but putting him back in the game shows a complete disregard for player safety. Hoke should be punished by a suspension at the very least for those decisions.
Ah yes! The good old General Studies degree from UM. Good thing he turned into a decent NFL QB :)
And this is why I voted "I'm freaking out" in the vote a few days ago. I just felt there was no way he was gonna make it thru the whole season healthy but this is devastating. And the reason was because now we have lost over 85% of our total offense and 4/5 OL members.
For OSU to qualify for the playoff they will need to go undefeated in the reg season and win the Big Ten Champ. There can be no mistakes and there is no room for error. Now you are asking a freshman QB with zero live game action to step in with 4/5 new starters on the OL, and losing your 1000yd RB in Hyde. The defense is going to have to return to the well known silver bullet defense in order to match the points we will lose due to Braxton's injury. This is showing the importance of quality depth at every position. You can call me a negative nancy or a pessimist but I think I'm being more realistic than anything. We are losing over 85% of our total offense from last year and that's not something that can be ignored.
I worried about their OL last year because of how poor the middle of the line was gonna be. Now it's going to be a role reversal with losing Lewan and Schofield, the interior line will need to step up big time to get their run game going and help protect Gardner. I guess it's a good thing that Gardner looks healthy and very mobile. We'll see how long he can stay that way.
They have more depth and potential top draft picks with Bennett, Spence, and Bosa, but right now I think the best DL was 2002 with Smith, Peterson, Scott, Anderson, Fraser, and Thompson.
As Birm says, look at the offer list not the rankings. OSU, Bama, LSU, Georgia, Clemson, Florida, The U, So Carolina, ND. That's much better than what his 3 star ranking suggests.
1st row: Guy Ferrell, Stephen Collier, Curtis Samuel, Damon Webb, Johnnie Dixon, Terry Mclaurin, Raekwon McMIllian, Demetrius Knox
2nd row: Sam Hubbard, Darius Slade, Noah Brown, Kyle Berger, Jalyn Holmes, Parris Campbell, Brady Taylor, Dylan Thompson, Marshon Lattimore, ??
3rd row: Jamarco Jones, Malik Hooker, Erick Smith, Dante Booker, Sean Nuernberger, Kyle Trout, ??, Marcelys Jones
Need help with the question marks. The numbers were not listed on the official roster..
Any chance of getting Josh Sweat or is that just a pipe dream? Seeing as how Sprinkle is off the team, Spence prob gone next year, and Bosa prob leaving after junior year he could fit right in at the DE spot.

Do u still see OSU as the team to beat for Matt Burrell?
It very well could be that Lebron is waiting for Bosh to move on to a team with cap room to sign him and then both Lebron and Melo can get max deals in Mia. Yes Melo would be taking less in Mia than NY or LA but remember that Fla has no state income tax and that loss of money wouldnt be nearly as significant. If those two join up in Mia then I think we see players take less to go there like they have the past two years. What's lost in Bosh to Hou would be how good Hou would be. Beverly, Harden, Parsons, Bosh, and Howard is one of the best lineups in the NBA.
I think by this time next year we will be saying Braxton will be the best player of the BCS era. He has one year left and I expect and even better year than the previous. Last year's numbers were almost as good as Troy's senior stats but Braxton is a far superior runner and athlete. I don't want it to sound like I'm knocking Troy, because I'm not, but he did have 4-5 NFL receivers on the roster (Holmes, Ginn, Robo, Gonzo, and Hartline). I see a 2500 yd passing, 1000 yd rushing season with 35-40 total TDs and a 65% comp percentage from Braxton this year is he's healthy the whole year. And I don't see that as a stretch at all.
No but it does appear that Brett Favre is in the lower left-hand corner ;)
Lamarcus Joyner CB, Marlon Brown WR, Tajh Boyd QB, Nick O'Leary TE, Aundrey Walker OL, Shariff Floyd DT are others that come to mind/
Ohio State has broken A LOT of really bad records this year.
If you have a Sams Club membership you can buy 5lb bags of Muscletech protein for $35. Each scoop is 20 g of protein and it's a 70 serving bag. That breaks down to $0.50 per scoop. Not too bad. The chocolate mixed with peanut butter is very good. Can be taken with either milk or water right after your workout. I would try that and see how your stomach handles that before adding anything more.
I think it's Beilein. scUM lost Hardaway Jr and Burke to the NBA and then lost their next best player, McGary, for the year. All of a sudden Staukus is a BIG 10 POY candidate and Caris Levert (who?) has become one of the better guards in the league. With beating Sparty twice they are now in the driver seat for the championship. Credit to Miles for doing a fantastic job at Neb but I'm going with Beilein.