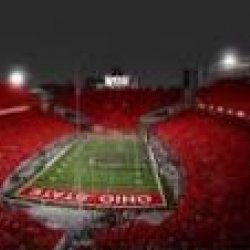 Him1stftballl8er
---
Member since 27 August 2013 | Blog
Helmet Stickers: 261 | Leaderboard
Favorites
SPORTS MOMENT: Our win over Miami. What a defense. What a game.
COLLEGE FOOTBALL PLAYER: Ryan Shazier and Braxton Miller
NFL TEAM: Any team with a Buckeye
NHL TEAM: None
NBA TEAM: None
MLB TEAM: None
SOCCER TEAM: Seattle Sounders
Recent Activity
Based on everything I've read so far, sounds like our OLine development will be a huge factor.
And the defense sounds promising.
Love Ezekiel. That kid is by far my favorite Buckeye. Ever since his press conference when he chose Ohio State. Class, and a beast.
My thoughts exactly. They play different positions. And when Urban has mentioned Jalin, he's had good things to say.
I'm really looking forward to watching:
1. The Oline
2. The WRs
3. The secondary
4. The LBs
5. Curtis
I agree about the Reeves bashing. Reeves was a true Soph last year. He must've been grasping his assignments, the play book, to compliment his physical attributes as a player and it's not like the rest of our back seven wasn't making many of the same fundamental errors he was making. He earned the trust of the coaching staff who I believe we should trust more than our own instinctive, angry and diluted knowledge as mere fans. Cam looked good in garbage time against Indiana...but Reeves had the coaches trust for a reason. When Urban involved himself more with the defense during bowl practices we saw Pitt get replaced. Armani was still out there for a reason.
I like the physicality he plays with. I think he will do much better under Ash's philosophy rather than Withers'.
I love hearing about our LBs improving especially Curtis.
i think Ezekiel, Rod, and Brionte are going to an awesome trio out of the backfield. I predict Zeke will get 50-60% of the carries and Brionte and Rod split the rest.
Cant wait to see what Dontre and Jalin do from the H. I think that's where Curtis ends up too.
this offense is much faster. OLine and a power run threat are going to be key but we will put points on the board.
tge defense sounds like it will be better and much faster both mentally and physically. I'm more stoked about this year than I was last year.
Lee is the field or "walk-out" LB and Perry will be playing the boundary.
Hopefully it will be up on YouTube shortly after it's broadcasted.
Maybe Samuel is in the RB room to learn the offense the same way Dontre learned concerning HB. Dontre was with the RBs last year IIRC. Learning RB duties first then routes? So maybe we'll see Curtis with WRs next year?
Ezekiel 20lbs heavier...our backs will be fun to watch this year. Loved the comments on Dontre as well. I have a feeling we're gonna see more of a RB by committee this year with Elliott//Smith//Dunn being the guys.
Sounds like Curtis is probably going to turn in a typical freshman year which is ok, but it leaves me wondering who will back up Dontre at H with Jalin down. I'm sure Jalin will be fine by fall camp but it was an injury that set him back last fall camp. I hope he can stay healthy.
I think you're dead on for both sides of the ball on the LOS.
- Noah Brown will be strictly a WR IMO. I have no clue who will play at receiver other than Spencer and D. Smith; look at this pool of talent to choose from: Mike Thomas, James Clark, Jeff Greene(sp?), Corey Smith, J. Dixon, T. McLaurin(sp?), N. Brown
- Another note on WR's; I don't think Spencer is safe as a starter. Yes he can block extremely well, but I have a feeling after our passing game woes late last season Urban is going to turn up the intensity. Marshall is probably going to be in the mix for sure as well but I see him being more of a hybrid.
- I think RB is up for grabs and this is the pecking order I'm going to go with: Elliott--Smith(if he pulls his head out of his rump)--Dunn and Ball are even IMO...maybe Brionte gets the nod.
- Our new Hybrids are what I am most stoked to see. This is a loaded position for us. Here are the guys with Dontre getting the start IMO: Wilson--Samuel--Marshall--Campbell.
- I think the starting LB's will be a given including Trey Johnson at WILL. Kwon is going to have to be one special guy to replace Curtis Grant (who also happened to be a #1 ranked LB high school recruit).
- SS will be Powell IMO with Bell at FS. Nickel will be Burrows or Worley I'm guessing. Tanner, J. Thompson, and E. Smith will compete for 2nd team reps.
-CB is gonna be another great battle I'm thinkin. Doran has one starting spot locked up but the other is totally up for grabs. I'm going to predict Eli Apple wins that battle. Reeves, Webb and Lattimore will be competing for 2nd team reps.
Class act of a person. Heart and soul. By far my favorite Buckeye.
3 Stars
Malcolm Jenkins
James Laurinaitis
AJ Hawk
Travis Howard - Started for 2 years
Zach Boren - Stud
Bradley Roby - NFL/All-American
Jonathan Hankins - NFL
Tyvis Powell - current starter
Pat Elflein - probable starter
Jacoby Boren - probable starter
Jamal Marcus - Baller!!
Joel Hale - current Starter
Jeff Heuerman - current starter/ probable NFL
Kenny Guiton - Stud
He seems promising. September couldn't get here any sooner! I'd like to see how well he does recruiting.
• Turnovers killed us. If anything to blame its us giving Boyd/Watkins the ball 4 times.
• We can't blame the defense because they made enough plays to give our offense a chance to win. Our Oline didn't play their best, Braxton was beat up, a lot of offensive miscues.
• Can't put all the blame on the offense; the lack of defensive adjustments was a factor. Hard to make adjustments considering how beat up we were on defense. But still, we didn't see Shazier, our best blitzer, doing that at all. Not that I remember. They exposed our soft coverage and underneaths all night long.
• Can't put all the blame on the coaches, Philly's muff was huge, Braxton had some bad reads and 3 TO's, ...the players played the game.
• Can't blame the players completely either. Obviously some play calls on both sides of the ball the coaches would like to have back.
Overall these coaches and players put so much into these games and seasons and while we all expected more I'm still grateful to have Urban as our coach and I'm proud of the players too.
GO BUCKS
Love Philly getting up on the bus, and bring our Bucks back down to reality. We're not there.....yet.
I don't have dvr, so I can't rewind it, but to me I thought it looked like either a horse collar or nasty face mask that brought Dontre down. I was screaming at the tv so I can only imagine how Dontre felt. Then homeboy rips his helmet off. Dontre was retreating and doing the right thing until that point. If I'm coach, I'm backing Dontre up big time in that spot. ....I really, really dislike ttun.
Earlier in the week Dontre said he didn't know much about the rivalry. Said he watched the game last year and that he'd find out when he got into the game. Welcome to the goat of rivalries. I'm sure he's bought in at this point.
Woody, Earle, Tressel, Urban Frank Meyer
ROFL love the Gif.
Cant wait until The Game! AHHHHHHHHHHH