hhilanders
---
Member since 17 March 2013 | Blog
Recent Activity
Who was #58? He looks like he could start right now
Okay, I see what is happening here and don't know why it hasn't been pointed out yet. Andrew and Birm are the same person. Birm never left!.
Barrett will stay for his senior year and make the Natty. He will have some of the best experuenced receivers in the country by then behind a NFL caliber line.
I thought that maybe he was out of position and they were telling him if he cheats like that someone will take advantage of it. From what I saw I don't think he should have made the interception had he played the position and play correctly.
When Malik Hooked made his last interception, it appeared that Coach Coombs and Coach Meyer were animated and questioning what he was doing. It confused me. Can anyone shed some light on what the issue may have been?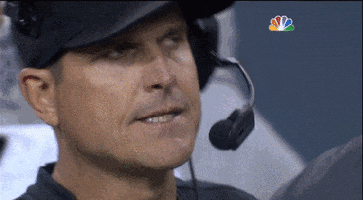 I thought he went back to school and won a Natty this year.
I understand but Thad may feel that thsee guys as a team just won't gel. Each player is probably good but not good together. It's a theory. I can't see AJ choosing to play for another school when this was like a dream for him
I just had an interesting thought. What if this is more of Thad realizing these players were not going to fit together so he "highly recommends" they find another school. This could be Thad blowing up his team more then the kids.
I think some of the concern I have with this two deep is the fact that many of these players don't have much experience as a result of injury. So, now they will be counted on to contribute and historically they were hurt. Is this something that will get fixed because the team really needs them to play or should we count on needing their backups? It could also mean they have superior talent as long as they remain healthy. Either way it will be an interesting year.
I would agree but you needed to add the qualifier, "except if you are the Cleveland Browns" (see 2012 draft No. 3 pick Trent Richardson)
It has been a great week to be a Buckeye. I was in Detroit this week and those people actually think they won something. I don't know if Harblown is wearing off on them but they need a dose of reality. To the staff you guys are great and you make it look easy when in fact it is not. Enjoy your time off.
So is there going to be a Hurry Up tomorrow? : )
Urbz, are you saying that Johnny Manziel is taking the video?
We have had real good success in placing our DB's in the NFL. (See yesterday's NFL Championship games) This year we will have a few more guys enter the league. Our coaches, and more specifically Coach Coombs, have years of experience evaluating young men determining whether they will be a good fit for the program and succeed at the highest level. I trust their decisions, as they have a successful track record, to only bring players that will help the program. While we ponder the if's and but's, it is always a good idea to just wait and see what tomorrow brings. You never know, as the past has shown, we could be surprised.
As for Burns, I hope he has a great college career. His physical abilities, running and hitting are on par with other top athletes that have joined the Ohio State team. He is the type of player that by his Sophomore or Junior year will have a big impact on this team. Good luck to him and welcome to de familia.
If you ever get a chance to hear him speak he is very eloquent. Congratulations to him for his recent graduation and to his family for raising a fine young man. I would not bet against him.
You are all wrong. Tommy Emmanuel is the best out there.
Where is Annie Apple? No one can communicate how this university and the university family impacts the student and his parents better than her. Plus she is a New Jersey mom. Let her talk to Ms. Coney for a few minutes.
Urban likes particular sizes for each position. That means he may like someone with longer arms at DE while he likes a player with a bigger torso at DT. So it may not always work to just add weight
Fickell discussed not having a great amount of experience with a defense that ran press coverage like Ash's philosophy. His background he said was more,of a bend and don't break, like with his mentor Heacock. I believe it will be taken to another level with Schiano.
Urban isn't going to hire someone that doesn't fit into his philosophy or approach. Schiano was an NFL head coach. Think about that for a second. No matter how well he did someone felt that he was good enough to be a head coach in the NFL. That generally means he has a clue. He actually may stay a couple of years just to get back into the swing of it again.
I was wondering the same thing. No matter if this doesn't get us a top flight DT then I don't know what it will take.