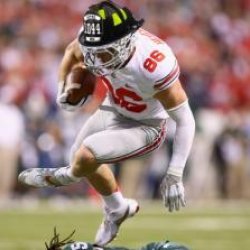 HeuermanTheFireman
---
Member since 04 December 2013 | Blog
Helmet Stickers: 198 | Leaderboard
Recent Activity
That is a pretty great story. Glad I called you on it.
I want to hear more about you rescuing a stray cat from a dumpster. Do tell.
Birm,
Do you think the ATM (Texas A&M) having a bad season could push Kirk back toward the good guys? On top of being very cerebral about the process he seems like a supreme competitor and a guy who cares about winning. Could this factor sway him?
Thank you sire for all you do.
Does BofA Stadium sell beer?
The fact that they all have herpes?
Now you can be excited to see more of him rather than sad to see him go!
#2 Isn't possible so don't get too upset please.
Best of luck to him. I have a feeling this may change after the season but we shall see!
They had to cheat to win. Typical.
Top talent SHOULDN'T be afraid of top talent. Carlos Hyde & Jordan Hall were both rated much further down in the 2009 class than Jaamal Berry. You just never know how they will shake out.
I love them though and think they impact recruiting more than more people realize. There is a reason we bring out alt uni's for big games.
Hopefully Birm and Baker are trolling up. It's all a ploy.
This topic comes up about every third day. If you dig around in the older topics you will see that some people favor it and some absolutely hate it.
If only they were bigger!
I stand corrected. I will stay in my field of choice.
When it was a third and long (and I wasn't at the game) I treated it as extra time to get up, use the restroom and grab a beer. That is how confident I was the Bucks wouldn't convert. Hopefully that'll change this year.
I'm not an engineer but I wouldn't recommend a boat made of cement.
I absolutely love Columbus. I moved here about 2 1/2 years ago to attend tOSU. The only thing it is missing and the reason I will move away after school is a big mountain to ski.
He should have won. The things he did last year were amazing.
Sprinkle wasn't much of a factor. This doesn't hurt much. Plus he had one of the worst football names of all time.
I would have a hard time thinking it was for him. I don't think it is possible to take heroin and go through d1 football workout simultaneously. I think it has to either be a new habit or he was selling it. There are many places in Ohio that have massive heroin problems.
Edit: Finished reading the comments, makes a little more sense now.