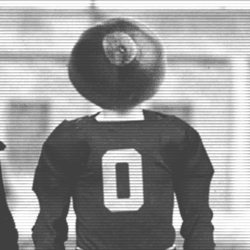 Hello_Heisman
---
Member since 05 March 2013 | Blog
Helmet Stickers: 1,955 | Leaderboard
Favorites
SPORTS MOMENT: Can't mention it on this site for fear of angering the natives (Hint: John Cooper was involved)
COLLEGE FOOTBALL PLAYER: Charles Woodson
COLLEGE BASKETBALL PLAYER: Glen Rice
NFL TEAM: Detroit Lions
NHL TEAM: Detroit Red Wings
NBA TEAM: Detroit Pistons
MLB TEAM: Detroit Tigers
SOCCER TEAM: Any team from Brazil
Recent Activity
Were there any punts at all in that game? That was total video game football.
42 of them happened in the B1G title game, give or take.....
I'm just going to put it out there that bragging about Spring Game attendance is right up there with celebrating a September Heisman. Have fun with that.
Ooooohhh, sick burn Urban! In all seriousness I liked the coloring book joke better. Was funnier, more original and added a little heat to the Rivalry. Meyer's comments at the luncheon were pretty tame.
I'm pretty sure that Hoke's near-term future hinges much more on the performance of his 2014 offensive line than on the Gibbons thing. The only thing he's guilty of on Gibbons is being misleading with the public as to why he didn't accompany the team to its shitty bowl game. That won't get him fired. Overseeing a team with an offensive line that leads the nation in negative plays/tackles for loss again will probably get him fired.
Congrats to Kentucky. They played a hell of a game.
You should swing by my office where you can see me do so on a daily basis.
I agree that Michigan won't make it back to the title game as this region is loaded. My prediction is either Sweet 16 or Elite 8 and I'll be happy with either outcome. Michigan outperformed how I thought they'd do this year after McGary went down. Remember that at one point in December they were 6-4 and simply making the NCAA tournament as any seed was very much in question. One thing I do believe is that Beilein's style works better in the NCAA tournament format than in the Big 10 season. The NCAA tournament refs don't favor the physical teams as much as the Big 10 refs, Beilein's offensive sets are difficult to defend against if you don't regularly face Michigan and have to scout them on short notice (see Florida in last year's Elite 8 round) and while the 1-3-1 zone they sometimes use is a crutch to help mask their significant defensive liabilities, it's another thing teams have to prepare for in an already compressed schedule.
Of course, now that I've said all this Michigan will make me look like an idiot by losing in the first round.
Your post literally reads like dozens of MGoBlog posts I read after the OSU-UM football game last November. You can rationalize it all you want or tell us to fuck off all you want, but it still doesn't change anything. These teams have played a number of close basketball games over the last 4 years. As a Michigan fan, I was not the least bit surprised that this one went down to the wire, nor do I feel like there was any moral defeat inherent in the fact that the game was so close after blowing a couple big leads. These teams are generally close enough in talent and coaching now that there should be no expectation of a blowout, and there should be no assumption that a big lead is safe. Examples of the latter include yesterday's game and the 2013 and 2014 tilts in Columbus. I get that you're pissed about your team losing to a rival but there's no need to play the sour grapes card of how stupid UM was for "letting" OSU back into the game. OSU got back into the game because they're a good team that usually doesn't quit when things go bad early. I fully expected them to fight back regardless of what Michigan was doing. What you saw yesterday was the typical outcome that occurs when two good basketball teams play each other on a neutral court - nothing more, nothing less.
On the talent side, I think you're confusing basketball recruiting with football recruiting. Michigan historically has had good high school talent, especially in Detroit and Flint. UM has struggled in the last 10-15 years to recruit the top players in state, but prior to their sanctions in the late 90's/early 00's, UM made a living recruiting the top players from Detroit. After Michigan's program went in the crapper, a lot of those guys started going either to MSU or out of state.
There was a problem with the way the game ended? You don't say. Good luck with that rubix cube!
But you guys made the Final 4 the year before in 2012 while UM lost in the 1st round to friggin Ohio. I think you're focusing too much on the last couple games and not enough on the bigger 4 year view.
In the last 4 years, the two teams have played 9 tines with OSU winning 5 and UM winning 4. Each team has won at least a share of 2 regular season titles and been to a Final 4. There's been a couple momentum swings for each side within this period but overall it's been pretty even. And most of the games have been very close as well. What we're seeing is the very definition of parity.
Congrats on a hard fought game folks. I always thought UM would bring parity back to The Rivalry in football before they did in basketball, but I'll take what I can get. Whenever I watch these two play, I think how ridiculous either team would be if OSU added Stauskas or if UM added Craft. That's what each roster is missing and what's keeping both from being legit Top 5 teams.
Looking forward to the game tomorrow. It sucked that we only were able to play you guys once during the regular season this year so glad to see there will be a sequel in 2014. Should be an interesting matchup as always. OSU can't shoot and Michigan can't play D. The moveable force meets the resistable object!
Something tells me if there was real money on the line that some of those predictions would look a little different. I think most of the predictions further below look more realistic by comparison.
Fido - you'd better throw in a score prediction for the championship game because you and I have the exact same picks for every game in the tournament. Either we both share a similar level of brilliance or we simply have no faith in MSU or OSU making a run this year. I'm in the latter camp, especially with respect to MSU. They're a disaster at the moment, and I still can't figure out why. One of the 2 biggest disappointments in college basketball this year (Kentucky being the other).
8 Indiana vs #9 Illinois - Illinois
#5 Ohio State vs #12 Purdue - Ohio State
#7 Minnesota vs #10 Penn State - Minnesota
#6 Iowa vs #11 Northwestern - Iowa
Friday
#1 Michigan vs #9 Illinois - Michigan
#4 Nebraska vs #5 Ohio State - Ohio State
#2 Wisconsin vs #7 Minnesota - Wisconsin
#3 Michigan State vs #6 Iowa - Iowa
Saturday
#1 Michigan vs #5 Ohio State - Michigan
#6 Iowa vs #2 Wisconsin - Wisconsin
Sunday
#1 Michigan vs #2 Wisconsin - Wisconsin (final score: Wisc 68 - Mich 61)
Can I ask a stupid question here? There is nothing on the record regarding Lewan's alleged statement, yet you are readily accepting it as fact. Maybe he said it, maybe he didn't. But you wouldn't know that any more than MMan would, so why are you breaking his balls over this point? I'll be the first to admit that if he legitimately did say it then yes, he's a complete douchebag. But since it's still in question exactly what (if anything) was said by Lewan, why would you continually chastise someone for not automatically agreeing with your point?
It's a valid question and I'm kind of curious about the ultimate answers to this myself.
One Michigan fan's guess who is not nearly as intellectually invested in this matter as MMan: The one thing you need to understand culturally about the University of Michigan and its Administration is that they are always working to convey an image that they're the "good guys" who always comply with rules and laws. This influences their behavior to a point where they come across at times as being complete idiots, most notably in the way that they handled the response to the Detroit Free Press's "Practice-Gate" accusations against RichRod and the subsequent NCAA investigation in 2009/2010.
My guess is that in this instance, even though Gibbons was cleared from a law enforcement perspective, because the issue kept lingering, because a new complaint was filed and because more media sources were picking up the story, the University said "F it, we're not taking any chances - we're going to show that we at least did something here, even if it was 4 years after the fact." That's one of the reasons I don't think this is a coverup. I honestly don't believe that anybody was hiding anything, I just think that the Administration officials got antsy about the issue and got rid of Gibbons as a CYA which has only served to make them look stupid. The would have been better off not doing anything from a PR perspective, because doing something so many years after the original incident took place only raises questions and eyebrows.
Nice. I'm sure that's winning you a lot of brownie points over there. Does your avatar include a bow tie?
Totally sucks. It's like that old saying - if it wasn't for bad luck, Michigan's football team wouldn't have any luck at all right now.
What's going on with the program right now is starting to remind me a little bit of RR's final year. Increasing negative publicity around the program, more internal bickering among the fans as to whether the right guy is the HC of the program and before we have a chance to let the season unfold a serious injury bug hits. In 2010, the entire secondary was pretty much wiped out before the season even started (either due to injuries or transfers).
Heading into 2014, there are still key injuries healing from last year (Pipkins ACL, Darboh foot, Gardner "turf toe") and now this injury to Butt. The reason this one is so significant isn't just because of Butt's skills (heh heh, I said "butt skills") but because of the fact that Funchess is a liability to the team when he's line up at TE. He's great as a receiver, but atrocious as a blocker.
The emergence of Butt last year as an all-around TE allowed Michigan to split Funchess wide to compensate for the lack of depth at WR after Darboh got hurt. But more importantly, it also kept opponents from immediately knowing whether Michigan would be throwing or passing based on its TE alignment. Previously, if Funchess was in at TE, everyone was thinking "pass" because he couldn't block for shit. Conversely, if AJ Williams was in, everyone was thinking "run" because Williams couldn't catch for shit (unfrotunately he couldn't block for shit either - he just wasn't quite as bad at it as Funchess). This issue went away once Butt got more playing time because he was a reasonable blocker (for a true freshman) and a very legitimate receiving threat.
I hadn't noticed the user name change on MGo as I haven' t posted there for the last 2-3 weeks. What's the new user name I should keep an eye out for?
Damn BME - how do you have enough time in the day to contribute to all those sites? That just sounds exhausting.
Considering how poor of a shooter Craft is, it makes his last second 3 in the NCAA tournament last year all the more remarkable. If you gave him that same shot 20 times, how often do you think he makes it - 3 or 4 at most?