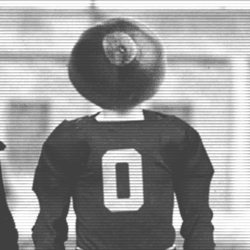 Heisman Dog
---
Member since 12 September 2013 | Blog
Helmet Stickers: 22 | Leaderboard
Recent Activity
I look forward to a rational, nuanced response to this news from the national sports media.
I always enjoy the OSU v. Illinois game - in terms of games that I look forward to this would be 3rd behind UM and PSU. I'm going to miss seeing this game every year after the new B1G divisions are in place. Of course, I also went to OSU during the Cooper years - in which OSU found increasingly baffling ways to lose to the Illini - so that likely biases my opinion.
They also pretty clearly picked an OSU db on a passing td. I remember watching the replays on the stadium monitors to see why their receiver was so open, and both me and a guy in front of me said "that was a pick!". Bad calls or not, Illinois deserved that win, plain and simple. A particularly unbelievable performance from their LB Jay Leman (sp?).

I'm going to throw this out here: if they make, say, 2 treys and a few FT, they would have been in the game at the end while still having deplorable stats. They're a poor shooting team, but that can turn around if a few guys get on a roll. Anything can happen in the tourney.
With that in mind, I'm more concerned about Matta's "stubbornness" sometimes with regard to who should be on the floor. e.g. I felt like LSJ should have played all 40 at IU if possible, or Ross should have been left in with 3 fouls, since he was hot at the time. Or during the final 5' of the PSU game Craft should have stayed on the bench, as Scott was doing well at PG. This team so rarely clicks - I feel like Matta just needs to keep playing whoever is hot, regardless of fouls, fatigue or some predetermined value.
(holding defensive playbook) " 'scuse me while I whip this out..." (horrified screams)
Can someone tell me how that play Cal runs in the displayed gif is legal? OL #78 pretty clearly crosses the LOS (and even the 1st down line) before the pass, which also goes across the LOS. Wouldn't he then be an ineligible receiver? The play is indeed very hard to defend, but also hard for the OL to keep track of which option is chosen by the QB.