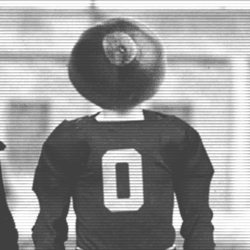 Hayze
---
Columbus, OH (via Dublin, OH)
Member since 26 January 2012 | Blog
Helmet Stickers: 1,781 | Leaderboard
Favorites
SPORTS MOMENT: In person - OSU/Wisky game 2011. Greatest ending to sporting event that I've witnessed.

TV - OSU/Miami. National Title. Nuff said.
COLLEGE FOOTBALL PLAYER: AJ Hawk, Eddie George, Zach Boren, John Simon, Carlos Hyde
COLLEGE BASKETBALL PLAYER: David Lighty, DeShaun Thomas, Michael Redd, Aaron Craft
NFL TEAM: None. Just love the league.
NHL TEAM: None. Go Jackets, I guess.
NBA TEAM: Cavs
MLB TEAM: None
SOCCER TEAM: Manchester United, Columbus Crew
Recent Activity
Rumor on Tennessee's 247 board is he is committing on Saturday. TIFWIW.
He already visited for camp and has an official set up for Virginia Tech.
Birm has said in a past article that he thinks we can be a major player for him.
You might have tried to phrase it like you're being all positive and are just asking a question but you just spent four or five fairly lengthy paragraphs talking about how recruiting isn't up to speed. That sounds like complaining.
We also just got two commits. But they aren't five stars so who cares (Darron Lee, who'll be starting as a red-shirt sophomore was a three star camp offer).
Still, I think OSU fans should prepare for some disappointment as I don't see it playing out the way many think it's going too.
If you're going to follow recruiting, take your own advice.
This kind of thing happens every year in the the summer because a lot of the offers are camp offers and won't be five-star top ten position commits.
As far as 2016, we're looking about as good as you can want (if you're not Alabama and/or aren't from the south). Just curious but who which battles in 2016 have we lost yet, besides Craig?
Sure we trail for Eichengerg and MIGHT trail for Kraemer (last he named a leader it was us by the way) but it is super early with both of them.
Looking good for Michigan right now, him announcing after his visit. It could either be he was blown away and will commit to UM. Or he could have just wanted to visit there before announcing.
Have to admit though, not really concerned about 2016 WR recruiting. For one, Michigan is good at getting blue-chippers to commit early...but they struggle holding onto them (just for 2015 they've had Harris, Campbell and Crawford decommit).
But also, we look to be in a good spot with Layne and Flowers in-state, despite the offers. Also in a good spot with Mack and Smothers. Benjamin Victor just spent five-days here and we'll be in it for him. Also still in it for Craig even with the Auburn commit.
Would love to add Chambers early, but if he commits somewhere other than OSU, I have no doubt that we'll continue to recruit him and be fine without him.
Demario McCall told Kurelic that there is no way he commits tonight :(
Did your friend's son happen to be Noah Furbush?
There were rumors Fickell offerec him a scholarship and wanted him but then others on the staff didn't so we had to pull it.
I think it only helps us in the regard that it hurts Kentucky.
Eh I don't fault him.
He visited Oklahoma when he was on a trip in the southeast...Auburn, Tennessee, LSU. Oklahoma isn't a terrible drive from Louisiana.
He's visited on his own dime, that's all you can ask.
Never. This staff can't recruit.
What happened was he was scheduled to visit for FNL.
However, he decided to move up his visit to last month instead. It actually worked out better because he was able to get more individual attention from the coaches then he would have at FNL.
Because he got caught up.
I'd be surprised if he doesn't visit OSU at some point, regardless of where he commits tonight.
Not sure you want a commitment from a kid like Craig this early. His commitment will go all the way until signing day. Long way to go here.
Lock up Layne and Flowers in state, grab Chambers from Philly then go after Craig until signing day.
Regarding Wilkins, the kid is extremely quiet and doesn't do the whole recruiting process a lot. PSU staff feel very good about him (though the ND staff felt good about Hilliard)
Wilkins loves LJ. Says he wants to try to visit OSU this summer, but might have to wait until the fall for a game.
We'll be in it until the end but I don't think we lead. I don't think anyone leads actually.
Also, the coaches really really want Gallimore, and I think we'll be a very tough team to beat for him.
Probably because he was lower on our list than people (PSU fans) want to admit.
He will be once the other sites update their rankings
How're you feeling about recruiting in 2016? Prospects I'm specifically interested in are Kraemer, Eichenberg, Ferns, Sammons, Layne, Craig, Chambers, Gary, the QBs (Haskins, Henry, Pass), the Ohio TEs (Farrell and Hausmann)?
Any guys you think we have good shot at that maybe aren't being talked about?
Thanks a bunch!
Being in good shape with McCall is a huge understatement.
Little to none.
But excellent chance he officially visits.
Alex Gleitman (and myself) still think we have a good chance to flip him by signing day.
That makes this look weird. If he was comfortable with his choice, why not discuss it?
Great report Birm.
I won't say too much about Alabama commit and overall seven-on-seven commit Calvin Ridley except for this: if he makes an official visit to Ohio State as he's planned to do, watch out.
This stuck out. Wish you would elaborate. Are our chances better than expected? I figured if he'd flip from Alabama it would be to Miami.
For now. Until West Virginia offers his brother and he flips there.
Yes but guys like Baker and Scott would be top ten any year. Missing out on them stings, especially Scott to MSU
This is exactly how I feel. This is exactly what's so confusing about it. Unless he's just trolling (which I doubt) something changed between June 20th and now.
Hope they continue to push for Baker.