Haybucks
---
Lowell, Michigan (via Edon, Ohio)
Member since 18 July 2011 | Blog
Helmet Stickers: 2,128 | Leaderboard
Favorites
SPORTS MOMENT: Marcus Hall's salutation to the raucous crowd at the Big House 2013.
COLLEGE FOOTBALL PLAYER: Marcus Hall and his famous two-finger salute
COLLEGE BASKETBALL PLAYER: Terence Dials
NHL TEAM: Red Wings
MLB TEAM: Tigers
Recent Activity
Sorry ... Page Not Found
That page didn't stay up very long!
Where, oh where is Tracy Sprinkle?
Wiscy still doesn't have enough $ to support a baseball team.
Well, that didn't turn out very well. Too B1G of an advantage for Bucky to play one less game.
Ohio State won the inaugural CCHA tournament in '72. Deja vu?
The 1st 9 minutes and 31 seconds were awesome!
Maybe, if Smith would have slammed the ball or given to Williams to slam. But, the miss, and travel then attempted 3 by Wiscy to win was a "Whew, got away with one" kinda moment.
Gesicki made a tough choice between 2 teams and seems like the kind of guy that is loyal to his commitment, no matter what.
When I toss my bag of M&Ms it is never empty. I cannot eat the blue ones. They don't seem natural. I don't mind chowing the "M" tattooed yellow ones, but the blues just won't make it out of the bag.
Oh, I think UT fans will have a field day when 'Bama plays n Knoxville.
Start at Dick is every guy's dream.
LSUFreek's slip and slide and big baby.
Yeah, I think they've called it on a bigger stage at a more important time of the season.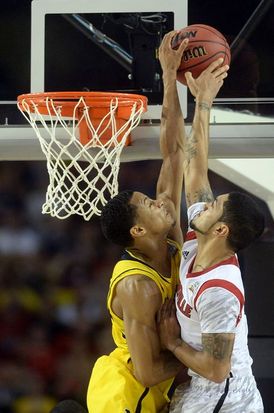 The hole looks like a Verizon commercial. Trademark it before they do.
People should read their tweets before hitting send. Tough to play against a team like Clemson with the flu bug and the injuries. So close. Time to Buck up and hit 2014 with enthusiasm! Go Bucks!
The Bryant catch was ridiculous, as was the flag.
I've tapped my new brew, Buckeye Stout tonight. It's a 10% abv Chocolate & Peanutbutter Milk Stout. I hope the Buckeyes are as good as this brew, but I won't be following the above schedule for drinking. At least I hope I didn't come morning!
Sweet Sugary Turnovers! OU's favorite breakfast danish.
Missed the last one. Ugh. I've worked in that town, too.
Meechy is in the drama club? That explains the UCLA pondering. It was all an act! Well played young thespian. Soon you'll be starring on the big stage, under the bright lights of nationally televised prime time games.
Carlos has been sealing the deal, but was not given the rock or was not on the field when it was crunch time. We were crunched when not allowing him to carry the ball at those crucial times.
It was so cool to see that pic as Eric Singer's FB cover a couple months back.
He also had this very cool profile pic:
1998 - losing to MSU which sends FSU to the 1st BCS title game against an SEC team.
2013 - losing to MSU which sends an SEC team to the last BCS title game against FSU.
Sometimes you have to hate the way life kicks you in the nads.
These guys are looking more like Donald Ducks. If only the prof would've gotten out of his car in full Elf mode. Merry Christmas Eugene.