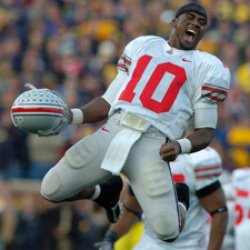 hawkins.326
from Perrysburg, OH
Member since 02 December 2013 | Blog
Helmet Stickers: 75 | Leaderboard
Favorites
SPORTS MOMENT: 2002; No. 1 vs. No. 2 in 2006; Game winning kick against Iowa in 2009; Braxton hail mary; Wings/Avalanche brawl in 1997
COLLEGE FOOTBALL PLAYER: Troy Smith
COLLEGE BASKETBALL PLAYER: Aaron Craft
NFL TEAM: Cleveland Browns
NHL TEAM: Detroit Red Wings
NBA TEAM: Cleveland Cavaliers
MLB TEAM: Cleveland Indians
Recent Activity
I wish I could take credit for this. Just sent to me by a fellow Cleveland fan coworker.
Was reading this article and got to thinking about 2011. I think I've wiped that entire season from my memory because the only play I remember is Braxton's hail mary.
I dunno if I'm in the minority here or what, but I loved Lost. It was more about the journey with the characters and I thought that part of the show was awesome.
One of my favorite shows ever, and this first episode of The Leftovers really hooked me.
I'm in football mode, but this got me a little more excited for basketball this year.
I wonder what Amir's workout highlight tape would look like.
100 percent. I don't even think it should be a discussion.
Troy Smith is my favorite Buckeye of all time. Granted, I'm only a 25 year old and it's hard to remember much past 2002, but the NFL was just simply different when Troy graduated college. I have no doubt he would be a top pick in the NFL that exists now, but it's just a different league. He was born about four years too early.
Also, as a Browns fan, I'm PUMPED for some JFF this year.
Anything Anna Kendrick is good in my book. I'd upvote you if I could.
I pick Mrs. Robb Stark, Talisa Maegyr, except well, you know. Gimme the Tyrell all day.
Is there a story to this? I've always imagined the day that Troy's No. 10 was retired, and just assumed it would happen since every other Heisman winner has their number retired.
I get as angry as the rest of you about Herbie's obvious bad mouthing of tOSU and glorification of ESPN's SEC agenda, but I'm always taken back to a story I was told by one of my good friends that was briefly on the football team during one year of spring practice. Tressel invited Herbie to come into the locker room a few weeks before the spring game and Herbie told an impassioned speech (and cried) about how much he loves the university and how much it hurts him to constantly talk down about the B1G and tOSU on Gameday.
This was years ago, and I agree he's gotten much worse over the years (I'm guessing Musburger rubbed off on him a little too much), but I firmly believe Herbie still loves the Buckeyes, no matter how often he acts like an ass on national television.
Late to the Phriday thing, but here we go!
Met AJ Hawk at a Dave Matthews Band concert at Germain in 2006. He was happy to take a picture with us, but Brady Quinn's sister was not happy with a bunch of drunk OSU fans bothering them.
That Brown kid (and the rest of the team, really) killed Toledo. If they can shoot that well again, shooting over the Cuse zone, they can definitely pull the upset.
I'll throw out a vote for Bakersfield. Was back in town a couple weeks ago, and although it's a bit of a ride down to Short North, the whiskey/tequila/tacos combo is definitely worth it.
Watkins, then pick up Aaron Murray or Zach Mettenberger later in the draft and give Hoyer a shot this season. Or I'd be cool with JFF specifically because the Browns would be fun to watch, but ultimately probably still awful. Either way, El Guapo needs to be a part of the equation as well.
I'm just as interested to see what some of those off campus houses looked like back in the day. 307 E 15th was probably a bit nicer in the 1930s than when I moved out in 2011.
Was looking for a post about this. Thanks Chibuck and Jason. Added a couple new fonts to the library.
Blake Bortles' girlfriend, Lindsey Duke.
http://instagram.com/linds_duke