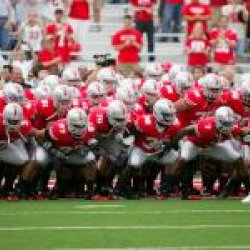 hardkorethree
from Coldwater, Ohio
Member since 19 January 2013 | Blog
Helmet Stickers: 187 | Leaderboard
Registered Nurse in the State of Indiana. Huge Buckeye, Blue Jackets, and Bengals fan
Favorites
SPORTS MOMENT: The Coldwater Cavaliers coming back from 21 with 7 minutes to go in the 3rd quarter against Kettering Alter to win in triple overtime by a final score of 59-52. They later went on to win state against Youngstown Cardinal Mooney.
COLLEGE FOOTBALL PLAYER: Tyvis Powell
COLLEGE BASKETBALL PLAYER: Aaron Craft
NFL TEAM: Cincinnati Bengals
NHL TEAM: Columbus Blue Jackets
NBA TEAM: Fair weather fan
MLB TEAM: Cincinnati Reds
SOCCER TEAM: Team USA
Recent Activity
I get that 5 star commits bring about more excitement than 3 star camp offers, but recruiting rankings are very far from the "end all be all". I'm pretty sure Urban Meyer and this staff are a whole lot more informed than some recruiting analysts and ourselves.
Much like 305Buck mentioned, Torrance Gibson seems to like the attention. It's driving me a bit nuts, but let's be serious.. This would be a big get for Ohio State, and I with pretty much everybody else want him anyways. The big hurdle was getting him to visit campus at least once, now we just have to get him up here for a official visit, preferably for one of our big time games.
He's being charged with possession of cocaine, rioting, and failure to disperse.. He apparently was warned to leave the area by cops, but decided to get into another altercation in the process. I've known some people who I didn't think would be wrapped up into drugs that have been, so I take that with a grain of salt. The drugs could possibly not be his, and he may not have been using, but I would not take these charges lightly, considering the police have stated they did a search of the car after the 1st arrest.. I think this is a BIG DEAL for everyone involved. This is also not the type of publicity I would want surrounding my team either.
Thanks for the correction. Either way, this is not going good for Tracy, seeing as how the police are claiming to do a search of the car previously to placing him in the police car.
Drugs may not be his, but it is still very bad news for him legally if somebody doesn't admit to "that's my cocaine", because it is still in his possession, not sure if charges will stick though. I had a decent friend in high school, didn't really hang out with him on weekends, but he was driving a friend who had weed on him, that he didn't know about. Drug search of the car brought forth the weed, ended up having to take the fall because the guy in the back seat didn't admit to it as he already had other charges charges pending on him I believe. I can't remember if the driver willingly took the fall for him or not, Lord knows I wouldn't.
Another very sad story- A girl that had graduated from my college with a nursing degree went on a blind date with somebody who had a good reputation amongst people. As she was riding in his car, they were pulled over. She didn't think anything of it, til the drug search brought forth from what I was told "a ton of drugs, big time dealer/seller". Eventually charges were not filed, however as a nurse she had her job suspended/lost for a year, had to obtain a lawyer to fight the nursing court charges, legal fees of over a year plus, had to move back in with parents, until she was finally cleared close to a year later.
I know it's hard to do at times, but I hope Tracy can take that as a lesson learned and make sure the people he runs around with are clean. If it also means he has to avoid bars, I would recommend that as well.
Hope Tracy is able to get the help he needs seeing as how it is heroin. Unfortunately for Tracy, I believe the scholarship needs pulled, and given to a walk on senior that has earned it. Hate to see it for him, but I imagine this offense could take him off the team
1. Ohio State- Grew up dreaming about donning the scarlet and grey, running down the tunnel, forming the Hive, and playing against Michigan.
2. USC- Visit So Cal, Hang out with the ladies, while taking in a big time college football game.
3. Oregon- Tour of the facilities, I bet they have some good looking ladies on campus as well.
4. Florida State University- I grew up hating the Tomahawk chop, but it's starting to grow on me now. The history, current appeal of the program, the ladies.
5. University of Tennessee- Take my dad who is a mild volunteer fan to a game down there.
Whoops, should have looked more into my post when I said "his major". I get that you can't graduate with "exploring majors", brain slip. I'm not sure how that term exactly works at Ohio State, but I presume he's allowed to take any easy pre-req or gen-ed courses that sort of interest him? Does Ohio State force someone to decide on a major at any point? I graduated from a private college that seen very few people enter "pre-declared"
Considering this past spring and everything being reported I highly doubt it. To be honest, I think the best option for himself at this point might be transfer as well.
1. He was relegated to third team work, with rumors of a poor spring. I'm not sure if this was entirely academics related, or perhaps also coupled with lack of complete effort on the field. Either way, not good.
2. He missed the Spring game and presumably the spring practice scrimmage due to "academic reasons"
3. It is being reported that he is transferring out for "academic reasons", not dismissed. I'm sure he received A LOT of help academically as a football player here, and I'm presuming his "exploring majors" is not one of the toughest majors on campus.
With that I wish Brandon Ojikitu and Jamal Marcus the best of luck in whatever their future holds.
Like Jordan said.. He's a preferred walk-on, very doubtful it has any impact in regards to scholarship qb's.
I usually don't get too excited over a highlight film, but this guy would be a HUGE get. I'm betting Urban becomes his primary recruiter.
I did a virtual tour a year ago for their facilities. If I had the opportunity to do an official visit there as a young stud football player, I would do it in a heartbeat.
10 Jerome Baker ATH Cleveland Benedictine, OH
9 Larry Scott RB Hubbard, OH
8 Justin Hilliard LB Cincinnati St. Xavier, OH
7 Tim Settle DT Manassas, VA
6 Drew Richmond OT Memphis, TN
5 Ricky Deberry OLB Richmond, VA
4 Torrance Gibson QB Fort Lauderdale, FL
3 Damien Harris RB Berea, KY
2 Minkah Fitzpatrick CB Jersey City, NJ
1 Jashon Cornell DE St. Paul, MN
Agree with you here. If he's being projected like a mid first round pick, I would have fully supported his decision to enter the NFL draft. However, I am sure everyone on this board would be absolutely ecstatic if he decided to come back for his senior season.
One thing I do like about these games, is that it provides an opportunity for our backups, freshman, and walkons with the chance to play.
Are you serious? He graded as a champion and won defensive player of the game. I will have to side with the coaches here who believe he is a better player than Ron Tanner. I got frustrated he missed a couple tackles last season, but in my opinion, that is going overboard.
Congrats to Joe! Keep working hard!
I am not sure how this is all on Luke Fickell to be honest considering how few scholarship linebackers we have and how young they are. I'm beginning to think that Curtis Grant may not possess the "it" factor like we all thought he did. I'd love to see him be a big player, but just not sure it will happen. Josh Perry appears to be developing and could be a solid player, we shall find out rather soon.
Finally, we can't expect Mike Mitchell and Trey Johnson to be fighting for a starting spot after 3 days of practice at linebacker. I have to believe that at least one of those two will further develop and become a solid role player later on this season, but let's not get discouraged yet.
August 31st can not come soon enough though. Hopefully we can beat up on Buffalo early so we can get a better look at our depth.
Tyvis is one impressive man! Even after his redshirt season, I had a feeling he would become a quality player for us. I was remarkably impressed to hear the fine words of praise during spring camp and seeing he had been named the starting Nickelback. This post wasn't about himself as well. Includes his teammates in the post, specifically mentions Armani, and thanks the fans for the support- Wow!
Tyvis- I wish the best of luck to you man. You haven't let Buckeye Nation down by any imagination. Keep working hard in football, academics, and life man. I sincerely hope to see you donning the scarlet and gray as the starting Nickel this year.