hansman
---
from Pickerington, Ohio
Member since 17 December 2012 | Blog
Helmet Stickers: 795 | Leaderboard
I've lived in Ohio my whole life and in the Columbus area since I was seven. I've been a Buckeye since my birth in 1980. I attended my first game in the shoe when I was seven. Since I was seven and the 1988 football season, I've only missed nine Ohio State home games. I attended every game of the 2002 national championship season except at Northwestern.
Favorites
SPORTS MOMENT: Going to the national championship game vs. Miami on January 3, 2003 and watching the Buckeyes win it all! Going to Holy Buckeye, rushing the field for TSUN game in 2006 for #1 vs. #2 and for Tressel's last game vs. TSUN in 2012 (and rushing it in 1998 and 2002), and doing O-H-I-O around the Big Outhouse in 2009. Also, going to the 2012 Buckeyes game vs. Purdue and not leaving early (never do!), seeing the Buckeyes crush Notre Dame in the Shoe in 1995, and seeing Eddie rush for 314 vs Illinois in the Shoe in 1995. Finally, attending the Ohio State vs. TSUN game where Tressel gave his famous speech about beating them after he was hired.
COLLEGE FOOTBALL PLAYER: Carlos Hyde/Kenny Guiton/Joey Bosa/J.T. Barrett
COLLEGE BASKETBALL PLAYER: Slam Thompson
NFL TEAM: Cincinnati Bengals
NHL TEAM: Columbus Blue Jackets
NBA TEAM: Cleveland Cavaliers
MLB TEAM: Cincinnati Reds
SOCCER TEAM: Columbus Crew
Recent Activity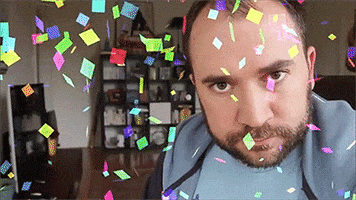 Sounds like what we did vs. MSU last year....only we ran it outside twice instead of giving Hyde two chances up the middle to get two yards.
Unfortunately....yes. Luckiest team I've ever seen.
FSU in the semifinal, SEC or Notre Dame in the national championship
And, things turn out great for Jameis again.
Have you ever seen this many dropped passes, interceptions, recovered fumbles, etc. go on in one team's favor in a single game? This has to be the luckiest performance I've every witnessed.
Nice job Louisville. Put the ball back in it always turns out good boy's hands for a chance at the win.
I have a sick feeling in my stomach. I've seen this game lots in 2014.
Someone needs to make this guy pay for his mistakes and face disappointment for once in his life. Pun intended.
Aaaaaand the 500th lucky break for FSU.
That offensive pass interference no call is for all the times Jameis got away with it.
Louisville just Wisconsined this game.
Seriously? How can one team be this lucky this many times?
I would take a Louisville win over a free crab legs coupon.
Can we have them talk to our coaches?
Right....I felt compelled to show that they are just as demented as their hero as they "pray" for him to lead them back after falling behind.
This always earns an upvote.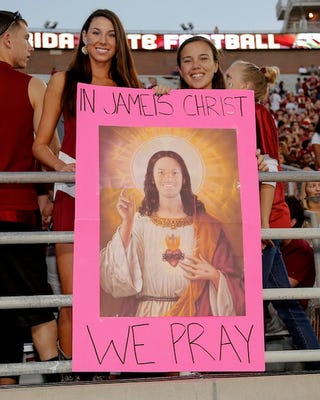 "I don't eat poop but Jameis does". Nice sign!
I knew I got excited too soon again. How many games like this have there been this year where top teams have barely squeaked out wins (us included)? Good thing Ohio State is the only one they talk about for it doing it, and the only one penalized for it. How many times have we dropped/not moved in the polls after a win?