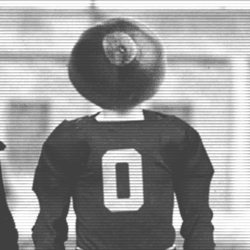 GVerrilli92
---
Member since 29 November 2013 | Blog
Helmet Stickers: 74 | Leaderboard
Recent Activity
Does anybody know where there's a replay of the game posted? Didn't get to see it yesterday and I'm going crazy reading about it.
Should be a good time this year.
With us probably shifting tendencies to an off-tackle running offense, the TEs will be huge in blocking and should have added opportunities to catch the ball down the seam.
Baugh will also see the field in the OOC schedule. I'm ready to see him for the first time after constantly reading about his high school accomplishments.
It's gonna be a good time.
I think Zeek and Samuel in the backfield together with Dontre in the slot will be too much for the Gray Team. That's just silly.
You must recall a different line, or you're relying on stats over tape.
All of the success that any team had running the ball on us last year came from misdirection and delayed handoff-type stuff. Yeah, *ichigan gained some yards on us, but they also shat out a brand new playbook just for that game. They didn't line up and run a conventional play for 4 quarters, and it took our D-line completely out of the game.
MSU employed the same tactics. But they were actually talented, so they could gain yardage more conventionally. Dantonio saw *ichigan expose us for our inability to play well-leveraged defense. And so they attacked with constant misdirection and rollout PA. The gameplan was to attack the back 7 100% and avoid the front 4 100%. They did sacrifice a couple of runs into the teeth of our line, but that was to suck the safeties and LBs up when it mattered. Such has been part of Bollman's gameplan all along, and it's worked extremely well with a dominant D that forces close games.
And finally, Clemson's entire offensive identity just so happened TO BE this synthesis of misdirection and forward-handoff passing. We didn't stand a chance. There's little doubt in my mind that we are as talented as Clemson, and probably much more so on defense. But it was sort of like what happens in basketball when a great shooting team is pitted against a great zone defense. The zone D can be damn good but it won't stop shots from falling. (Now why we were unable to adjust is another matter entirely)
We found ourselves in a vicious negative cycle in the back 7 last year. There were players who lacked confidence being targeted often, losing often, losing even more confidence, and as a result being targeted even MORE often. Meyer talked about our unit-strength because of how our system was setup. When one player would consistently fail to do his job, it let the offense off the hook and made the other 10 defensive players' efforts obsolete.
Just wait until this new back 7 gets some confidence and creates a positive success-cycle. Because if we can make offenses even slightly hesitant to pass the ball, then this D-line will have a chance to break NCAA records. Sorry about the length, I'm bored in my legal aspects of sport class down here in Chapel Hill.
Was sitting behind the endzone Heuerman was running towards in that last GIF
When he first caught the ball nobody thought he was taking another step. Instead he showed insane hip explosiveness and acceleration, got going in the right direction quickly and didn't get tracked down. In other words, this kid is really fast. I expect a lot of TDs for our TEs this year because of the threat of our perimeter players and Braxton running the edge option.
Don't forget about Marcus Baugh either, this is Urban's first "Hernandez" type, athletic TE. Huge threat with the ball.
I think that's all you really have to see.
Greene taking special teams seriously is going to go a long ways towards solidifying his spot in the WR rotation. If he comes out and does this a couple of times early in the season on ST, he can prove to Urban that he's not afraid to step on the field in a more extensive role for the offense.
As much as I love that GIF, it always reminds me that we gave up 35 to Illinois.
I think Cardale is actually more suited to this set of skill players. Braxton and Carlos were formidable because of the elusive-power combo. The same combo is maintained with Cardale taking IZR and Dontre taking the jet sweep.
I don't think these quotes are as telling as some of the comparisons between Johnson and Vrabel though.
The more I read on that, the more I'm convinced that Vrabel lost his sense of the college game. Playing the same 4 guys on the D-line 75+ snaps, constantly yelling and being negative, inability to establish a relationship with his players the way LJ can. Any program would be lucky to have Vrabel, but I think we upgraded bigtime. More so than fans are aware of.
I love that he is dissatisfied with his production from last year. Gotta love a freshman that not only knows he belongs on the field, but that he can change the game.
This is what I'm thinking.
Maybe this is Urban's favorite learning progression with his more explosive ball handlers. First teach them everything about playing behind the line and then move them outside and down the field.
I can't imagine what Dontre will do to defenses this year when he's as adapt at catching the ball at the LOS as he is at finding the holes in zones or burning his man in the seam.
I think it would be a great idea to give Curtis Grant that opportunity. It would motivate him even more and give him an offseason goal to work towards.
As a MLB, you kinda feel like the captain of the defense anyways, and it would be a great confidence boost to let him earn that position.
In all of those videos two things were apparent.
1. Ryan Shazier has a rocket up his ass
2. Our D-line did an excellent job of keeping people's hands off of him, allowing for ignition of said rocket.
Jones reminds me a lot of Jamarcus Russell. He's the polar opposite type of mobile QB as Brax, but I think he could be just as effective at running the offense. The WRs are key to Cardale's development as they need great hands to handle his arm strength. Assuming we have this, he can be insanely productive. He might also be the better QB for a "true" pocket, because ala TP he must be very hard to bring down.
As far as the running game with life after Brax, I think Cardale would help us get out of our own way. Braxton's versatility creates the tendency for our staff to lean on his ability and in doing so makes us very predictable. Let's get a couple of 3rd down flash screens to Dontre out there, about 12 a game would be nice.
All of that being said, Braxton for Heisman 2014.
Start #10
Finish #2 - I think this is the year Urb makes it to the NCG, where we lose our first game of the season.
Simply put, this team goes as far as Braxton takes it. He has the talent around him, it's just very young. As a QB coming back for his last go round, will he be Vince Young or will he be Todd Boeckman?
That side-step against PSU, wow. Eze is an interesting case because he could be very versatile moving forward. Apparently he's up 10lbs. from when he came in as a freshman. So he could stay there and keep the quickness or he could continue to gain some weight and be an ideal every-down back.
This year it seems like they're setting up Rod Smith to be the first-down, sure yardage back. That's why I don't think they mind Eze being the size he is, so that he can come in and exploit the edge.
Highly doubt we see a game this year. With O'Bannon going to court in June, secondary markets are wary of becoming involved with amateurism right now. Wouldn't be worth all of the money it takes to receive the rights to publish anyways. EA pretty much had a corner on the market.
AANNNNNNND it's gone.
"Braxton doesn't seem to do that, it's option 1, maybe option 2, then takes off."
I wish this were true, but too often he takes the sack. This offense only needs Braxton to make the first read, check to see if the RB swing is open, and then take off. I wish he could dissect a D, but that's not his forte.
I like the comparison to TP in this regard, because Braxton is stuck between doing things the right way and doing things the most effective way. For him, they aren't the same thing. And from a pure numbers standpoint, QB scrambles are guaranteed yards for him and I honestly believe he should never take a sack with his mobility. On pure drop-back plays I would like to see Brax take off sooner, and it would be very refreshing to see us roll the pocket ala Troy his senior year and Russel Wilson at Wiscy
This.
I was always in the Braxton camp, but I am very surprised that we refused to work in a dual QB system at times. It's curious especially because of the success Urb experienced with it in Gainesville.
There were simply runs that Braxton could make that KG couldn't, and I think there were passes KG could make that Brax couldn't. That said, #5 has more upside as a passer still because of the uncoachable release speed and arm strength. To think what he could be if he really came out with some mental resolve and savvy this year.
That and we gotta get him to feather it at times.
Tough to swallow that a mediocre Ohio State defense would have us in the national championship right now..
Well done sir. I enjoyed that.
Boyd can skip faster than Grant. That would be a waste of a man.
UNC and NC State have been NFL D-Linemen factories as of late. Quinton Coples, Mario Williams, Nate Irving (hybrid LB), Tim Jackson, Kareem Martin. Not to mention Julius Peppers. The state seems to have one per NFL draft now. Just off the top of my head, these names.
I just don't see why a DC doesn't exhaust his options until something works. Putting Vonn Bell in at star and moving Tyvis Powell in front of Pitt Brown gets our best players on the field in very natural positions. I was expecting Vonn to have a Jermale Hines-type first year of playing.