GVerrilli92
Columbus, Ohio (via Sanford, NC)
Member since 29 November 2013 | Blog
Favorites
COLLEGE FOOTBALL PLAYER: Teddy Football
NFL TEAM: Panthers
NHL TEAM: I don't see what all the fuss is aboot, eh?
MLB TEAM: The Redlegs
Recent Activity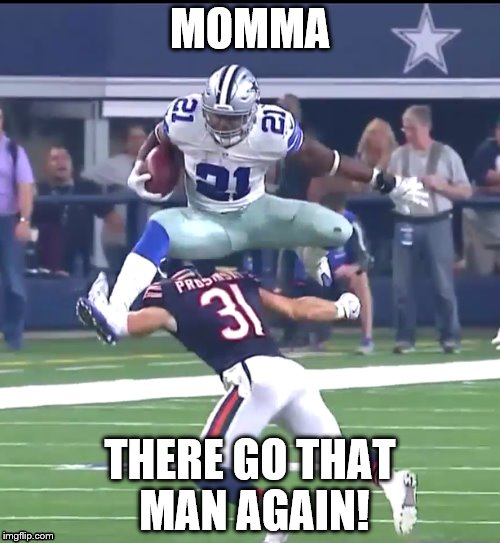 Ridley is not your typical college WR. That guy is a monster and he will be playing on Sundays for a very long time.
It's not that Bama has trained their players to be great long-ball catchers, it's that they've recognized an innate ability in their players to do that and designed an offense to operate around that ability. If we had guys who could consistently take the top off - blowing by safeties and catching the long ball in stride - we would have seen that by now and our offense would depend on that. We don't have a receiver who can provide that threat consistently and THAT'S OK. There are plenty of ways to take advantage of the single coverage that MSU plays on the edge, the first of which is giving our QB enough time in the pocket to allow intermediate and double-move routes to open.
This was the main take-away from Jim Tressel coached teams. He changed his offense every single year to take advantage of what his best players did best. Urban was simply blessed in '14, regardless of what he chose to do. Devin Smith was one of the best long-ball catchers in collegiate history, we also just so happened to have one of the best RBs in Ohio State history coupled with an elite horizontal stretch option in Jalin Marshall combined with an intermediate route nightmare in Michael Thomas. It truly was the perfect offensive storm, that team.
I'm just of the opinion that Smith was a once-in-a-decade type talent that even Meyer hadn't seen in his time as a coach.
To expect another Devin Smith every single year is like expecting another Zeke, it's just unrealistic. He had a very specialized skillset that we may not see again for a long, long time.
We need the coaches to tailor a gameplan around the best players that we have on our team right now, not force players to try to do what others have done in the past just because it worked. We can be extremely successful with the personnel that we have now, so long as we ask them to do what they do best. Appreciate the unique skills of each player as they come and go, and adapt with a system that takes most advantage of their specialties.
No doubt that MSU is looking straight up legit right now - especially on the offensive front. And yeah, their scheme is susceptible to the long ball because of what they ask the corners to do. It's just that there are other ways to beat their alignment without the deep threat - which we aren't sure we don't have anyways. The slant, the back shoulder, and the intermediate ins and outs are all route combinations that take advantage of single coverage on the edge. I'm confident that if the game last year isn't during a torrential downpour sans Noah Brown, we see way more of that.
Let's just hope that mother-nature cooperates this go-round. Even still, she hasn't slowed us down yet in '16.
What if any design could come with our handle on the back?
I would pay double for this. Please, have my money.
I live with my girlfriend in Riverwatch Tower!
Can't freaking wait.
There have been over 100 national champions in the history of collegiate football, albeit some falsely claimed and/or split (lol ttun). Devin Smith was only on one of those teams.
Can we please get past this notion that having a deep threat is an absolute pre-requisite to being a good football team? I promise you, that while having somebody to take the top off of coverage is nice, there are plenty of other ways to move the football.
Let MSU try to deal with Curtis Samuel on a G-sweep or Noah Brown on a back-shoulder, it's going to be just as fun for them as defending Devin over the top.
This made me laugh more than it should have.
To actually address the OP - yes, it is a tad concerning.
However, that is valuable repetition that cannot be replicated with a young OL, RB, group of WRs (edit: entire offense) elsewhere. There is absolutely an opportunity cost:benefit ratio, but I highly doubt that Urban doesn't understand that. His emphasis on improvement through film study necessitates the first team being on the field for as long as possible in as many situations as possible.
As much as he says it's all about "one game at a time" - it's not. The film that we have now on ourselves in Norman will make us a better team in November.
Good point.
Webb has made some of the best plays in the secondary this year. He's also made some of the worst, but his physical capability is off the charts.
The glaring mistakes that stick out in your memory are mental inconsistencies. That can be fixed, lack of speed and physicality cannot be. Give the coaches time in the film-room. Webb will be fine.
I'll rephrase - his size:speed ratio and power (force x velocity) capabilities are very similar to Darron Lee's.
Darron Lee was not a true linebacker though either. He was a heavy safety with excellent run-defense tendencies. Lee was a bit unique because of his length combined with his instinct. He wasn't too heavy, allowing him to cover and shoot the gap - he almost always made it to the ball carrier untouched. And he wasn't too light, allowing him to use his hands to fight through lineman when he was hit. His mindset allowed him to play bigger than he was, and reminded me a little of Brian Rolle in that regard (not talking height, rather instinct and angles).
I'd be willing to bet that Peppers' 1R maxes are still very similar to Lee's in the squat and bench. He has a similar mindset that pairs well with his speed, and let's be honest - he's got great technique at the point of attack.
That said - Shazier, Roby, Lee, and Hooker were/are equivalent in or had more talent than Peppers. Peppers just sticks out on that defense because their other 10 defenders are slow.
It just depends on your definition of "good/better than the guys last year." Were they physically as gifted and/or more explosive athletes than their predecessors? Possibly. Were they trusted to execute at a standard level on 100% of the defensive snaps? No.
You can't just stick a guy out there because he's capable of making mind-blowing, one-handed catches. If he's also capable of missing one assignment out of 100 snaps - he's a liability and can't be on the field. There's a level of trust involved, and also, it simply wasn't their turn last year. Better to try to get your older players into the NFL a year earlier than to let them spend their collegiate careers on the bench and waste a scholarship for 1-2 more years.
Charlie can't keep the Texas kids in Texas, or at his school at least.
With Baylor, A&M, TCU, Bama, LSU and Ohio State poaching the state, it's impossible to field a great team. Because as the state's flagship school, you want to take at least 7 or 8 of the top 10 in-state prospects - Texas has been missing out on those and then also missing out on the rest of the state's top 20 because they've allocated all resources to getting the best first! It's a vicious cycle where you end up with all or nothing.
Take the 17 class for example: if Dobbins, Okudah, Hines, Wilson, Deculus, Little and Browning all end up at the same school, we're talking about that as the greatest recruiting class of all time. That's what used to happen at Texas - but not anymore. Strong is a good recruiter and a good developer, not really great at either.
Who would have ever thought that Malik would be better than Vonn Bell after 3 starts?
This secondary is already better than the previous one, why does new talent have to indicate a drop-off in production? That was the point of my OP.
Wham, Bam, and Thank You Ma'am.
Weber, Samuel, Wilson - respectively.
Don't forget to hug a big guy.
Why not?
If you want to be a top tier program this is how it has to be, that's how CFB works today. I promise you that a "mass exodus" to the NFL is the best possible outcome - it's what we want. In any given year, the better our output into the league, the better the input of talent into our own program. We can't convince the blue-chippers to come here if we aren't putting players into the NFL every year.
It's not a pull-system from the NFL, it's a push system from high school. The league isn't robbing us of our best players, they're giving us bargaining chips to add better ones. That's how dynasties work.
Do I wish that JT Barrett and Malik Hooker could stick around forever? Of course I do. They'll never look as good in another jersey as they do in the Scarlet and Gray. But that's why collegiate athletics are so effing amazing - some other group of players will step in to replace those guys and shatter their records, upholding the great tradition of The Ohio State.
Time and change will surely show, my friend.
This.
At the end of the day he is an exceptional football player. He would start over Worley and bring versatility to that position - he has very similar size to Darron Lee.
Now does that mean he deserves to be in the conversation for 1st team All-American, Thorpe Award, or (for God's sake) Heisman conversation? Absolutely f*cking not. He's an all B1G type player, but I'd still take Malik, Darron, Roby and Shazier in my back 7 before Peppers.
By far the worst player in the secondary.
So only a 3rd-round NFL draft pick?
Reminds me of the Caddyshack quote: "Don't sell yourself short judge, you're a tremendous slouch!"
You're being too kind, Kelly is not a great coach by any stretch of the imagination. He seems to warrant praise for his recruiting efforts, but his development is just sorry - at the player and staff levels.
My opinion is that his players bail him out, rather than get better as a result of his coaching. Kizer is a great example, he's an amazing talent that is asked to do everything.
I believe Charlie Strong Tom Herman returning Texas to relevance will have a direct impact in those two.
FTFY
I'm pretty sure this was the plan all along. Urban knew that he was watching an NFL secondary in practice, why else would he offer so many DBs in the class of 17 if he wasn't confident in that fact?
People keep wondering how we're able to offer so many kids with "so few spots" available, that's bullshit. Urban knew all along that our entire secondary would be playing in the league this time next year, even if the rest of the country didn't know it yet. We're not intentionally oversigning - we're preparing for another mass exodus to the NFL.
Are you a philosophy professor?
Holy Schroedinger's cat, what a great explanation.
Solid. You and Phi are routinely my favorite users to talk with.
One definitely has to consider volume with statistics as well - and what the source of volume difference is. Where you have 20-30 so punters "statistically" better than the two being discussed, that's largely because those punters follow offenses that stall more often before they flip the field, and lack a power run game that would allow them to convert a short 4th down try.
Now using the visual test, we both know good and well that Cam is one of the best in the land, admittedly I can't speak for the Sooner boomer, haven't seen him myself.
That being said, I'll remain adamant that the team who tries the most FGs in this game will lose - regardless of whether they're made. This just doesn't have that typical "field position, defensive struggle, limit mistakes, etc." feel to it; points will be scored. And while one Jim Tressel doesn't sit well with that, such is CFB in 2016.