GVerrilli92
---
Member since 29 November 2013 | Blog
Helmet Stickers: 715 | Leaderboard
Recent Activity
Most beautiful throwing motion of all QBs ever.
'92. You can do the math.
Heisman candidate, record breaking, Rose Bowl MVP QB that could have also started for our basketball team?
He's gonna be a true HB, so 210-215 range wouldn't surprise me. That's not what I would call overly bulky either.
1. Troy was the perfect QB.
2. TP was the best all-around athlete to ever enroll at tOSU.
3. Krenzel was a flawless leader and decision maker on the best OSU team I've been alive to see.
4. Braxton is yet to be determined.
Thinking about the difference in size between Dontre last year and this year makes me very excited for Samuel's future.
Just wait until he's a 215lb JR. Can't wait.
I'm not saying Curtis Grant should be tossed aside like a used condom. I agree that he's improved, but Raekwon is the future and he needs to see the field. A lot of fans just want to see Curtis off the field, I'm not one of them. I'm one of the fans that believe getting our future starting MLB some snaps for a possible championship run next year would be a decent idea.
I honestly think that JT and Braxton are as contrasting as Tebow/Leak. There are minuscule similarities between JT and Brax, because their respective mindsets on the field are so completely different. JT is a calm, drop-back guy that can throw receivers open, Braxton is much more effective in chaos mode - running around, dodging, not necessarily looking downfield.
Check this out, Braxton would be the X-Back and Barrett would be the QB:
Well for one, VT plays Georgia Tech every year, so they have to know what assignment football is. Our option and RO games were stifled for the most part. Secondly, everybody we face is going to play a radical scheme to stop our attack - Wisconsin's been doing it since Braxton arrived. Finally, there's only so much offense you can install in the first 2 weeks of the season. Not to mention the portion of the playbook you had to replace due to Braxton's injury.
Unfortunately this isn't basketball, bench players aren't going to be at the same playing level as starters immediately, due to limited reps. So all of these new starters are just now getting first team volume reps. I'm almost positive that any ranked/decent team we played in the week after Navy would have beaten us. The coaches didn't have enough time to install an offense, prepare for Navy, prepare for VT, and also prepare for adjusting to attacking a 46 bear. I know it sounds like I'm creating excuses, and I am to an extent, but there were A LOT of variables working against us coming into this season. And ESPN can shit talk our schedule all they want, but I don't think many teams in the nation played a harder combined first two games.
Anyways, we aren't nearly as good as we will be. You can't maintain that previous level of play from losing half the team, but I think eventually these starters will be better than last year's squad. I doubt that happens this year, but next year with the return of everybody + Brax. Should be fun.
This isn't going to get DVd because it's strongly opinionated, but because it's wrong.
Anytime you have to do something in front of 105,000 people, things become a little more difficult. Some players perform better when the gameday uniforms are on and everybody's watching. These games give the coaches the opportunity to identify these players for future teams. It's more about resolve than talent when it comes to heading to EL and coming out with a W.
They probably feel like they don't have to prove that they're a Buckeye, because they don't.
At least he was in position to get the call against him.
Grant would have been running to catch up after the TE made the diving catch.
Or you could open your eyes.
#5 is around the ball every snap that he's on the field. It's a limited sample, but the film will speak for itself.
Raekwon will be playing significant minutes by the end of the season, the coaching staff won't make the Vonn Bell mistake twice.
This would be genius. Viper.
The coaches wouldn't do it though.
Well he wouldn't have to face real defenses. So there's that.
He could gain some speed, but then Michael Jenkins wasn't the fastest receiver.
The thing I don't get is.. isn't molly one of those drugs that is completely out of your system within like 3-7 days? Pot takes a while to get flushed out, but if this is x we're talking about - then I find the whole thing a little disheartening.
What this reminded me of.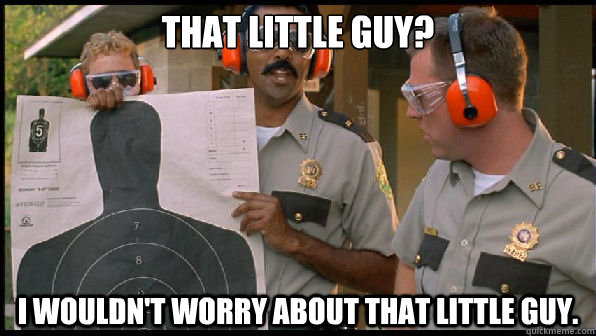 Because this.
This is all they did. All. Damn. Night.
He started the first snap of the season.
What's frustrating is that the coaches would rather keep trying the same thing over and over, fail miserably, and then blame it on the player's inability to execute. Yeah, we get it. There aren't any Santonio Holmes or Ted Ginns on this team; but wouldn't you rather win than make that point obvious? Try Dontre on a wheel, more of Jalin and Mike up the middle on seams, hooks, and slants. We didn't TRY enough last week, and that's what is more glaringly obvious to me than the fact that we don't have a playmaker at the receiver position.
Urban and Tom weren't wrong in how to schematically attack VT's defensive setup, but it didn't work to the strengths of our team AT ALL. There's more than one way to attack that loaded front, and all we could come up with was that weak fade to Corey Smith. I hate hearing this "we didn't execute" crap, because how many times as a coach can you see a player "not execute" before you stop trying that play?
You can't stay in front of an 8 man box and expect to win. You have to get behind them somehow. That's what Herman was trying all night long (unsuccessfully) with Corey and Devin. Not a single second down screen, not a single TE hook. You can't sit back and try to block all those bodies, you have to get the ball behind them, holding back all of your TEs and RBs in max protect makes the defense's job a shit ton easier where they are weakest - on the outside and deep up the middle. You will not convince me that having the TEs and RBs back blocking would have helped at all, somebody was breaking through the pocket every play. You have to attack an attacking defense. Make them pay for being overly aggressive with PA look-back plays, bubble screens that replace the vacated LBs blitzing. It's what Michigan did to our defense last year. In that game, we weren't solid enough to play defense at home, so we pinned our ears back with the rush up the middle. We all know how that turned out.
By the 4th quarter, on every 3 step drop JT was throwing off his back foot because we were only running fly routes on the edges. Their corners were disrupting the route just enough that JT had a man in his face by the time he could try to float one over the corner's head. Offensive adjustments are a huge question mark for this staff right now.
Everybody upvote this now.
What are you talking about? Corey Smith is obviously the strength of this team.