gumtape
---
Akron (via Upper Arlington)
Member since 07 May 2012 | Blog
Ohio State BS Zoology 96-99.
Favorites
SPORTS MOMENT: Marcus Hall giving the Stone Cold Salute to the Big House, something that I have wanted to do myself for years.
COLLEGE FOOTBALL PLAYER: Joshua Perry - He takes time for the kids
COLLEGE BASKETBALL PLAYER: Lawrence Funderburke - because he didn't want to play for Bobby Knight.
NFL TEAM: huh? Whoever has the most Buckeyes. Carolina.
NBA TEAM: Cavaliers.
MLB TEAM: Reds
SOCCER TEAM: Akron Zips
Recent Activity
You may run like mays, but you hit like shit.
Eric Swann Arizona Cardinals
He needs a better surgeon. This is bullshit. When you repair an ACL you make sure the cadaver donor ligament is as thick as a rope. Otherwise what's the point? This young man's career and livelihood are significantly impacted.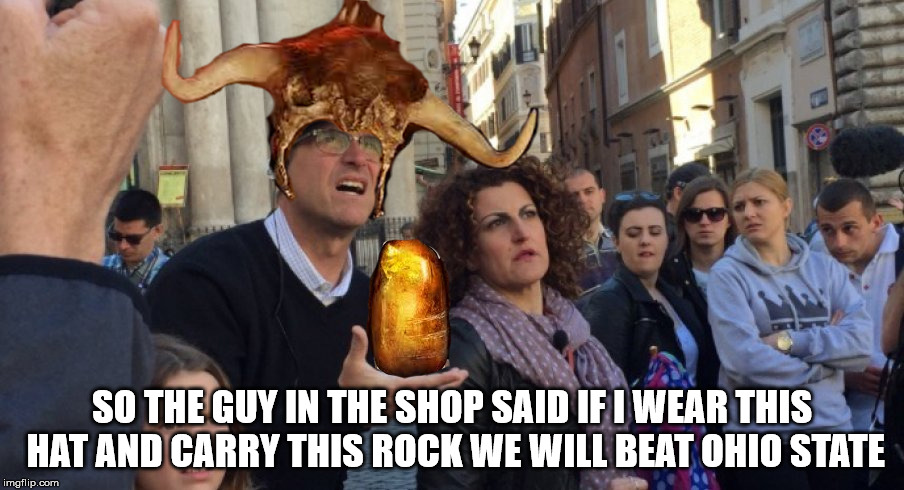 Checking out what our buddies at mgo think and basically getting drafted by the browns is an excuse for failure. And also this gem:

Anyone but frickin'

Anyone but frickin' Cleveland....

Best of luck, Jabrill. You're going to need it in that shithole of an organization.
And that my friends is the first time in my life I have been in agreement with one of those pukes.
They also canned Brett McMurphy (cya bye, big 12 apologist) and Austin Ward (for just copying 11w)
Can I ask for hovenaut to send me to jail. I hear that he wears gloves.
Please be gentle!
Oh crap, did I post a dupe?
See kids, marijuana won't ruin your life.
Cardale Jones has clear pee.
The bigger joke is that over the last year his agent has been shopping his services to the NFL.
I am Chicago Bulls fan and this is my dog, Ewing.
Hell, the new Alabama OC lists public drunkeness on his resume. Who doesn't have a misdemeanor or two in their past?
Like peppers?
Jent was the head coach of the Houston rockets once. He has come a long way since then.
You need to go on the dark web to find the new version
I know a guy who played at bgsu with Meyer and Mullen. He said Dan Mullen was the best coach he ever had. Friendly, smart, and could really relate to his players.
Frye is having a tough time this year. I feel like his minutes would go down if we get bogut.
Soliciting a prostitute is not on the same level as the stuff that went on before. Sure, it is a fireable offense but in the scale of moral outrage this barely registers.
That's when you go woody Hayes and run the damn ball. Didn't they learn from Russell Wilson? Their ESPN gamecast win probability was 99.2%. One team acted like they had been there before. Biggest choke job since golden state.
Is it a suppository?
They must have better honey fried chicken in Kansas.