GuidedByVoices
Member since 27 February 2012 | Blog
Recent Activity
Someone mentioned his fake punt tackle vs. Indiana. In this #AthleticsEngineered video, Joe breaks down that play (among other things) with Prof. Mike Rayo in the linebackers film room: http://go.osu.edu/AEfootball. Joe's the real life definition of a well-rounded Ohio State student-athlete.
ICYMI, Here's another engineering/education "Natty" feather for our caps:
May 16: Ohio State Flight Team keeps national championship trophy in Columbus
https://engineering.osu.edu/news/2016/05/ohio-state-flight-team-keeps-national-championship-trophy-columbus
Thanks ChiBuck... my bad, didn't realize someone beat me to it. (Mods: feel free to delete) This one by far was our favorite to film & produce, but very tough to edit under 5 minutes! Here are all 6 if anyone's interested: https://www.youtube.com/playlist?list=PLgv9uq_bmKeluWTY3tal2-J6OylBRO_Dl
Ohio State has Athletics Engineered. Baseball, rowing, hockey, golf and tennis covered so far... rumor is football could be the next sport featured:
I'll take Obscure Bands from the 80s Alex...
A: Ahead of their time punk band from the unlikely confines of Louisville, Kentucky
Q: What is Squirrel Bait. #NirvanaBeforeNirvana
As amazing an athlete as Josh is, I dare say that his greatest potential in life will be off the field. Coaches must LOVE having a role model like that on the squad for the young Bucks to emulate. Must thank Tress for this kid.
My profile pic approves of your message. And I'll serve this up to educate the poor souls that know not of what you speak:
Billy Horschel channeling his inner Zeke with a Chambers Bay salmon run.
HUGE upset. Watch out haters... Ohio State becoming a LAX school too!
Pinehurst #2 (I said some regrettable things about Donald Ross after that round) and #4
JP is the real deal. I know I've shared this with 11Wers before, but short version is that my daughters and I met him the week of his verbal commitment to OSU, when he was also their summer camp counselor (aka, Mr. Joshua). The camp wasn't sports-related (Camp Invention, an engineering/science camp) and it wasn't even located in his school district. Dude has been living "pay it forward" for a while now.
Loved watching this year's team. This gritty comeback-but-loss will fuel off-season workouts. Everybody coming back, along with a couple returning from injury and 2 good recruits. They should make a good run next year and Kelsey will be top 5 candidates for POY.
Great morning song. For non-Wilco fans, this song gives a strong Steely Dan vibe and features one of the greatest extended, slow-build guitar leads by the master Nels Cline (starts around 2:50) with Tweedy interplay toward the end.
In honor of D'0 taking an elbow to the eye like a champ, here's "Black Eye" from Wilco precursor Uncle Tupelo:
They're a fun team to watch. Seems like they're always looking to run, and their propensity to hit/surpass 100 pts is proof in the pudding.
Pretty cool that women's/men's teams have top freshman in B1G and, arguably, the nation.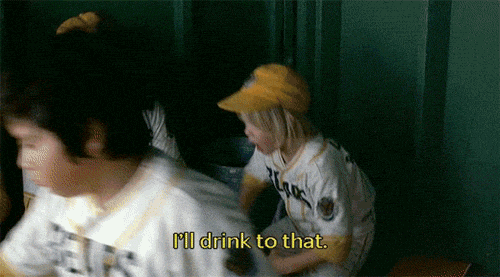 Beanie makes a nice cameo appearance at the 5:06 mark in the Buck-hydration vid