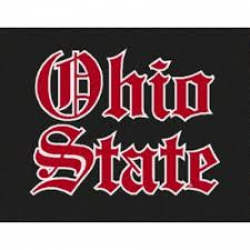 Groveport Heisman
---
Member since 13 May 2014 | Blog
Helmet Stickers: 2,613 | Leaderboard
Love my Buckeyes like no other. I would have won a Heisman if only coach had put me in.
Favorites
SPORTS MOMENT: 2003 Glendale,Arizona...Rushing the field.
COLLEGE FOOTBALL PLAYER: Jalin Marshall
COLLEGE BASKETBALL PLAYER: D. Russ
NFL TEAM: Bengals 17 games a year Browns 14 games a year
NHL TEAM: Blue Jackets
NBA TEAM: Cavs Oh an I do not hate Lebron
MLB TEAM: Cincinnati Reds
SOCCER TEAM: Crew
Recent Activity
Has to be Kentucky or Tennessee in Paul Brown stadium. Please make it happen Urban
That is weird,I totally had him pegged as a "Chalky White" type of character.
But you forgot to tell them the *ichigan fan was an 11 year old boy. Context,its all about context.
Man we have missed you Mean Gene. Glad to see you back. I fully want to root for a tOSU WR with the last name "Grimes" just think there could be a ton of fun with that one.Would be even more awesome if the other star WR was last named "Mack". Things are bright and filled with promise up in Columbus,Ohio.
Not really making as big of a deal out of it as you are. But yea over the last 3 great recruiting classes and out of 4 major services Espin had us ranked lower then the other 3 services every single year. And going from 3 to 5.3 is almost doubling.Yes a top 5.3 class seems great unless of course everyone else has you ranked 1st or 2nd. I know at the time it was happening there was quite a lot of folks voicing their opinions on it. I even think Urban Meyer made a joke about "their" rankings.
So you honestly don't think a Jury plucked strictly from Ann Arbor residents would provide any home cooking to a local hero?
Yea we have had some absolutely legendary classes here in the Urban area and it seems Espin owes us for under ranking a few of them.
The last 3 years our average rankings on the recruiting sites are as follows.
247-2014-3rd Scout-5th Rivals-3rd Espin-7th
247-2013-2nd Scout-1st Rivals-2nd Espin-3rd
247-2012-5th Scout-3rd Rivals-4th Espin-6th
Those average out to a top 3 finish on every site except? Wait for it..wait for it. Espin. where we are not only not top 3 we are outside the the top 5. There are 12 rankings there from 3 very solid classes to look at and the only site to rank us outside the top 5 did it twice.
You are correct and I just assumed it was the dog guy that appeared out of nowhere and tried to strike up a friendship and also left a free brand new truck in his driveway,guy also has no background. Everything on this show can be over analyzed and thats what makes it great to debate.
Yea this is an anomaly. For the last few years every single site has had us ranked significantly higher then Espin. Most of the time we were top 3 on those sites while the WWL had us borderline outside the top 10 and it seemed almost laughably on purpose. Still a shit ton of rerankings to be done before signing day folks. Lets let this play all the way out before we start giving credit where its not due.
Yea I announced I was forced to change my name and BassDropper still accused every new member for a couple months of being "Colerain 2004 G.O.A.T." Oh well I cant lie and say I never thought old Bass might have had multiple handles.
I know its odd..Though I thought it was her being weirdly attracted to him and him picturing that dream. Also the guy that shoots the dogs was sent by someone referred to by his father as "They" and sent to help him. Great writing and show so far,my only hope is that it doesn't go to far into the supernatural or paranormal. I have a hard time staying with shows that go way too far over the top.So far though this is a true banger every Sunday night.
His RickKaneWasHere personality wasnt one I think people want to deal with on a regular basis. Although it was funny as hell to watch him claim to be a Browns fan but say he is also a Steelers fan through marriage. The Rick as he called himself had a steelers logo in his profile. And now we find out all of his accounts are from the great state of Pennsylvania? Priceless.
Wow me and a couple other posters tried to point this out when RickKanewashere went on an absolute tear a month or so back. He was calling posters bannable names and receiving 3-4 upvotes immediately while those arguing with him received 3-4 DV's. Hopefully this will be a lesson for the others on here that have multiple accounts and use them to skate the system. Great job Jason.
Yea I've been glued in. Lot of stuff getting to the point where its going to start boiling and something will have to give. That convo with the FBI agent was creepy yet somehow very interesting.How bout the sheriffs daughters friend? Whats she got up her sleeve? Really wish I could binge watch this show the way I did with breaking bad,GOT,Boardwalk Empire,Orange is the new black.Great show and hopefully its going to be around for a while.
EzE might have a 2,000 yard, 30 TD season up his sleeve.
Wait till you see the camera views some of these little buggers enable.
Touch man. If he can be taught that every throw shouldnt be a 102 mph fastball he will shoot up the scouts boards. Accuracy and decision making should also see huge improvements this year. Touch,accuracy,decision making. See improvements in those areas and Brax will be just fine in the NFL.
Well if Espin put effort into brainwashing NW,Indiana,Purdue,Illinois,and Minnesota fans into becoming tOSU or MSU fans after the 6th week of the season maybe we would be on their level paw.
Maybe the youthful bigmen added to practice can raise his intensity and heart for the game. We have other options now and before we were pretty much handcuffed with him. I'd consider it a major improvement if he can just handle a hot pass under the basket and not butt fumble it.
Alibi is a DT or a Offensive guard.
Do you still stand behind your opinion that if Kentucky wins 6-7 games that they will land Damien Harris?
Oregon returns all 5 OL and a fully healthy potential Heisman QB. If MSU is going to even stay in that game up in Eugene it is going to have to find a way to put up at least 40 points. Wouldnt surprise me one bit if that Oregon team leads the Nation in offense..yards and points.
I thought he was petitioning the league to retire the number out of respect for Jordan? If that first sentence has any truth to it then I'm not sure how I feel about it. If that was just a rumor then I think its great he is back in 23.