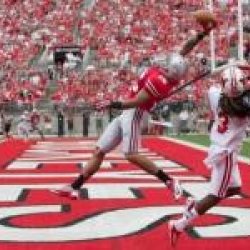 Golden Buckeye
---
Member since 27 September 2012 | Blog
Helmet Stickers: 1,138 | Leaderboard
Favorites
COLLEGE FOOTBALL PLAYER: Braxton Miller
COLLEGE BASKETBALL PLAYER: Aaron Craft
NFL TEAM: Indianapolis Colts
Recent Activity
I've never heard it said like OP. I always thought it was pronounced like the gun.
How could you leave out Apple? And I would say Michael Thomas was a little more deserving than Corey Smith to be on this list. Maybe even Rashad Frazier.
What time/where can I watch it online? Is it on Big Ten Network on TV?
Even though it is early I found this interesting enough. This addition of Ben Edwards can't help but increase our chances of landing Holland.
@jamel_dean15 yea

— JeffHolland JR (@holland_jeffery) January 30, 2014
Birm/Jordan or the rest of the gang. How much do you think this affects the recruitment of Holland, Ford, or even Toliver? All Top 380 players in the nation on one team. Yikes.
Meh looks like he shies away from contact.
Man can this kid hit or what!?
Favorite part of the entire highlight tape:
4.1 GPA. Love having players with skill + brains.
Great article. Not trying to be hypercritical, but Dontre committed a couple days before National Signing Day. I think he committed on February 3, 2013 and National Signing Day was on February 6, 2013.
$80,000 salary. I thought it would be a little higher than that to be honest.
Terrelle Pryor is listed on ESPN as 6'4'' 233 lbs... Wow Cardale is HUGE.
I'm not sure if I like this move. Especially only 3 years after our football scandal. I don't like mixing athletics with all of the business behind the scenes
OSU has 17 of the top 247 on 247sports. And we have fewer commits than Bama. Although they definitely have the best class in the nation, OSU is right up there with em. Now the rest of the B1G needs to step up too, but OSU is definitely keeping up with the best of the SEC.
I don't understand why he would rather have Hoke because of recruiting when Meyer has been hauling in the better classes? Am I missing something?
Well at that point we still had the majority of our line in to protect Kenny G, I'd assume. And Chase Ferris plays D now, had a big sack today.
No runningback will be taken in the first round unless they are unbelievable. Too much value late in the draft.
Great news. Could not be happier to hear this.
I'm not the most hardcore gamer, but I will say that if you love NCAA Football video games this is definitely a great improvement to all other games...
The introduction of Ultimate Team brings in a brand new element just as big as dynasty mode for many players.
Dynasty mode has been improved drastically, especially when it comes to recruiting; taking things from tedious to enjoyable and quick by introducing a certain amount of "points" to allocate rather than the "time" from previous versions.
Also the gameplay has been improved as well, now it runs on Madden's engine and you can definitely see improvements in running with the ball carrier.
Now if you don't care for the video game or really don't want it, don't buy it. But if you're on the fence because you have 12 or you really liked 13 but you wanted more out of it, 14 is the biggest improvement in the franchise in a few years.
#2 and a signed Troy Smith. I don't wear that one to keep it out of harms way.
EDIT: Mailman was a Buckeye fan*
I don't know why I wrote neighbor, thanks for the catch haha
Fun Fact:
Mitchell was confused as to why the Ohio State mail was always on top of all the other mail in the mailbox. After he committed, it he found out that his neighbor was a Buckeye fan.
I may be reading this wrong, but the wording of this seems like Collier is going to the elite 11 instead of the Opening. He is going to both I believe.