GoBucksOSU
---
Member since 16 May 2012 | Blog
Helmet Stickers: 1,084 | Leaderboard
Favorites
SPORTS MOMENT: 2002 National Championship win, 2006 win vs TTUN
COLLEGE FOOTBALL PLAYER: Troy Smith
COLLEGE BASKETBALL PLAYER: Aaron Craft
Recent Activity
Ok then it was probably Bert who gave his own team a preseason ranking.
This. Preseason polls should be based on expectations for this season, not who was better than who last season.
I wonder who actually had Arkansas at #25. Does anyone know if Bert is still a part of the coaches poll?
I have a feeling Auburn won't finish the season in the top 10.
It is no secret that Urban prefers college football over the NFL. It is also no secret that Urban's family said OSU will be his last coaching job.
Just as long as it's a big time opponent I don't care if it's a neutral site. Hopefully an SEC team.
I have confidence they will get the offensive line figured out.
Haha, yes it must be that!
If you look at the 1st place votes for the west division you see that there were 32 voters for it. And even if it were 29, having half a point is still impossible.
If 32 people were polled for the West division, how does Purdue have 31.5 points? Getting last place by all pollers should have them at 32 points.
This is one of the best and truest articles I have ever read.
If this happened at LSU would his suspension be up for team vote?
I don't think Akron is on their schedule this year.
He won the Heisman as a player at UF.
Are you sure that's not a zombie dog?
I can't believe Tulane used to be in the SEC. Were they kicked out for being terrible or something?
This was a good read. Thanks for posting the link.
I just burst out laughing after seeing that.
Sure I would root for a B1G team as long as it's not TTUN or PSU.
There are people out there that are willing to do very stupid things. Even risking getting hit in the face by a golf ball.
Probably because Michigan has only beaten OSU 2 times in the last 13 years and therefor has not earned the right to trash talk. I was only a little kid during the 90s so I wasn't really watching football back then but I would have said the same thing about OSU during the Cooper era.
Great article. However, it is not ground breaking since it was written by Adam Rittenberg who is one of the writers on the Big Ten blog. Would have blown my mind if it was written from someone not associated with ESPN's Big Ten blog.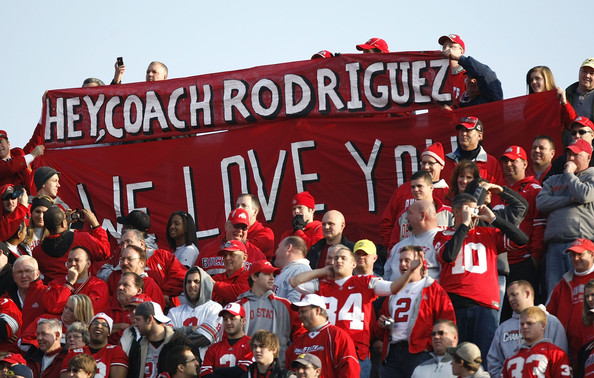 I'm sure Tom Crean just wanted to give the catcher a bigger challenge.