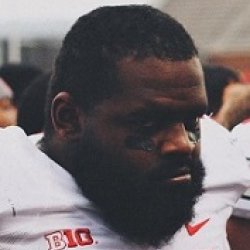 Goalscorer9
Member since 14 May 2013 | Blog
Helmet Stickers: 1,588 | Leaderboard
Biomechanical Engineering Master's student at Ohio State. Been an avid buckeye fan since I was about 5 (1995-ish). Got an A in Tressel's class (going to the Woody 3 days a week was awesome!) and occasionally get to work with buckeye athletes for research purposes.
Favorites
SPORTS MOMENT: 1) 2002 national championship
2) Holy Buckeye
3) Ron Lewis' game winner against Xavier
4) 4 way tie of all the wings' stanley cups
5) Pistons winning the NBA championship in '04 over the lakers
COLLEGE FOOTBALL PLAYER: Tedd Ginn
COLLEGE BASKETBALL PLAYER: William Bufford
NFL TEAM: Lions
NHL TEAM: Red Wings
NBA TEAM: Pistons
MLB TEAM: Tigers
SOCCER TEAM: USMNT (and Crew)
Recent Activity
D. Grant is also a senior this upcoming season.
"The relationship is stronger than ever"

Nice.
yeah I was under the impression that it's pretty much a given that russell will be starting at the 2, unless something goes unexpected.
1. The Doctor.

2. Walter White
3. House
4. Sherlock and Watson (tie)
5. The main characters from Scrubs (lots of ties)

honorable mentions: Hal (Malcolm in the middle), Homer Simpson, Cartman, Peter and Stewie Griffin, Peter Capaldi and Claire and Noah Bennet(Heroes), Frasier, Ron Swanson and Tom Haverford, Dwight Shrewt, Barney Stinson, Shawn and Gus, all the Seinfeld peeps, Baby Sinclair (Dinosaurs), Vincent Nigel Murray (Bones), John Snow and Tyrion, Jack Mccoy (Law and Order)
Cool video, but probably wouldn't label it a pump up for 2014-2015, In those type of videos I think it should be focused almost solely on kids who are coming back. This was more just a bunch of highlights from last season, as carlos, shazier, roby, philly, hall, etc. starred in many of the highlights
For me #1 is Ron Lewis vs. Xavier. Not only was the shot ridiculous, but the team went on all the way to the NC game.
Great win for USA.

Side note: Datsyuk = still amazing, even on one leg
Is this a serious comment? lol
nope the last meeting was 2006 and we won by 30.
I'm not disagreeing with you, but how could you possibly know that?
Is there a reason we're not interested in Toledo Central Catholic linebacker Chris Green? I've seen him rated pretty highly by some services
Players of the half:
Jamal Marcus
Philly Brown
Braxton Miller
Jeff Heuerman
Cameron Johnston
Joshua Perry
Armani Reeves
I don't think they were literally suggesting they want this to happen. It was just something fun to look at....

Thanks! I enjoyed reading it over :)
I always felt like Paul Haynes and Taver Johnson were very underrated positional coaches. Tough guys to replace. Remember they were the guys who turned some unheralded recruits (malcolm jenkins, donald washington, chimdi chkwa) into some pretty good players...Heck you could even give them some credit for Roby
No, he made another one, first half, real short pass from scott basically under the bucket. It was a thing of beauty
ummmm....did I miss lattimore committing?
Reeves with the play of the game so far. Love it.
he did come back, he was in on the last play
I did it my fresh_an year (2007, it was snowing) stone cold sober. I wouldn't say I didn't enjoy it, it was an experience. I was quite cold, didn't stay in very long.

Having to deal with the kiddos as an RA for the next 3 years on _irror lake night was, however, decisively unenjoyable lol
If this is truely where upvotes come from. I'm going to start caring about them!