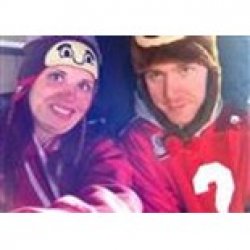 gm3jones
---
Columbus, Ohio (via Columbus, Ohio)
Member since 03 January 2014 | Blog
Helmet Stickers: 502 | Leaderboard
I have scarlet and grey in my DNA. I honestly think I am the biggest buckeye fan of all time. I have been a buckeye fan from the day I was born and the OSU hospital. I assume Woody Hayes was the person who delivered me :-)

Second favorite memory is when I used to delvier coffee to the horse shoe grounds keeper pesonal. I was able to drive into the stadium and unload what they needed. They let me sit on the chairs and enjoy and empty stadium of 100,000 + emtpy seats and enjoy the smell of the fresh cut grass... amazing. To make it even more memorable, one time when I was leaving I ran into Coach Tressel and Troy Smith. I actually got a pic with them!! It was incredible, will never forget it.

~Win, lose or tie buckeye til I die.
Favorites
SPORTS MOMENT: My favortie memory has to be the 02 NC game. The goal line stand...... I felt like I was invisible. It was the greatest feeling in the world. I put it up there with my kids being born!



COLLEGE FOOTBALL PLAYER: Troy Smith
COLLEGE BASKETBALL PLAYER: Mike Conley
NFL TEAM: Ugh-- bungles
NHL TEAM: Blue Jackets
NBA TEAM: If I had to choose- Cavs
MLB TEAM: Reds
SOCCER TEAM: Dont watch, but guess Crew.
Recent Activity
He stopped by my sons football game once. Seemed pretty cool.
"OSU university Bluckeys defeat Purdue 6-3. OSU raises record to 1-4."
I have a hard time envisioning this going across there screen lol
I am just happy they pulled off a win this series. I dont expect them to win this series, but very pleased that they actually look like they can hang with these guys and the locker room seems to have a never quit mentality. Very happy with this team vs previous years.
Still a pipe dream. Sorry, but I just dont see him coming here.
quadruple stuff oreos are even better :-)
When was the last time you looked at the recruiting bball this year? I say ranked in the top 5 means you are landing some great players.
Yeah especially since we got That center from VT. And someone mentioned why wait this long unless he was wanting to see what players are staying and going (which I totally agree with).. He knew what he would of had if he were to come here and play: a starting Center job.
Let us know when your done and we can all help, ok?
Wow, what a friend you are ;-)
It is, I agree... But me being an "all ohio" sports fan (mostly bengals and reds), it is so crappy always getting the boot in the first round... Starting to take its toll on my liver
Nothing but the best for you young man! Wishing for properous career where ever you land.
I would say this is pretty good analysis. QB a bit to high (Cardale didnt impress me what so ever in the spring game; JT did.) WR I think he kinda was way to harsh on. I thought the WR looked right around a B-. I am most excited about the LB play that looks to be developing. Worley and LEE look very good-- so did Kwon. They looked like they put some work in the offseason. O-line looked a little suspect, but I am not putting my emhpasis on them on a spring game vs our D-line.
Thank you for pointing this out. Clinton was the better kicker yeseterday. Nuernberger shots look very flat and didnt seem like it had to much power in it. I believe one of them sailed into the far right endzone (a good 10 yards off the mark)..
I was thrilled to see Kwon out there playing pretty darn well. He had to have at least 5 tackles and a sack. I wanted to watch him most of the time and he is legit in my book. Plays very good in between the tackles and can easisly shed blocks. He seems to have some wheels to because he ran down a play for a short game after being out of position. Lewis was a beast! So was worley. O-line had a few issues... Not sure at all why the heck Urbz kept denying holding calls? There must of been at least 4 or 5 of them that he declined. One last thing: Cardale Jones did not look that good at all. He had a few good runs and passes, but think at one point in second quarter he had 8 passing yards and 22 total yards offense. YIkes!
I like the scarlet team. One thing is for sure: getting really excited to see some Buckeye football with my son! Cant wait.
I am taking the fam there this Saturday! I hope we have a full house and beat every other program (again) with our great showing to a spring game. nothing like packing the shoe and making it loud just to root the players on. love it. O-H
I am in favor if paying these guys, but affraid of what would happen behind closed doors like you stated with the signing of a napkin. I love your idea. UV to you sir.
Totally agree with this. Maybe last year fixes that issue (with Brown starting over Vonn)?
How dare you place blame on UFM!
Sorry, but I was happy they won strictly because I won my bracket challenge at work. I felt really dirty when I was actually cheering for them to win... Would anyone else do/feel the same as me if you would of won your bracket?
Lol. But Whats to say he doesnt have another account he uses?
Good points about ignoring trolls, but what the helll does it matter what band or music he likes? That what made me the most confused about all this.