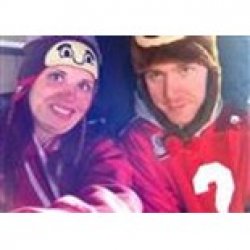 gm3jones
---
Columbus, Ohio (via Columbus, Ohio)
Member since 03 January 2014 | Blog
Helmet Stickers: 570 | Leaderboard
I have scarlet and grey in my DNA. I honestly think I am the biggest buckeye fan of all time. I have been a buckeye fan from the day I was born and the OSU hospital. I assume Woody Hayes was the person who delivered me :-)

Second favorite memory is when I used to delvier coffee to the horse shoe grounds keeper pesonal. I was able to drive into the stadium and unload what they needed. They let me sit on the chairs and enjoy and empty stadium of 100,000 + emtpy seats and enjoy the smell of the fresh cut grass... amazing. To make it even more memorable, one time when I was leaving I ran into Coach Tressel and Troy Smith. I actually got a pic with them!! It was incredible, will never forget it.

~Win, lose or tie buckeye til I die.
Favorites
SPORTS MOMENT: My favortie memory has to be the 02 NC game. The goal line stand...... I felt like I was invisible. It was the greatest feeling in the world. I put it up there with my kids being born!



COLLEGE FOOTBALL PLAYER: Troy Smith
COLLEGE BASKETBALL PLAYER: Mike Conley
NFL TEAM: Ugh-- bungles
NHL TEAM: Blue Jackets
NBA TEAM: If I had to choose- Cavs
MLB TEAM: Reds
SOCCER TEAM: Dont watch, but guess Crew.
Recent Activity
Wait... you hate the NBA and didnt care where he took his talents, but followed up with this?
I never forgave him for the ESPN Decision
Aww DJ, you had me crying with this. Thank you for that on a hump day!
I agree with TTUN jerseys. I actually kinda like to Sparty one with the punisher logo on it. But OSU was the best IMO (bias in both ways; OSU fan and work at nationwide lol)
I just cringed at that notion. Ouch! Lmao
but we would certainly lose a few, depending on the length of B mill being out. dont even like thinking about it.
the odds of there being a fake one is all but certain. Is that one? not sure, but I sure do hope so. That question is, uhhh, a bit weird.
I said the phrase from TTUN... ya know, when they say "Go Blu3" is worse.
That gives me chills everytime I hear that.
as a tattoo enthusiast, the most annoying thing on the planet is the phrase "tat"
I would say the phrase from TTUN is worse
He can certainly develop players, but how good is he at doing it? I would say he is good, but not great. He makes up for it with recruiting and his defensive coaching.
That would of been a not so good kind of meeting, huh? I wonder if Urban was more of like "what the flub were you thinking? we gave up over 500 yards to TTUN!" or if he was like you will speak from these pre-approved cards-- take them with you whereever you go and use the appropriate one for the occasion. Either way, if would of not been a good meeting, that is for sure.
UV for the two trolls who DV you.
Yeah but I think they need to display a pass or something like that. Not sure
I would rather have it and not need it than need it and not have it.
"Denim dan. What are you the CEO for Levi?" lol classic
Good luck to all those that apply. If you need a network security, audit, compliance kinda guy I am all over that :-)
yeah, one of the better pics I have seen.
Someone must have it out for you. You got a DV for that comment? Tough crowd. UV to you good sir.
Please elaborate on "A very well-paid letdown thus far".
I hope we get him in case Cardale or JT dont work out to well, but I am totally fine with Burrows coming in. He will get some good time to develop.
Someone upload the dude off waterboy who said that (not able to on my work PC). Good stuff, OSUpawn
He should get extra PT if anything :-) And thank you for recognizing vets as I am one myself. Have a wonderful weekend.