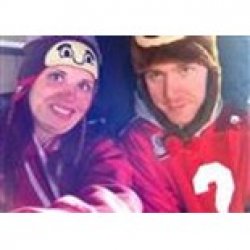 gm3jones
---
Columbus, Ohio (via Columbus, Ohio)
Member since 03 January 2014 | Blog
Helmet Stickers: 746 | Leaderboard
I have scarlet and grey in my DNA. I honestly think I am the biggest buckeye fan of all time. I have been a buckeye fan from the day I was born and the OSU hospital. I assume Woody Hayes was the person who delivered me :-)

Second favorite memory is when I used to delvier coffee to the horse shoe grounds keeper pesonal. I was able to drive into the stadium and unload what they needed. They let me sit on the chairs and enjoy and empty stadium of 100,000 + emtpy seats and enjoy the smell of the fresh cut grass... amazing. To make it even more memorable, one time when I was leaving I ran into Coach Tressel and Troy Smith. I actually got a pic with them!! It was incredible, will never forget it.

~Win, lose or tie buckeye til I die.
Favorites
SPORTS MOMENT: My favortie memory has to be the 02 NC game. The goal line stand...... I felt like I was invisible. It was the greatest feeling in the world. I put it up there with my kids being born!



COLLEGE FOOTBALL PLAYER: Troy Smith
COLLEGE BASKETBALL PLAYER: Mike Conley
NFL TEAM: Ugh-- bungles
NHL TEAM: Blue Jackets
NBA TEAM: If I had to choose- Cavs
MLB TEAM: Reds
SOCCER TEAM: Dont watch, but guess Crew.
Recent Activity
Keep your head up young man! Never mind the haters!
The thoughts of what will happen next year at Blacksburg sends chills up my spine... Frank seen what we did vs MSU who ripped our heart out last year. Now imagine an inferior VT team. It should and will be a blood bath.
When someone stops at a yellow light.
The constant up and down of gas.
My CBJ losing streak :-(
Abdulla is having an insane season.
Side notes: the Ravens are dirty. Terrell Suggs looks like "Sloth" from The Goonies :)
I am a Bengals fan and I would say we are equally as dirty with Burfict playing. He is a beast, but he is dirty as heck.
Things that annoy me:
Walmart - that place sucks
Whoever gives parking tickets to the football players (lol)
Wet farts at work
People who don't use deoderent
Stupid people
Totally agree, Hov. Just get a W any way you can - leave it all on the field. We all know the committee will shit on us regardless if we win by 20 or 1. Win and lest the rest sort itself out. No need to worry about what you cant control!
Right! They killed Bobby before her! WTF!
Wait... So you want to schedule bad teams to increase chances of winning?
Yeah, I can understand that one. I forgot about the need to have quite a few home games for revenue...
I think the reality of the scheduling issues lay with Gene Smith. I have been trying to find where he says it, but he said he wants to keep that money in Ohio. Basically he wants to help out schools like Bowling Green, Kent State, etc with paying them a million dollars and getting them exposure. That of course doesn't work anymore. With the playoff system soon going to 8 teams (I am sure of it), a team withh two losses can slide in. With the Big being so bad, why not get a team like Kentucky, Clemson, South Carolina or any other mid-tier type teams to play with... maybe even try and throw in a Bama, FSU or Oregon also. I know that we cant wait for big to get better and expect to start getting into the playoffs with our SOS.
I find it hard to believe that he can not find a way to have a better schedule. I can see two or three years in advance, but 10 years is a bit silly.
And what did they end up doing at the end of the year? Dropping out of the top 20 after losing two more games after us.
Yeah, but Texas turned out to be kinda bad then. They soon lost to Kansas State and A & M after that.
I am thinking Torrance will follow that of FSUs Anquan Boldin, so I say JT will be the starter 2016.
I will be three loud and proud!
20a row 8 seats 1 and 2
Go bucks!
Just right. I think taking PSU to the wire really hurt us. I think we would of easily been 10-14 if we had beat them by two TDs or so.
I guess everyone voting No thinks the Buckeyes will have to play a play off game in a stadium filled with 108,000 fans that hate their guts.
IMO I am more worried about them facing a good D than a hostile crowd.
Hey, at least your not like my Bungles
Pettine is the man! He will do good for the Browns.
I love the detail to the hands and feet lol... its like they are jumping from their ankles
He is 0-2 on 50 yards, 4-6 on 40 and 3-5 on 30