GlueFingers Lavelli
---
Spencerville, IN (via Antwerp, OH)
Member since 30 October 2011 | Blog
Former Marine. Current Steelworker. Born and raised in Ohio, married an Indiana woman so I live 10 minutes from the Ohio border now.
Favorites
SPORTS MOMENT: Upsetting Miami to win the Title.
COLLEGE FOOTBALL PLAYER: AJ Hawk
COLLEGE BASKETBALL PLAYER: Michael Redd
NFL TEAM: Cleveland Browns
NHL TEAM: Maple Leafs
NBA TEAM: Cavs
MLB TEAM: Indians
Recent Activity
All fun and games until they start researching flat earth, I'm spherious.
I actually think this is a good move. Who were they going to go get? Its Mississippi State, be happy being competitive and going to bowls. Important to remember how badly you sucked for so long, and maybe relish what success you have now... even if its just hovering around or above .500. It works for Northwestern... they can't all be winners.
hey hey hey..... member when Ole Reb turned into a black bear... oh that was fantayyystic!
I have a feeling that after learning Kevin Wilson's offense for one season as a backup that Joe Burrow is going to explode onto the college football scene, and become our first legit NFL starting QB in a long long time. A potential program defining type of career, suffice to say that #10 gets put on the shelf for good in 2021.
That stiffarm at 2:20... lol poor kid
wow, thats blazing fast for 225.
R. Lee Ermy comes to mind. Blackballed, ironically a term that derives from freemasonry.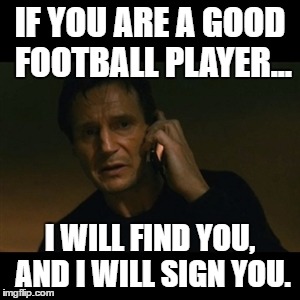 Why did he have to go and do this. I was actually rooting for this guy to do well in the NFL... now.... ehhh... idiot.
Remember that time Kansas almost made it to the National Title game... in football?
It does, but it will take the entire nation rejecting their garbage/remakes for them to ever humble themselves before their audience.
The FSU culture is not one you get behind, it gets behind you... if you knowuddimean.
Well at least he didn't have baking soda.
I could see him being a Jordan Reed type of playmaker, likely a undersized fast TE. Would certainly cause some matchup issues.
I think Sparty bounces back strong.
I like Washington State to win the North Division out west.
I think Kansas State will surprise people in the Big12.
NC State will be tough and contend for the ACC title. Very well coached gritty team that returns a bunch of guys.
He went all Corso towards the end, gushing over McCarron's wife in 2012, I'm guessing he wasn't digging his demotion to calling unranked SEC contests with Jesse Palmer. I feel like Keith Jackson should be cloned in another 10 or 15 years.
"He'd be a great fit and is a good kid." - because he's white? I suppose you think he's well spoken as well?!?!
sort of odd he's from Iowa and doesn't have them high on his list. Hopefully he doesn't end up North.
perhaps high in Columbus?
Well it sounds like he likes to supplement his income even if it hurts those around him, so I can't imagine he's going to be loyal to any 1 year team if a better offer comes available. So is a top 10 pick worth getting an elite WR for 1 season? I think not. What if Brown and Newton just have crappy chemistry on the field, this happens all the time in sports.
Go former Browns coach and mediocre michigan man:
Being a Browns fan makes me appreciate being an tOSU fan more. It also makes it easier to take a season off, or watch sparingly. To me the NFL has become a stale product. Over half the league looking for QB's, same teams in the playoffs almost every season. No parody in scheme, very little in coaching, and the talent is almost even everywhere but QB.