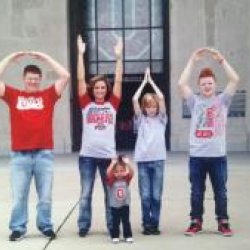 Ginger_buckeye
---
Member since 25 November 2013 | Blog
Helmet Stickers: 41 | Leaderboard
Recent Activity
I read 7 for 11 for 298 yds and 5 (maybe 6) total touchdowns one rushing. Not sure on rushing yards.
Completely off topic but that wide receiver for Miami central high school was a stud yesterday against Hoover high. And el guapo is being el guapo against the chargers right now. And TG is looking pretty good right now. So glad football is back!
Lmao I had to read all of them. So lindsay decided on osu because Michigan grad program is to difficult? My ass, he just wanted to win football games
Damn kid throws some bullets with accuracy.
I thought the same thing. I also haven't heard anything on tre johnson either
I know it's like beating a dead horse but damn espn is sippin the hell out of some sec kool aid. Oh well this class is tops in my book. But I guess rankings don't matter in February they matter in November. Let's go out there and bring home this natty. Go bucks!!!
I had to watch hubbards video after this haha but yeah he absolutely FLIES to the ball and can break down and tackle I'm excited to see what he can do. Him and mike Mitchell from last years class are a lot alike.
I agree almost like philly was this year. I also think if maybe he put on some pounds he would be a killer running back he has really good vision and sharp cuts in that video
I know I'm the 100th one to say it but I had nooooo idea that scene existed
I agree but it has been more difficult for the defense to sub in and out with these up tempo offenses teams are running although there aren't too many big ten teams running it
Haha yeah I was thinking the same thing. I wouldn't take Sammy with the 4th pick but i wouldn't mind if the browns took him with there 2nd first rounder
The browns have a 2nd rd pick too they have 3 picks in the first 35 picks. But I agree with Sammy but they need a qb too.
They looked like it this year for sure. I'm praying so much that lattimore and smith commit tomorrow we need all the secondary help we can get
Couldn't agree more. The only thing we have got these past two seasons are self made rings for a undefeated 2012 season. After watching this game I'm glad we didn't get nc game against fsu it would have been ugly
I almost nunchucked you, you don't even realize.
Let's take it easy fellas he is probably still drunk from Saturday
I voted late so it doesn't really count but I said yes and he is well on his way
TOUCHDOWNNNNNNN!!!!!!!!!!!!
Yeah I agree. Sometimes u have to give credit where credit is do even if it is to scUM. But this game could have been worse... We actually could've LOST but guess what ya'll ?we didn't! Enjoy it. I will say it seemed liked Borges coached to try to keep his job and fickell coached to try to lose his (not on purpose but u know what I'm getting at)
I know I'm late and don't me to sound like an idiot but i had no idea doran and Curtis grant were cousins
Yeah I actually liked the locker room video. Would like to see an osu one from last Saturdays senior day.
Yeah go for two because he can't go for three!