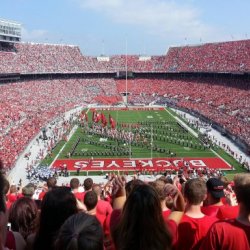 funtubs
---
Member since 10 June 2014 | Blog
Helmet Stickers: 118 | Leaderboard
Recent Activity
This made me laugh way more than it should've. Is that actually his nickname?
He said the cake was a lie. So yes.
Wasn't Feder injured this season?
Thanks in large part to this guy and the others like him
I'm surprised he had the creativity to create 10 completely individual usernames. I can barely think of 2.
Very true. Saw an accident happen not too long ago on 71 because of a driver not paying attention. People going the opposite direction were taking pictures of the wreck while driving by, causing more slowdown.
That first gif is confusing me. Where's the fourth D-Lineman?
Just so everyone knows, there's no such thing as biomechanical engineering at Ohio State, the article must have meant biomedical engineering.
There's always next year at least. Hopefully we can get him before that.
It looks like D'Angelo Russell to me, but I have no idea why he would be there. Edit: No way that's Russell, he's listed at 6'5"
As far as the shore, I meant the beaches and boardwalks. But yeah the TV show shows how New Jersey is in certain parts.
Besides the shore, the rest of Jersey is pretty shitty. Even some of the beaches are bad too
Fair point. If Braxton gets injured our offense is going to be mostly in the run game. It could still be possible with the playmakers that could step up but the path the the playoffs would be a lot tougher.
If we have a top 10 defense, we will make it to the CFB Playoff finals
Reading that made me realize how much I hate the standard forum format, with tons of space in between comments and so much extra fluff. Thank you Eleven Warriors for having a website that looks nice and is easy to read.
I don't know about you guys, but ever since I visited OSU for the first time I can feel the family atmosphere. I think its not only that the players are family but the university at a whole brings together the players with the students, staff, and alumni.
Holy shit I live right next to Wales Ave. I didn't see anything, although its a pretty long road. I hope he's OK.
I thought it was ESPN.com
He's had one eligible year
You are the man
A couple people over there are saying Cornell is overrated. Thoughts on that?
He probably won't, but he's definitely more likely to win the Heisman than Marshall, Cato, Reynolds, or Coker
No doubt! Graduated from Ohio State, got a law degree from NYU, and instead of being a lawyer he's making music and Buckeye hats