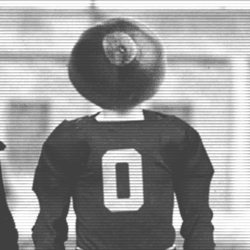 Floyd Stahl
---
Member since 05 May 2013 | Blog
Helmet Stickers: 447 | Leaderboard
Favorites
SPORTS MOMENT: January 4, 2003, of course
COLLEGE FOOTBALL PLAYER: Archie
COLLEGE BASKETBALL PLAYER: Jim Jackson, Jared Sullinger, Kelvin Ransey
NFL TEAM: Browns
NHL TEAM: CBJ
NBA TEAM: Sixers
MLB TEAM: Tribe
SOCCER TEAM: Tottenham Hotspur
Recent Activity
These polls just go to show that that unscientific ones don't mean jack.
Not only the giant numbers, but bring back the gray on the sleeves.
This is a great story. I grew up with the voice of Terry Smith on WBNS radio calling the Bucks' football and basketball games. He's now the play-by-play announcer for the Los Angeles Angels.
And this was precipitated on Ohio State's previous drive when all they had to do was run out the clock. Coach Bruce called a play where inexperienced sophomore Mike Tomczak had the option to run or pass. He went for the home run ball and was picked off in the end zone, thus leading to Elway's game-winning drive.
Interesting tidbit in that guide to Columbus that at 105,000+, Ohio Stadium is the sixth largest non-racing stadium in the world.
It would make sense if he was a Maryland alum to explain his awful taste in unis and having them #1 and OSU at #6 (and also the TTUN at #9).
No offense, but I think you're confusing him with Shawne Merriman. Easy mistake to make; I almost did the same thing.
So this is BTN's Sean Merriman's ranking of the B1G uniforms. 1. Maryland 2. Michigan State 3. Penn State 4. Rutgers 5. Northwestern 6. Ohio State 7. Nebraska 8. Purdue 9. Wisconsin 10. Michigan 11. Indiana 12. Minnesota 13. Illinois 14. Iowa Whaaaaaat?????
Looks like they took a flier from the Philadelphia Flyers logo.
They need to go back to the Jim Chones-Austin Carr jerseys!
Best. State. Ever.
I'm just thankful that the mahi is blocking the view of Jimmy's shirtless body.
Great article and picks. I would agree with you across the board except for substituting #45 for #75.
It would be awesome if this guy/girl remains anonymous.
Or better yet, knock him out, then do the Heisman pose over him.
It's a crime that Gradishar has not yet been inducted into the Pro Football HoF.
Let us know how it ends up.
And Blake Barnett could pass for Joe Namath, especially with the hair.
Please tell me this isn't real ...
I think it's "icy" that our coach has his own online dictionary from which one can get definitions of the latest street slang.
Not to mention that ESPN doesn't have a personal agenda against their commissioner and conference like they do with Delaney because of the B1G network and the way he snubbed them and their low-ball contract offer.
I don't doubt that a lot of what Smith says is true, as there are two sides to every story, and the truth usually falls somewhere in the middle. I had it on good word from someone who was on staff on the team at the time that what happened was that Smith had spent much of the summer quarter putting off his studies and hitting the bars, probably not too different from any other player or OSU student. Towards the end of the quarter, he was cramming to make up for lost time, and was thus pulling some late night study sessions. The problem at the time was that there was a curfew for the players as they had begun fall camp, and that's where the problems began, as he was "caught" studying a couple of times after it was lights off, and then made claims that they were limiting his studying. I don't doubt that Uzelac acted the way that he did, but my understanding was that Smith brought on his own troubles initially by prolonging his studies until late in the quarter.
If he came back and won a championship for the Cavs, it would be a great story of redemption for both him and the city. Cleveland deserves a championship unlike any other.
Does everyone in Marion love waffles? There was an article linked to DJ's link about Harding's home with the accompanying quote: "Most people come here and say it looks like the family just left," Hall said. Right down to the tins and boxes of goods stored in the pantry and kitchen, everything illustrates the daily life of the Hardings in their home, even the waffle iron on the stove. Harding dearly loved waffles, as attested by a plaque offering a quote that schoolchildren love: "You eat the first fourteen waffles without syrup, but with lots of butter. Then you put syrup on the next nine, and the last half-dozen you eat simply swimming in syrup. Eaten that way, waffles never hurt anybody."
And fighting Charles Woodson.