FitzBuck
Northwest O H..... (via Rossford)
Member since 28 February 2013 | Blog
Life long OSU fan
2004 BGSU Grad (yes I was there when Meyer was the coach and yes it was a bad coaching job)
Husband
Father of one
Favorites
SPORTS MOMENT: 2003 national title game watching Ken Dorsey scramble for his life and seeing the ball hit the ground......pure joy.
COLLEGE FOOTBALL PLAYER: Mike Doss
COLLEGE BASKETBALL PLAYER: Jimmy Jackson
NFL TEAM: Browns
NHL TEAM: Don't care
NBA TEAM: Hornets back in 88 until they moved
MLB TEAM: Red Sox (at least it's not the Yankees)
SOCCER TEAM: Really.....I guess whichever my daughter plays for
Recent Activity
Peppers failed drug tests = 1
Peppers wins vs OSU = 0
Brad Kayaa came to Coral Gables looking to be the big man on campus. Instead he got a molar knocked out of his mouth against Florida State:
Happens a lot in Miami.
Must have been the weather.
Here's an artist interpretation of Harbaugh telling fans and the media to "stick it up their ass" before running away from the press conference.
Maybe the UM media should do something similar. If Jim isn't coming out to speak, just loop a video of a crying baby.
Why the condensed skully?
I'm all agog over the promise of football tomorrow!
Outside of Fickell and Heacock, the rest of that staff was underwhelming. Love JT and wish him nothing but the best.
That's really creepy soul p. It's up there with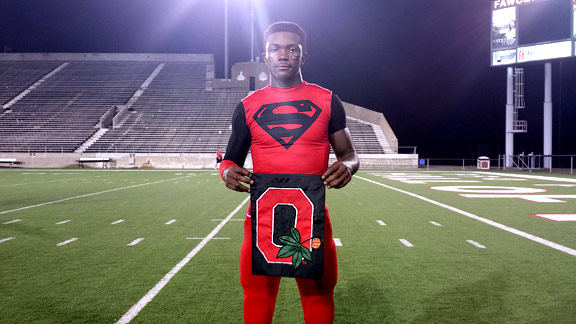 So now I need more details. Do you have a picture or an autograph?
Would anyone else love to see an 0-5 JH explaining why he can't beat OSU? (Rhetorical)
Please do not hurt me, Mr. Buff Chicken.
All I could think of.
Nice recap of quality wins that shows maybe this team isn't as far gone as we believed.
Also important to note ... the yacht did not belong to Ezekiel. Sources tell us it belongs to a guy who rents 'em out to celebs and other rich folks. Ezekiel was just there for the ride.
When you add this to the Elliot story it's really ridiculous. You can see how upset the coastguard official is on the right side of the photo.
Without Wilson and a credible defense, I will give up the points and take the Buckeyes.
nailed it.
Ohio State has a Basketball team?