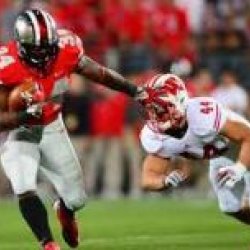 Firmthyfriendship
---
Member since 26 March 2013 | Blog
Helmet Stickers: 584 | Leaderboard
Favorites
SPORTS MOMENT: 2002/03 fiesta bowl. But thanks tOSU for many many more moments and ones to come.
COLLEGE FOOTBALL PLAYER: Lots.
COLLEGE BASKETBALL PLAYER: For me, most memorable would be Jimmy Jackson.
NFL TEAM: Browns
NHL TEAM: CBJ
NBA TEAM: Cavs
MLB TEAM: Reds
SOCCER TEAM: The Crew
Recent Activity
Oh my GOD...I just drooled. I would take Sherman in a heartbeat. Haden on one side and Sherman on the other...someone make this happen.
Let me break this down for you... See the step mom. I say step mom because she's a little too blonde to be real mom. She shit her pants- if you read her lips she's saying "whoops!", right as the hershey squirts. As for the "roof", don't get too caught up in that- you can see the thermos which obviously is filled with some poorly made moonshine- they have no idea where the hell they are having imbibed the elixir, which also explains the asinine attire chosen. This is a deleted scene from Deliverance where the guys look on the shoreline and see this to their horror.
Also, congrats, and good luck, Brady!
It was back and forth as I expected. I just figured Braxton would win it with the ball in his hands at the end there when our defense gifted him with a fianl opportunity. What a disappointment. Not a dumpster fire debacle, but a disappointment.
Time for Urban to hire Chris Spielman as DC. The amount of games his eyes have been on, and the way he knows the teams he calls is amazing. He does his homework on each and every player, knows the plays that are called, and the players he is watching, and is one of my favorite analysts out there- of course I am biased, but he is ever a student of the game- always watching, learning, and telling us why/how a coverage was blown- why a certain schem worked or not, not just saying it was blown play or misread. Maybe it is an extreme risk, but something tells me he is an untapped resource.
So was this you?
My guesses:
THE and our insistence/correcting of others in including THE in The Ohio State University
"Overrated": killed/lost in BIG non-conference regular season matchups: USC x2, TX x1.
We are everywhere and that in and of itself is annoying to non Ohio State fans.
"Lucked" into the one NC win we have. Haven't beaten anyone "relevant" in the BCS bowls- we've only beaten other "overrated" teams (ND, K. State, Oregon) The only win against the SEC in a bowl game A) was against an Arkansas team that is mediocre in history i.e. not the perennial powerhouses the other SEC teams are and B) was vacated- the tat 5 were allowed to play and "Would have been completely different had they not been able to play" etc.
Lost, thus proving how "overrated" we are two years in a row against SEC teams in the NC games.
Until we for several years in a row beat top 15 teams in nonconference play and go to and win the playoff games, we will be hated because of the above reasons.
And, no matter what we do the goal posts will be moved.
The above that are in quotes are used to say that's what the national perception/words are...not mine. It is hard to argue though, to be honest, and yet I am constantly defending our greatness to those outside of Buckeye nation.
"...they're the number one team in the nation. We gave them all we could give and came up short. What a great team they have. I give credit where credit is due."
Hmm, I am not sure if this could be considered consistent or not, but hmmm...maybe the fact our defense has not lost a game when it has been up to them to do it...for at least 24 games in a row.
I can't explain why shit happens. It just does. How could a team like that lose to a team we beat 63-14? You explain for me please. How did a Notre Dame team lose to UM and how did MSU lose to ND? For some reason there is more to it than simple Xs andOs. Pride? And so it's all of a sudden luck, when our defense comes up big?? You sound like Mark May.
Yep, the part where we stopped the 2 pt conversion.
Okay, since you are the DV police I'll go first! Because his/her first post in the victory thread is that?! His analysis was as helpful as Mark May's! What a fucking Buzzkill!
Glad you enjoyed the win already!
Do you have young children? 3 or under? You're in the clear. Kids get me out of all kinds of stuff! From "discipline" issues to them being sick.
Example 'A': the fake discipline: "I told my son if he wanted to go to 'X' he would have to behave. Well, he didn't, and I need to follow through, unfortunately, or he will never learn." You could tweak this to benefit you in your situation. "We told Reginald he would need to behave or Grandma won't be able to come over. He called my bluff, and I REALLY have to follow through on this..." You get the idea.
Example 'B': Kid is fevering: "My baby girl has a fever and a cough. I was told to monitor her behavior for 24 hours to make sure she is ok, and decide whether we need to take her to Urgent care or not..." The cool thing is, it is subjective enough that people cannot be too hard on you for it!
"if your a native or a dweller from a European country that arrived here...or perhaps a pilgrim, on a pilgrimage, looking to uhhh...give thanks. This day is for you. This is Thanksgiving. Not Christmas...that's another day entirely...but this day is for you."
"We have heart, this team believes in themselves," Michigan left tackle Taylor Lewan said.
Not for long! KALI MAAAAAA!
I am just defending the point that it could possibly read as jealousy. I am not saying it definitely is. The fact he is comparing wiki pages (apparently that is how we measure excellence now, *mind blown*) is in itself some sort of sign he is looking to be validated.
As for the culture- I really hope it isn't as bad as it is being portrayed. There are bad apples everywhere- you are talking about dozens of alpha males who are treated like stars- there are going to be incidents. Since he doesn't name names, we don't know if they are still on the team or not. If something like that intimidation thing happened here- you better believe he is gone for good, and I would assume it's the same there. That's just so over the top excessive that I bet those players are no longer on the team.
I am trying to offset some of them but there's just too many!!
It's how things are. Athletes are the biggest superstars out there. A-list actors get giddy with excitement meeting Michael Jordan. Teachers, who actually can have an impact and change the world through influencing the youth make peanuts, while someone is paid millions of dollars to throw a ball around (I know its way more than that- their bodies are on the line, they are shortening their life span etc., I am simplifying it to make a point). So to say, their wiki page is bigger than his hers or mine, is basically to say, "What kind of a world do we live in where an athlete gets more recognition/special treatment/respect than a tenured professor!!!"
It's really just how things are. In academia, Jameis Winston isn't going to be crap to them, but I guarantee if he showed up to one of there gatherings they'd either a) avoid him like the plague out of contempt or b) get on his jock because of what a stud he is.
I am sure they also don't mind the money the football brings in to the university to expand their research facilities. Now, this in no way justifies anything else he said about the culture- the cheating, intimidation, lack of student conduct. That is a whole other bag.