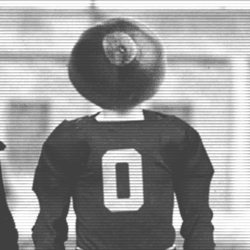 FH_Buckeye
---
Member since 31 October 2012 | Blog
Helmet Stickers: 42 | Leaderboard
Recent Activity
Look up to the skies and see
I can't find it right now, but I read a study where the various types of penalty were compared to teams winning percentages. Only one type of penalty was a good predictor of a teams record. That penally was the false start. Obliviously the more false starts a team had the worse their record tended to be.
The thinking being this if a player is having problems with one part of the mental game (remembering the snap count) they are probably having problems with other parts of the metal game (picking up the correct guy in pass protection).
I live in NYC and the Giants defiantly wanted to keep Ballard. They just got out maneuvered by the Patriots front office. Something to do with the various roster rules the NFL has.
I am not sure who this story says more about: Deadspin for doing there homework or the rest of the media for not verifying things.
A sarcastisc SEC chant would be the perfect ending to this game.
Now who can argue with that? I think we're all indebted to Gabby Johnson for clearly stating what needed to be said. I'm particulary glad that these lovely children were here today to hear that speech. Not only was it authentic frontier gibberish, it expressed a courage little seen in this day and age.
He must have grown one for the interview otherwise Purdue won't have hired him.
It is a memorable name. How many other names do you know that have two apostrophes?
It is a good GIF, but I like the play better with sound.
http://www.youtube.com/watch?v=iwuXzK5Mehs
Even TressellBall wasn't that conservative. The stats 4 for 6 passing was just for passes on 3rd down.